celebro/celebrate!
World Nutella Day! It is here, and by the look of the clock, it's about to pass me by.  Yikes!  My days have flown by and, while I actually shared my contribution to WND earlier this week, I am down to the wire with sharing it with you. Created by Sara (Ms. Adventures in Italy) & Michelle (Bleeding Espresso), these lovely ladies have brought Nutella lovers everywhere together on the same day, February 5, every year since 2007.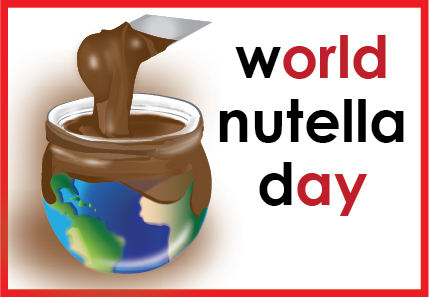 I am proud to say that I have participated every year.  Why?  Well…it's Nutella, silly!  I adore its hazelnut, chocolate goodness. Even though I can't eat it anymore, I can still admire it, cook with it, and spread Nutella love with it.  Right?  (Okay…confession time.  Don't try this at home, kids, but I do sneak a taste every once in a while.  I can't help it. It's so worth the side effects…lol!)
For me, my Nutella Day journey began with Baci Candy (2007), followed by Festive Nutella Biscotti (2008), Nutella Truffles (2009), and Nutella Molten Cakes (2010).  This year?  Not only did I utilize Nutella, but some fabulous large Phyllo cups I picked up at the farmer's market. Unlike previous years, this year's dessert takes no time at all.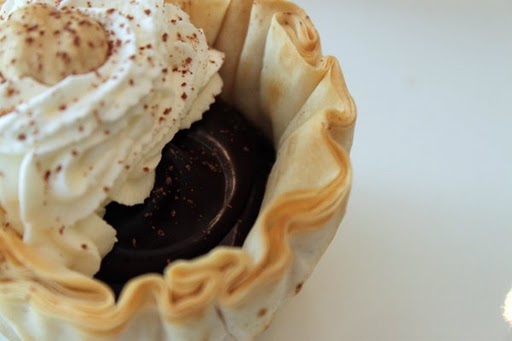 1.       Bake cups on a sheet pan for 350 °F for 10 minutes. Allow to cool.
2.       Spoon in 2 Tbsp. of Nutella in each up (more or less, according to preference)
3.       Make your favorite ganache* and spoon over Nutella.
4.      Serve at room temperature. Top with lightly sweetened whipped cream right before serving.
* some ganache recipes:  here or here
Simple right? Perfect for a last minute dinner finale, minus the pressure of time.
Happy Nutella Day, everyone!  Be sure to check out the hundreds of recipes that have been contributed over the years. If you missed it, like I almost did, be sure to mark your calendars for next year, and bookmark the How to Participate page. But, in the meantime, check back with Sara & Michelle on Monday, February 7, 2011 for the global round up.