It's that time again.  Happy Eat. Live. Be. For a Better 2011 Monday! Whenever Mondays roll around, it is a reminder how fast the week has passed, along with how much I haven't gotten accomplished.  Oh my.  I need one of those organizer people to come in and clean house, literally and figuratively.  Enter with cleaning lady in tow.
Even though this week is crazy at work, I am excited because I will be in NYC this time next week.  We have a winter break and I get to hang with mom for the entire week.   She and I will be in NY, then head up to Boston to see a few of my great aunts who haven't seen me since I was knee high to a grasshopper.  Since I have been tinkering with the thought about moving back for some time, it will be good to visit. You never know, I may just stay up there.  ha! ha!
I will have to let you know.  In the meantime, it's time for Eat. Live. Be.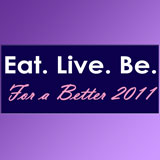 The Update: Skipping any chat on weight and going to the gym.  Why?  I am so stuck at this one number; I am about to show out and scream a crazy number of expletives. It didn't help when I saw two friends I haven't seen in a while this weekend and failed to get a favorable reaction.  On the positive? The gym. First, my knees have been holding up. After almost blowing out both my knees last year, lunges, squats, and other "knee-heavy" exercises have been rough.  And, my lunges are getting better and with longer extension. The big moment, though?  Box Jumps.  Box jumps have been a total mind [insert F-bomb here] for me for the last couple of years.  Nonetheless, I finally managed mini-jumps yesterday! By little, I mean I jumped the step without the risers.  Really low, I know.  But, it's a start and I did them after running suicides and completing walking lunges.  Can you say jello-legs?  Woohoo!
This week was supposed to be gym-crazy because it is T minus 7 until NYC. The time is approaching when I need to fit my ass in the plane seat. I am hoping my gym-as-my-second-home plan can still happen, but our Varsity Basketball teams made it into the playoffs.  That means two (possible four) night games this week. Great for them!  Ugh for me.  Working in a high school makes it really difficult to do anything else on the side. I need to be in a curriculum/non-go-to-afterschool-events position, or at a middle school in the northeast (hoity-toity) side of the county. Better yet…I just need a food job that will cover my expenses and get the heck out of Dodge.  Ha!  Okay, since that won't happen right now, let me go back to my other pipe dream of a less suck-all-the-energy-out-of-you school zone.
This Week's Topic (#6): Straight from the Experts – can include tips, recipes and diets from the experts. For example, Cate will have a Dr. Oz conf call transcript and ten tips from Joy Bauer.
There was an article on ABC News, Working Out the Kinks in 10 Exercise Myths. While I won't revisit all of them, there are several that ring loud with me. Within the article, several doctors chime in on their thoughts.  Specifically, Gerald Endress, fitness manager for the Duke Diet & Fitness Center.
When working out, "you can't spot reduce — your body decides where to store fat and a lot of that is based on your genetics." (Hate this one because I would like to chisel my hips away.)
It's a myth that if you stop working out, your muscle turns to fat. "Muscle doesn't turn into fat and fat doesn't turn into muscle." is that when you stop working out, you rapidly lose muscle and gain fat, potentially giving the appearance that muscle is turning into fat.
It's a myth that eating protein after a workout will build muscle. "What you need after a workout are carbohydrates." When you work out, your body uses the glycogen stored in your muscles and liver. Glycogen is made from carbohydrates like glucose.
There is also a great recap on the Today Show's segment on weight loss myths here.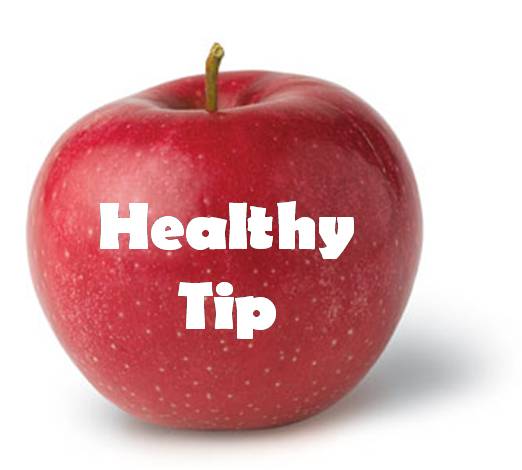 Healthy Tip: I use low-fat yogurt and/or cottage cheese as substitutes, especially in dressings and sauces.  Both help fine-tune nutrition levels without totally changing the flavor. They all have a little tang, like sour cream, so the exchange is easy.
Cottage cheese is low in calories, especially with the low fat and fat-free versions coming in around eighty calories. Cottage cheese also rocks in calcium, carbohydrates, and protein.  It's not as high in protein as animal proteins, but for an alternative?  It works!
Ways I use (small curd) cottage cheese…as large curd freaks me out.  (It's a texture thing…I have texture issues, I know.):
w/ fruit, or sweetened with Agave
added to pancakes and omelets as the "liquid"
with/ on salads
mixed in to tuna or salmon, to replace mayonnaise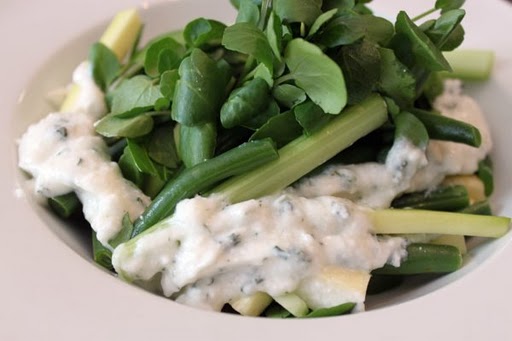 Minted Greens Vegetable Salad
Dressing:
1 cup low fat, small curd cottage cheese
¼ cup mint leaves
1 tsp. lemon juice
Salt & freshly ground pepper
Greens:
2 zucchini, julienned (cut in match sticks)
(about) 1 cup green beans, blanched, cut in half (or thirds, depending on the size)
2 celery stalks, julienned (cut in match sticks)
1 bunch watercress
Place the dressing ingredients in a food processor. (I used a mini processor for this one.) Pulse to blend and smooth.  Check for flavoring, and season additionally if needed. Transfer to a bowl and refrigerate until ready to use.
In a medium-large bowl, toss together the greens.  Divide among plates.  Add dressing. Serve immediately.
*The zucchini is wonderful grated/shredded as well and offers multiple textures within one salad when in that state.  It also produces a lot of water/liquid when grated, so be sure to drain. Or, use the liquid as part of the dressing.
**Obviously, I have been in a bit of a watercress kick.  I bought a couple of bunches, as if I were cooking for a large family instead of just me, and had (what seemed like) watercress coming out of every crevice in my kitchen!