avena/oats
Happy Eat. Live. Be. For a Better 2011 Monday!  Did your week and weekend fly by as fast as mine?  Where does the time go?  I know that mine went toward the day job, the gym, and making three….yes….three cake orders.  Wholly moly! It has been a long time since I have done "custom" cakes, and I forgot how tiresome it can be when having to work them into a daily grind.
Tuesday's cake was a 9-inch red velvet.  Easy. I did put a twist on it, but I will remake a version for the blog one day and talk about it then. Friday's cake was for Tami's boyfriend. I love Tami to death, and Mike is great. It's fantastic that I was able to sweeten up Mike's birthday with an old-school record player.  The original version looked like this.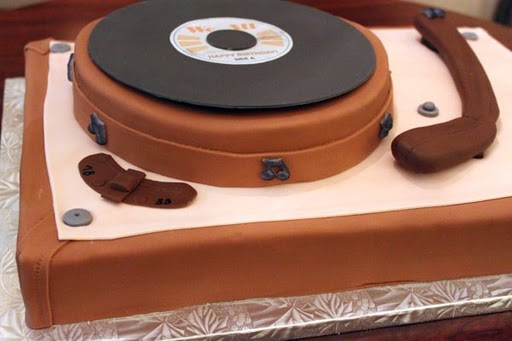 After a little oops I had to mask, I added two chocolate microphones, which actually finished the overall look (I think).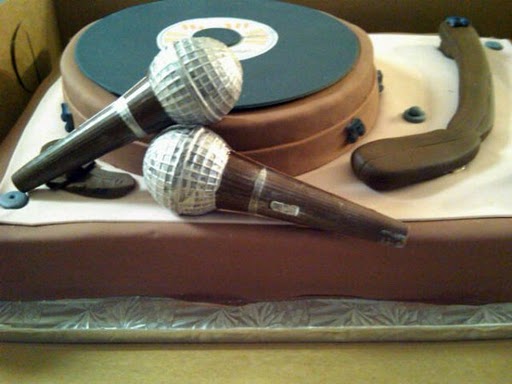 Cell Phone Pic
Then, one of my dearest friends is a girl I met in my first doctoral class in 2003.  Surviving our doctoral program together bonded us like no other. Well, A got engaged a few months back and her fiance's birthday was this weekend.  He got a Football cake.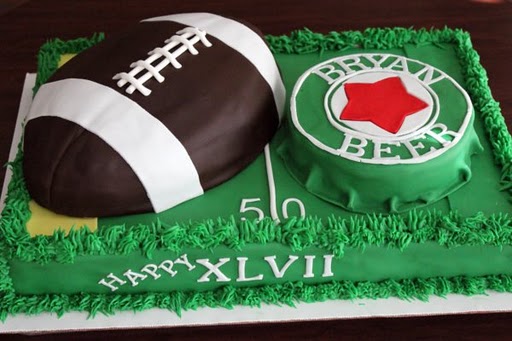 Even with my seemingly constant, no-break week with which I didn't follow a very strict eating regimen, I did manage to get breakfast in this weekend.  I've actually make Steel Cut Oats often, minus the Brule.  But, when I want something sweetened/special, I remember Maria's post and grab the torch. I adore Steel Cut Oats, and they're healthy, too.  But, I will get to that in a moment.
First, a giveway. I don't do many giveaways, but this landed at my door last week.
Create new memories in your family by baking with your children.  Sweeten someone's day with fresh baked cookies. What better way than with Nestle?  I received two Nestle Toll House Valentine's Day Cookie Kits last week, one for me and one to give away.  It includes a limited edition NESTLÉ® TOLL HOUSE® cookie tin, free product coupons, an activity book for Moms, and stickers.)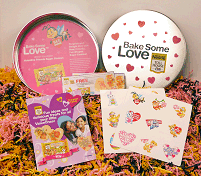 Because I only received it last week, and I didn't have time to do anything with it until now, this is a quick turnaround.  How to win?  It's simple.  Visit Toll-House and tell me/leave a comment here about a delicious product not mentioned above you have or would like to use.  J You have until Tuesday, February 08, 2011 at 10:00PM EST. Winner will be notified via email and has 24 hours to respond. If winner does not respond, a new winner will be chosen.
Rules: Contest is open to US residents only over the age of 18. Giveaway will end February 08, 2011 at 10:00PM EST as the coupons expire on February 21, 2011.  The winner will then be chosen at random. One main entry per household.  No compensation was received for this post.  The sponsor sent me the product free of charge to facilitate my honest review, and has offered the same for a lucky reader.
Now?  Eat Live Be.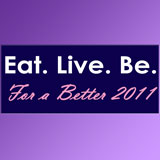 The update: Last week was not a good eating week. Salt and sweet cravings hit me hard this week, as did late night snacking.  I even hit McDonald's once (Chicken Nugget Happy Meal with a [kid's] Diet Coke) and Arby's (Turkey Bacon Club with a Diet Dr. Pepper). The first time in a long time. Bad!  I know. What's worse?  I didn't get all my water in.
I am paying for it now.  Since I have really bad circulation, my legs swelled right back. So, you can bet that tomorrow I am right back to the program.
On the upside, I landed at the gym 5 of the 7 days, training with each of my two drill sergeants. We are switching up my routines because I am still at my weight plateau (which this week's derailment didn't help).
This week's topic: Rut Rescue 101 – Share 3-5 tips on what you do to pull yourself out of a healthy goal-rut.
Do something different. This depends on the person. Whatever the "something" is, it's probably out of a comfort zone.  I need to get to swimming, which is different than my gym routine, but I haven't gotten up the nerve yet.  I did, however, buy a sweatshirt from the school store that was a size smaller than I normally purchase.  I like my clothes big and baggy.  But, the store didn't have my preferred "big girl" size.  So, I bought the smaller option.  Awkward!
Join a class or a workshop. This goes with number 1.  For me?  I am going to start participating in more gym classes, as well as cooking classes. Stepping out make introduce me to knew people and experiences.

Google Calendar. Logging activities, appointments and responsibilities can provide  a visual of your routine, inconsistencies, time management fixes, etc. Then, the "need to adjust" is staring you in the face.
Can't get a hold of your eating?  Plan your snacks. Almonds, cheese stick, carrots, etc. are great to tide you over until the next meal. Snack bags are great for pre-planning!
Lean on your support system. My gym partner has fizzled out a bit.  Work has been nuts for her.  But, I told her today, I need her back in the gym with me.  I go harder with her nearby.  So, we are readjusting our meeting time to match our schedules.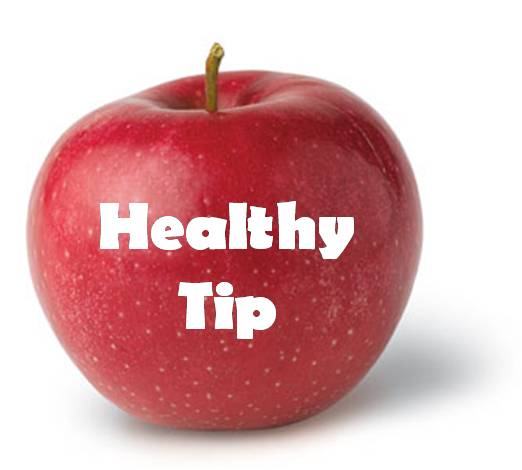 Healthy Tip:
Oatmeal.  Love it.  Until a few years ago, I only made rolled oats at home.  Only when eating breakfast or brunch out, would I order steel cut oats.  Then, while in Whole Foods one day, I saw a bag of Steel Cut Oats and decided to try.  Oh, happy day.  Good stuff.
What's the difference between rolled and steel cut oats?  Nutritionally?  Nothing really.  Oats, in general, are a good source of magnesium, vitamin B1 and fiber. It has been said that eating oats and contribute to lowering cholesterol levels, and (because of how the body digested the grain) may lead diabetics to lowering their daily insulin intake.  Cool, right?
Appearance and texturally?  The two are simply cut differently. Steel Cut Oats come from groats that are chopped small. They are chewier have a heartier, nuttier flavor, and they take longer to cook. Rolled oats are the steel cut oats, flattened.
However you prefer your oatmeal, take the time to make it yourself and enjoy the rustic taste.  Your body will thank you for it!

Bruleed Steel-Cut Oats
1 cup steel cut oats
3 ½ cups water
1/8 tsp. of salt
1/2 cup almond milk*
½ cup apple chutney
Bring the water to a boil in a large pot. Add the steel cut oats and salt; stir. Reduce the heat to medium- low and cook for 30 minutes, stirring occasionally to prevent clumping or sticking.
After about 25-30 minutes, once oats begin to thicken, stir in milk.  Cook for ten more minutes, or until the texture is how you like it.  Add ½ – 1 cup apple sauce (more or less, according to preference).
*Any milk will work, and water too.  I like the flavor almond milk adds to the dish.
To Brule: Ladle oats into a bowl and sprinkle with turbinado (raw) sugar. (Granulated works as well.) With a creme brulee torch, or under the broiler, fire the top of the oats until the sugar is crystallized. Serve immediately. Yields  4-6 servings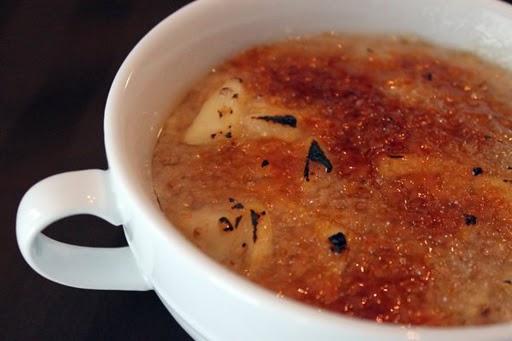 Chunky Apple Sauce
2 large tart apples, peeled and cut into chunks
½ cup water
1 cinnamon stick
2 Tbsp. Agave nectar (optional)*
Juice of ½ lemon
Peel, core, and dice apples. In a saucepan bring apples and water to a boil. Add cinnamon stick; reduce heat. Cover; simmer, stirring occasionally, until apples are tender, 15-20 minutes.
Stir in lemon juice and 2 to 4 tablespoons sugar (if desired) until dissolved, about 1 minute. Discard cinnamon stick. Depending on preferred texture, leave as is or mash with a fork or potato masher. Serve warm or chilled (refrigerate in an airtight container up to 1 week).
*sugar, honey, or preferred sweetener work as well.
———
Of the three people whose comments noted the Nestle product, the winner is Paula!  Congrats!