per la tua salute/for your health
Happy Eat. Live. Be. For a Better 2011 Monday!
Short(er) post today because, if I am being honest, time got away from me.  So, let me get right to it.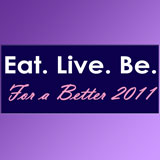 My Update: I have been having good gym days. Although there was no way to get to the gym during our recent snow-in, I substituted LA Fitness with running my stairs and working on abs in my living room (while watching the Cooking Channel…ha!!). Once the path between my driveway and the gym thawed out, I was able to get back to the treadmill, bike, and my trainer.
One thing I am working on is trying to muster up the umph to get into pool to swim ladders like I did while in Utah. But, I think because I am around people who (may) know me, my insecurities about being in a bathing suit, etc have completely overtaken my nerves.  I am working on my issue, as I have packed my swim bag in for the day I man up, complete with goggles and swim cap. We'll see.
As far as my weight, I am minus three pounds this week.  Before you get excited, I am not counting it.  Why?  Right after the holidays, went back to work at one weight.  Then, out of nowhere, I was up four pounds. I'm clueless about where the weight flew in from because I was still eating healthy, drinking the water, and hittin' the gym on the regular.  Water weight? Who the heck knows.  Whatever the heck it was, the weight hung on for almost two weeks.  Needless to say, I was a little frustrated. So, this week's loss?  Not noteworthy.  Don't get me wrong…I am happy the weight is (just about) gone.  But, I am at "a moment" and it's time to get over the hump.
This week's topic: "Baby It's Cold Outside – How you stay active when it's cold outside?"
Honestly, I have to get my ass to the gym.  I hate working out. Hate it. I always have, regardless of how totally pumped I am after a really hard work out.  So, I know I will be more successful if I am up and out.  Plus, I always have a love/hate relationship with the hot marathon man who or woman who runs on the treadmill next to me, or the crazy "let me move my legs in inhuman-like speeds" person behind me on the elliptical.  I don't want to look like an out-of-shape lump so I trudge on with whatever exercise I am doing.
But, for those days, like the snow-in, there are a couple of things I do.  (1) On Demand helps with their video offerings.  (2) My stairs are the best Stairmaster.  I am not sure what the contractor was thinking, but my stairs are steep. So, I run up and down them, trying to increase the number of up/downs each day by at least one.  (3) I have a jump rope I take to the gym with me that I also use in my garage.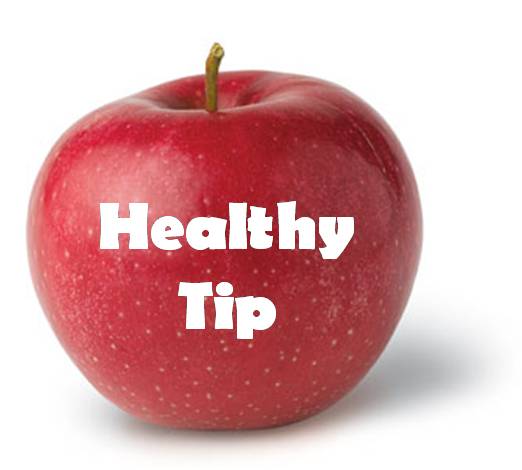 Healthy Tip: Eating Before and After a Workout
Remember to eat protein &/or carbs before a workout. Within an hour and a half before working out, be sure to eat an easily digestible snack like a small banana, 1 cup cottage cheese or non/low fat yogurt, or a serving of almonds.
Within 30 or so minutes after exercising, refuel with high-fiber foods, protein rich foods.  A piece of fruit works well, as does a, protein drink, or an energy bar.  Hardboiled egg whites, chicken and tuna fish are good, too.
*Remember, I am not a nutritionist. This "Healthy Tip" is just what I have learned along with way.  Check with your health professional for specific information relating to your personal needs.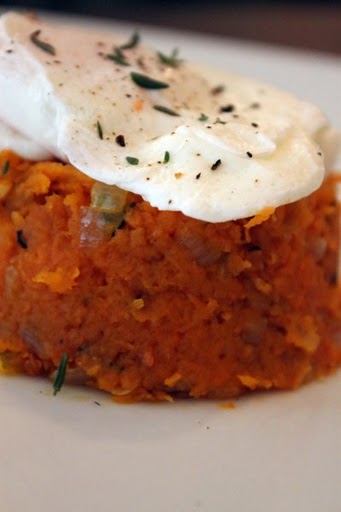 Poached Egg with Sweet Potato Hash
Makes about 10-12 servings, about 1/2 cup each
For the Poached Egg: Check out Elise's post on how to poach an egg. It is what I used to make the egg shown here.
For the Hash:
Adapted from my Mele Cotte Sweet Potato Ham Hash
1 Tbsp. sesame oil*
3 shallots, diced
2 pounds sweet potatoes, peeled and grated (raw)
¼ tsp. salt
pepper to taste
2-3 tsp. fresh Thyme, chopped
Heat oil in a large nonstick skillet over medium-high heat. Add onion and cook until softened, stirring often (3 to 4 minutes). Bring heat to medium and add potatoes. Cook until tender, 4 to 5 minutes. Be sure to stir often to prevent sticking/burning. Add salt & pepper and mix well. Stir in thyme and cook another minute or so.
*nut oils bring out the flavors in sweet potatoes and butternut squash.