scopi/goal
It's the New Year.  Have you made your resolutions?  Me neither. I came to the conclusion long ago that resolutions are not for me, probably because the ones I made were never realistic. Instead, I like to make goals for myself.  Goals. Resolutions. Same thing? Maybe.  Probably.  Okay, yes.  It's all about perception, the context and connotation, I suppose.  Nonetheless, I have made goals.  Some are new.  Some are a continuation of what I have thought about and/or started prior to now.  The main goal is to continue on a path of healthy living and get carry on getting back on track, in all aspects of life.
I made reference to a tweet that resonated with me in my 2010 Recipe Review post.  It was a well rounded thought and fit perfectly with my 2011 focus.  However, even with all the tweet's possibilities, I have decided to focus on the food portion of my goals here since this is a food blog, right? If I have the need to add other notables, I will do so on my other blog, with which I post so rarely.
As part of the journey, and to help hold myself accountable, I've decided to join Sarah and Cate in their get-healthy initiative for 2011. The girls started Eat. Live. Be. For a Better 2011 to inspire, support and share about leading a healthier life in 2011, all the while helping each other to lose 40 pounds. While I have a small support network here, I thought it would be great to have that additional encouragement.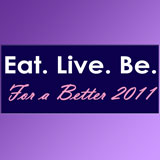 So, how will this work?  My Monday posts will be reserved for specified topics that relate to my journey, including food, weight loss, potential obstacles I am encountering. What about you?  Do you want to join?  Come on!  What do you have to lose?  (No pun intended.) There is a Facebook page, too. Check it out, then jump on board.
Luckily, I know what I need to do with nutrition, healthy cooking, etc. I just don't follow it all the time.  But, my bad eating habits aren't when I cook.  It's when I pick on crap to snack on outside of my home.  So, you can be sure I will be working on that little issue in the coming months.  I have already cut out Diet Coke, so that's good, right?  No Diet Coke for two months!  Can you say w.i.t.h.d.r.a.w.a.l.?
As far as meals at home, I don't post everything I cook for myself on here. However, what I do turn out, posted or not, is pretty healthy.  Whether it's a Chickpea & Roasted Vegetable Salad, Corn with Tomatoes and Edamame Bean Salad, 8-ball Zucchini Stuffed with Vegetable Lentil Medley, Quinoa and Lentil Stuffed Bell Peppers, or Udon Noodle Vegetable Salad, I always try to include some form of bean and legume that has a high percentage of protein and lots of veggies. I do eat animal proteins, but not often.  So, it's important for me to get the protein in other ways. It doesn't always happen though.
Oddly enough, I forgot to add the beans to this Root Vegetable Soup. No biggie, though. I worked the protein during my snack.
January is National Soup Month and it came at a good time because this soup might go down as one of the best soups I have made…ever. So, my first Eat. Live. Be. For a Better 2011 recipe will be kick off with one of my favorite meals – soup. It can be so healthy, and comforting at the same time!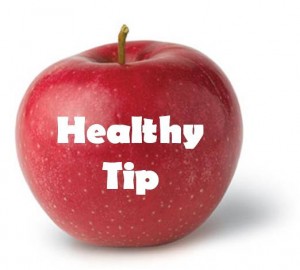 Soups that are broth based have a high water content, thus taking up a lot of tummy room.  This, in turn, limits excessive caloric intake. Even so, beware of hidden fats.  Check labels (if applicable) because there are a lot of hidden fats (and high sodium levels) in the foods we love, especially ice cream, hard cheeses, snack and processed food, and creamed soups. When making creamed soups at home, you can control how much and what kind of cream you incorporate into the soup.  But, cream is cream.  Clear broth and soups are healthier than creamy or even heavy stock soups.  In addition, watch the ingredients in your soups/stews.  Stay away from ones that are made with yummy deliciousness like butter, lard, (don't yell at your computer) bacon drippings, hydrogenated vegetable oil, and coconut or palm oils.
Lastly, when serving the soup, don't ruin it with croutons, melted cheese, or full-fat sour cream.  All three defeat the purpose of conscious eating.
Be sure to check out the other bloggers embarking on this journey to Eat. Live. Be. For a Better 2011!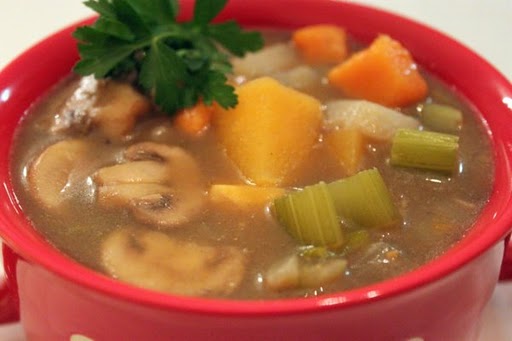 Root Vegetable Soup
Inspired by a Whole Foods Recipe
1 Tbsp. olive oil, divided
1 small onion, chopped
3 cups fresh mushrooms, sliced
1 cup celery, chopped
1 medium rutabaga/swede, peeled, chopped
1 sweet potato, peeled, chopped
1 medium turnip, peeled, chopped
4 cups mushroom broth
1 tsp. sea salt
½ tsp. black pepper
¼ cup chopped parsley for garnish
In a large Dutch oven or soup pot, heat olive oil over medium heat. Cook onions for 3 minutes.  Stir in mushrooms and cook for 3-5 minutes, allowing the natural juices to release.  Add celery, rutabaga, sweet potato, and turnip, season with salt and pepper and cook for 5-8 minutes, stirring occasionally.
Pour in broth and bring to a boil then reduce heat and simmer, uncovered, stirring occasionally, until the vegetables are fork tender, about 20-30 minutes.  Serve immediately, garnished with parsley. Serves 4 to 6. Freezes well. *thickens up with time.