bontà/goodness
Just driving by today to offer you a little tease. Sunday or not…it's going to be a busy day of meetings, phone calls, and deliveries.
Happily, during the snow days last week,  I cooked, baked, cooked, and …baked some more.  My days were a little different from my colleagues.  Check these pictures …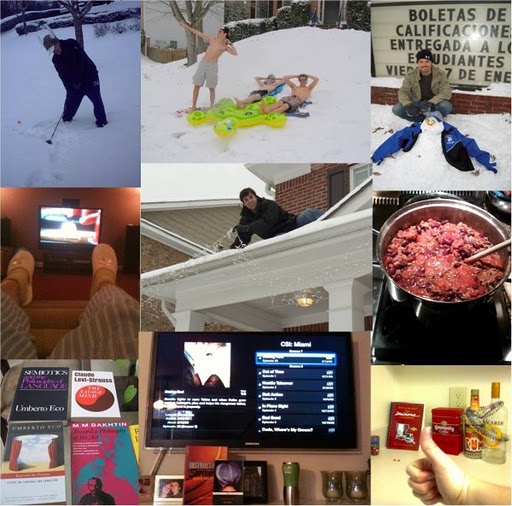 Why do I have these pictures? During our snow-in, we received an email from the boss man (the guy on the roof) wondering what his administrators and department chairs decided to do as we enjoyed the first snow day(s) of 2011. It was the CHS Inaugural "Best Use of a Snow Day" Contest. Clever and fun, right?  I thought so.  And, it was nice to see a different side of those with whom I work.
Anyway…I spent my week in the kitchen. I made breakfast burritos, Baked Apples,  and German Chocolate Cupcakes, just to name a few. If cooking wasn't enough,  I also clicked on several links in my twitter feed.  Those clicks led me to Michelle's (Brown Eyed Baker) Peanut Butter Cup Bars. The Bars looked ri-dic-u-lous.  They got made….that day.
Interestingly, the Peanut Butter Cup Bars are a lot like the Peanut Butter Bon Bons I make.  Sweet!  Literally and figuratively. I changed the recipe a little, including adding an additional ¼ cup butter because the base was not coming together. It worked.  And, my neighbor was in heaven (although I had him at peanut butter).
Enjoy!

Peanut Butter Cup Bars
Adapted from Brown Eyed Baker, who adapted it from Stylish Cuisine
¾ cup unsalted butter
1¾ cups powdered sugar
1 cup smooth peanut butter
¾ cup graham cracker crumbs
¼ cup unsalted butter
¾ cup bittersweet chocolate chips (or chopped chocolate)
2 Tbsp. peanut butter chips
Line an 8×8-inch square pan with foil, leaving enough to hang over the sides, then butter the foil. Set aside.
In a medium saucepan, melt the ¾ cup of butter over low heat. Once melted, remove from heat and stir in the powdered sugar until smooth. Add peanut butter and graham cracker crumbs and stir until combined and smooth. Transfer the peanut butter mixture into the prepared pan, even out and smooth the top.
In the saucepan, melt the ¼ cup unsalted butter. Add the chocolate and stir until almost completely melted, remove from heat, and continue stirring until completely smooth. Pour the over the peanut butter layer and smooth into an even layer.
Over a double boiler or in a microwave, melt the peanut butter chips, and stir until smooth. Use a spatula to transfer the melted chips into a zip lock bag or decorating bag.  Snip the top and drizzle in a decorative pattern on top of the chocolate layer.
Refrigerate the Peanut Butter Cup Bars at least 30 minutes to set. Remove from the pan and place on a cutting board. Cut into 16 bars. Store in an airtight container. Yield: 16 bars