What's today? Besides the snowpocalypse in Atlanta? It is Eat. Live. Be. For a Better 2011 Monday. It is a jam-packed post.  There is a lot here with this week's update about my progress, this week's Eat. Live. Be. Topic, then my healthy/tips /recipe portion. Ready?  Here we go…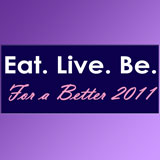 My Update: No weight loss this week. Its a little frustrating, but I have learned not to flip out too much.  My water intake hasn't been what it was before the holidays.  Therefore, it is also my mission to get back to my gallon/day of water to help this move a long.  I have also ordered my cleanse, which will hopefully be here this week.  .
The gym saw me 11 of my 14 vacation days over the holidays, and five of the seven days this week, two of which were with my trainers.  And, I am sore!  Ben shredded my arms.  Jaime shredded my legs. So, if I look like I am walking funny, you'll understand.
This Week's Topic: Where is my support community? First, I have to start with my new Eat. Live. Be. Support community.  It's fun checking the girls' blogs and the Facebook page. Then, there are my few close friends I rely on. One of my best friend's is my gym partner.  We have been on and off with our routine the last year, but it's on now.  I saw the inside of the gym 11 of my 14 vacation days over the holidays, and most of this week, so she wants to catch up.  Her wedding is in July, making her motivation her wedding dress.  My goal (besides my personal ones) is the sleeveless dress she wants us to wear in the wedding. And, my first trainer is a support for me as well.  Our schedules don't mesh and his facility is way too far, so our "split" was amicable. And, he checks on me several times a week.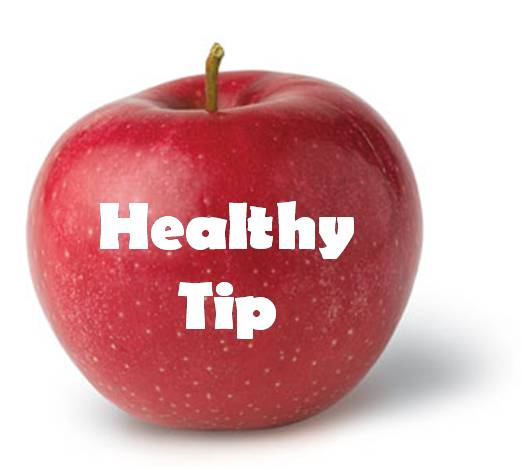 Now…this week's Healthy Tip
When I was working/cooking for the fitness facility in Utah, breakfast was hardest meal to "retrain" the clients' thinking.  Prior to arriving on campus, most people either lived on drive thru, Waffle House breakfasts, or skipped the meal all together. Even though it is common knowledge that breakfast is the most important meal for everyone, habits are hard to break.  Even so, the fact is, breakfast needs to be an automatic step in a daily routine, especially for those of us trying to watch/lose weight.
Disclaimer:  Please note that I am not a nutritionist by any sense of the word.  But, I have struggled with my weight all my life and I have been on almost every diet out there, been to nutritionists, trainers, etc. My weight issues and years of yo-yo-ing have armed me with a plethora of information that I can repeat in my sleep. Even so, we all know that weight gain is not about food.  So, I working on all the other issues as well. I just wanted to be clear so people don't think I am certified.
Eating a healthy breakfast helps lead us to eat correctly the remainder of the day. Not feeding your brain/body first thing in the opens up opportunity for derailing good eating habits.  Skipping breakfast and starting the day on an empty stomach also means low glucose (blood-sugar).  Low glucose will lead to sugar cravings which can will sneak up and hit with a vengeance. So, what can you do? You don't have the time, you say?   Hmm….
In short? Make the time. Eating a healthy breakfast is part of a lifestyle change.  So, here are some of my suggestions.
Get up 15-30 minutes earlier.
Prepare food the night before.  That way you can eat on your way or at work.
Choose wisely and eat balanced.  Think food pyramid include foods from 3 – 5 food groups. It's easier than it sounds.  A breakfast that includes one serving (about 1 cup) of cereal, skim/low fat milk or yogurt, and fruit covers bread/grains, milk and fruit food groups. An egg, slice of whole grain toast, one cup of milk or yogurt, and 1 serving of fruit includes foods from covers the meat, bread/grains, fruit and milk food groups.  Doable, right?
Eat good for you foods:
Steel-cut oats: Regular oatmeal is good for you, but it is refined.  So, steel-cut oats are even healthier choice.  Like oatmeal, steel-cut oats accept add-ins well, like ground flaxseed, fruit, and nuts.
Fresh fruit salad: Cut up about one-half cup any fiber packed fruit you enjoy that are in season, like apples, berries, oranges, grapes and toss in a small amount of lime or lemon juice.  It makes a lovely snack or meal accompaniment. Choose fresh fruit over fruit juice.  Not only does juice have sugar, but we have a tendency to over indulge.  Did you realize that the average serving size of fruit juice is six ounces?  That's about  ¾. I am not sure about you, but before I omitted orange juice from my diet, I used to pour a tall glass.
Protein shake: Depending on your goals, a little research needs to go into what powders will best fir your needs.  But, a quick blend up with low-fat or soy milk milk and some fruit, the result is not bad and is really filling.


Eggs

: Egg whites are healthier than whole eggs. But, if you're not there yet, blend your serving with a 2:1 ratio – two whites to one whole. Hard boiled eggs are quick.  I have been known to prepare 10-15 hard boiled eggs on a Sunday for my Monday through Friday AM nibbles.  I "deyolk" the eggs before I leave the house. If you scramble or make an omelet, do so using vegetable or olive oil spray instead of butter.  Add veggies to add substance, and some black pepper or Mrs. Dash for flavor.
Yogurt – choose plain, unsweetened, no or low-fat yogurt.  Are you making a face?  Need flavoring or a sweetener?  That's fine.  But add it yourself to control the amount.  Some ideas?  Add agave nectar or honey, vanilla extract, fresh fruit, or unsweetened granola.
Cereals – Read labels.  Kashi has great cereals that have few ingredients, all of which are understandable.  Now, some are better than others, but read the box and make your choices.  I really like the Autumn Wheat, Cinnamon Harvest and Strawberry Fields.
Still stuck on the "short on time"?  Check out these breakfast burritos that you can freeze and pull out when you need a fast breakfast. I was eating the Smart Ones Breakfast Quesadillas but they have 730 mg of sodium.  A little much for my liking. So, I took a burrito I made a version of these a few years ago and created zix healthier versions.  Using Egg Whites (I needed my eggs for a cake, or I would have separated my own eggs is needed), Sonoma All Natural Gluten-Free, Wheat-Free Wraps, vegetables, and cheese cut calories and sodium levels since I can control seasonings, etc. The first three omelets were egg white (with black pepper), bell pepper and onion omelet with one slice of Pepper Jack cheese.  The last three were egg white (with black pepper), with fresh spinach, sun-dried tomatoes (not in oil), and feta cheese. Once they were made, they were ready to eat.  But, if you want to freeze them for later eatin', here are some tips.
Prepare burrito ingredients that need to cooked.  Allow to cool.  If veggies have any residual liquid, drain/pat dry.  If not, the tortilla will become soggy. Once all the parts are cooled, layer & roll the burritos and wrap in foil.*Don't make them too thick/fat or heating will be problematic.  Label, then freeze.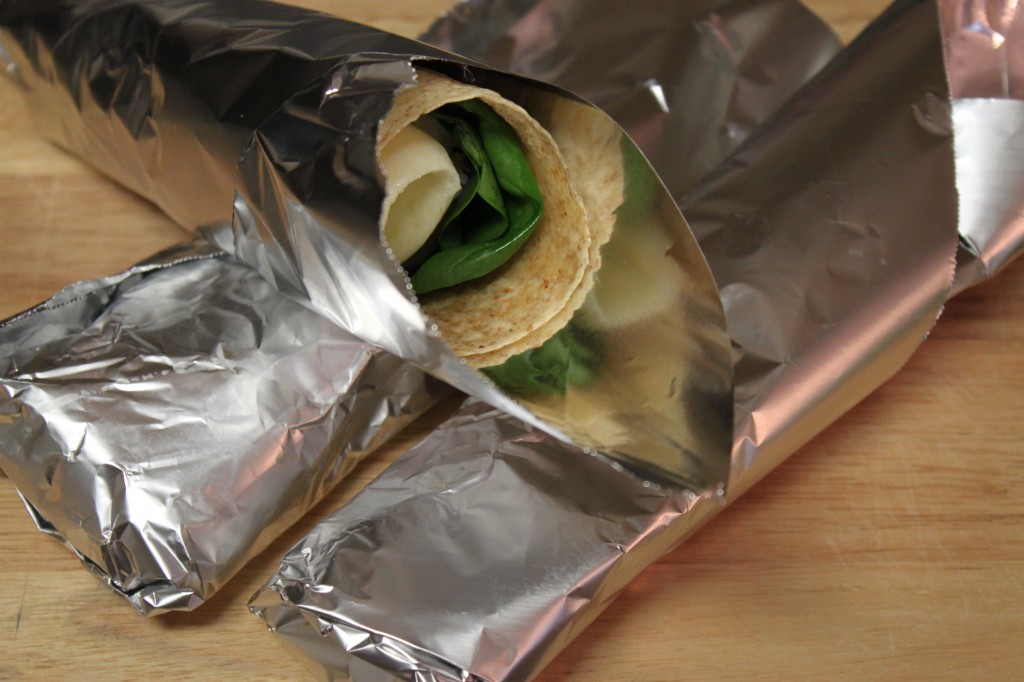 When it's time to eat, place foil wrapped burritos in a preheated 375°F oven for 15 -20 minutes, or until heated through.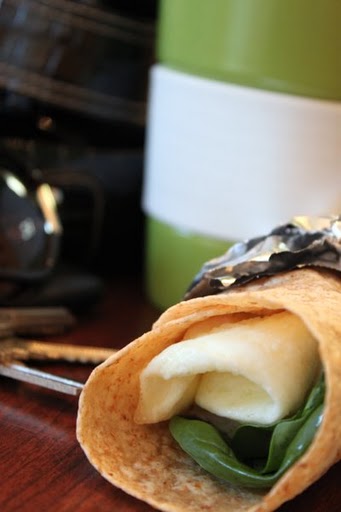 Another suggestion?  Wrap the burritos in plastic wrap or parchment paper.  Then, you can microwave your breakfast.  I don't like heating that way, if it works for you, great!!  Whatever you do, though….do not place plastic wrap in the oven!
Have a great week!