identici/two of a kind
It was the best of times, it was the worst of times, it was the age of wisdom, it was the age of foolishness, it was the epoch of belief, it was the epoch of incredulity, it was the season of Light, it was the season of Darkness, it was the spring of hope, it was the winter of despair, we had everything before us, we had nothing before us, we were all going direct to heaven, we were all going direct the other way – in short, the period was so far like the present period, that some of its noisiest authorities insisted on its being received, for good or for evil, in the superlative degree of comparison only.
Charles Dickens, A Tale of Two Cities
English novelist (1812 – 1870)
I have been visiting several English classes this week since discipline referrals haven't really started yet. Witnessing impressive and intuitive discussions (re: Beowolf, Epic Journeys, etc.), it has been refreshing. But, this isn't English class.  However, this passage from A Tale of Two Cities kept popping in my head when I made these brownies from Fat Witch: The Brownie. Allow me to explain…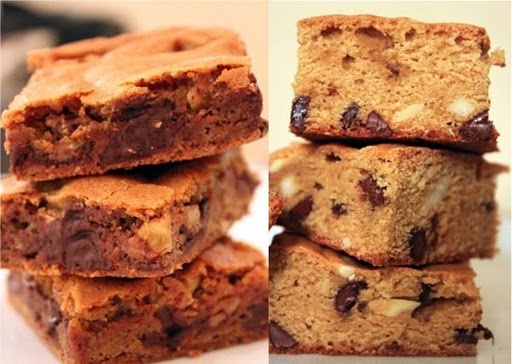 Most recipes I make call for the creaming method: Cream together fat and sugar, add eggs, one at a time, sift together dry ingredients, mix wet ingredients, alternate adding dry and wet ingredients, beginning and ending with dry. Sounds familiar, right?  That's what I thought!
My first attempt at making these Blondies, I simply assumed I knew what I would read in the recipe directions and have at it. I should know better.
Attempt #1 – using the creaming method (and using ¾ Ghirardelli Bittersweet Chips) :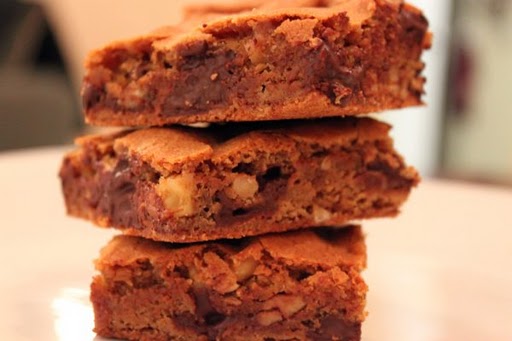 Never assume. Never assume. I looked. I wondered. I scratched my head.  I baked again.
Attempt #2 – following the directions, which calls for the butter and eggs to be creamed together.  They came out looking a lot like the Blondies in the book.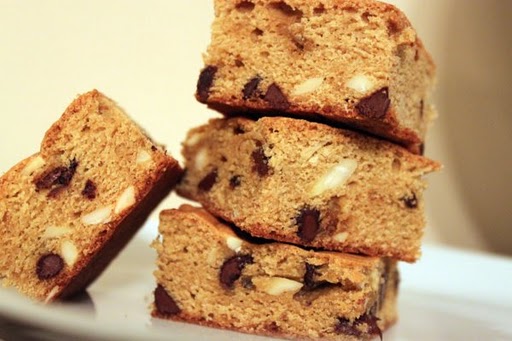 How did they taste?  It was difficult.  Really, really tough.  But, I trudged through and tasted both…for the integrity of this post, of course.  It had to be done, right?
I thought the non-messed up blondies were good. However, I preferred the messed up version. Either way, what do you know?  I came away with two recipes from one!

Blondies
from the Fat Witch: The Brownie Cook book
8 Tbsp. unsalted butter, room temperature
2 large eggs, room temperature
1 ¼ cups packed light brown sugar
1 Tbsp. molasses
2 tsp. vanilla
1 ¼ cups unbleached all-purpose flour
½ tsp. salt
¼ tsp. baking soda
2/3 cup semisweet  chocolate chips
½ coarsely chopped pecans (optional)
Butter & flour a 9X9-inch baking pan, tapping out excess. Preheat oven to 350 °F.
Cream butter and eggs together.  Beat in sugar, molasses, and vanilla until blended. Measure out flour, salt, and baking soda and sift together into the butter mixture.  Gently mix batter just until no trace of dry ingredients can be seen.  Stir in chips and pecans.
Transfer batter into your prepared pan and spread evenly. Bake for 25 minutes or until golden and a toothpick inserted into the center comes out clean.
Cool on rack for 1 hour.  Cut just before serving. Yields 12-16 bars.