speziato/spicy
I am starting this week after having traveled to Birmingham, AL for FoodblogSouth.  It was a fun weekend and with the conference raising money for the Desert Island Supply Company and the Alabama Gulf Coast Environmental Recovery Fund made it that much more special. The volunteerism DISCO offers to local schools and teachers on individual projects/needs holds a special place in my heart since I am an educator.  Even so, more than the conference, I has excited to spend time with my favorite gals/roomies Tami, and Helen,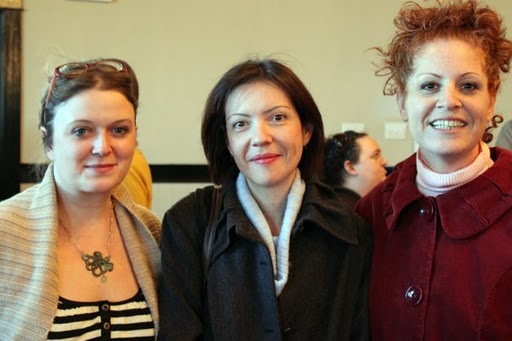 hang out with Paula and Merry-Jennifer and Taylor,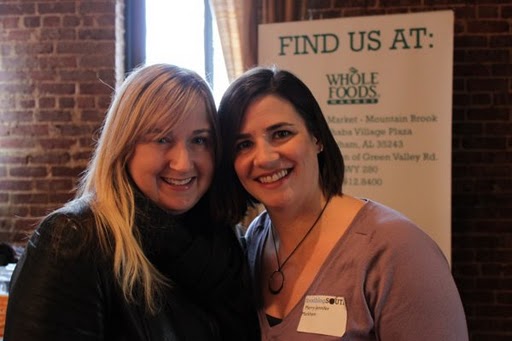 and meet/go to dinner with Christina and Kelly! They were all so real, down to earth, and laughed at themselves, which is always a good sign of good company.
I also got to meet many other fabulous bloggers, authors, and cooks, and gained some good information that I will take some and work with to improve Mele Cotte.  I attended sessions facilitated by Christy Jordan of Southern Plate, Alison Lewis of Ingredients, Inc. and Virginia Willis, Wade Kwon, and the lightening round session with Brooke Bell, Amanda Storey, and Brys Stephens. Overall? For a first year? Shaun Chavis and Jason Horn did a great job putting the jam-packed day together and I am glad I decided to make the trip. The conference provided a smaller, more intimate approach to conferences and by and large, the tone was void of blogger entitlement.  I look forward to seeing the conference's growth as it comes into its own over the next several years.
I didn't take a lot of pictures.   But, check out recaps by Merry-Jennifer, Melissa, and Jodi. I am sure more and more summary posts will pop over over the week, so I will be following #FBS2011 on twitter to keep up.  How are you?
Now, it's back to the grind.  Even so, Happy Eat. Live. Be. For a Better 2011 Monday! To keep to the same order in the post as the last three weeks, I am going with my "update" first.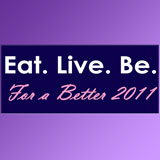 My Update: Minus one pound.  I am still in my poundage rut.  I have plateaued at 20 pound since the end of October.  Grrr.  A week, or two, okay.  But it's been a month!  On the up side? A lot of people have made comments that I look like I a dropping weight, so (despite my pet peeve of people who are not in my inner circle commenting on my weight), something is apparently working.  My thought is that my body is catching up to the pounds-loss with my work outs.  I am still eating okay, even with going to the conference.  There really wasn't any snacking/eating in between meals.  But, the "Pie Break" sponsored by the Pie Lab didn't help much.
This Week's Topic: What's my biggest challenge? What are my bumps in the road that get between me and my goals? Interestingly enough, my challenge is not the one thing I so constantly…my baking. My biggest challenge is me.  I am my own bump, my worst enemy, my own saboteur.  Trust me, I am very well aware of my issues.  But, like an addict of whatever, it's one day at a time.  I need to get back to being organized like I was a year and a half ago.  I need to keep a calendar.  I need to keep a schedule.  I need to say "no" more…even though I am doing much, much better with that than in the past.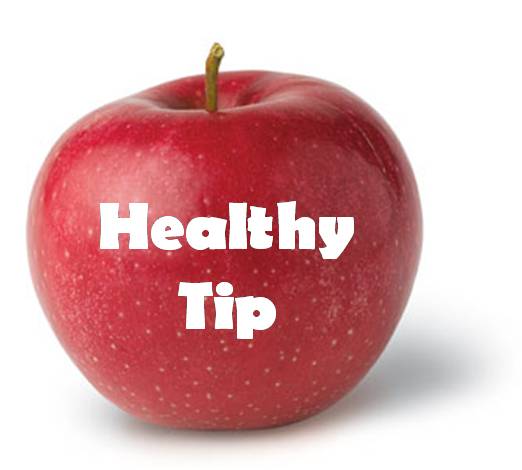 This week's Healthy Tip:
Eating healthy doesn't mean food needs to be tasteless, or cardboard-like.  It's really not difficult to achieve a healthy dish that is packed with flavor. Indian dishes have great dishes that fall in line with "Eat.Live.Be-approved" practices.  And, interestingly enough, while I planned on posting the curry chicken today, it just-so-happens we ate at Sitar Indian Cuisine in Birmingham this weekend.  Timing is everything, I tell ya.
Anyway, Indian dishes are loaded with whole grains, lentils, legumes and beans. Many aspects of the cuisine are attached to foods that are beneficial for weight loss, heart and blood pressure.
In addition, the individual spices used have their advantage, as well.
Cardamom, and apparent aphrodisiac, has versatility because it is used in sweet and savory dishes. The spice is thought to help relieve stomach acidity, nausea, halitosis, and relieve gassy bloating.
Cinnamon, which we all know is rich in antioxidants, is also thought of to helps digestion and reduce blood sugar and cholesterol.
Cloves are thought to have anti-bacterial and anti-fungal properties.
Fennel Seeds are antioxidants-full, with additional partners in crime like fiber, potassium and vitamin C. It is also thought that fennel helps alleviate stomach cramping.
Turmeric, or the "King of Spices", also contains antioxidants. Turmeric is also being looked into regarding how the spice combats the growth of fat cells.
Not bad, huh?  With the the spices being so good for the body, I thought it would on point to present a recipe that includes the healthy ingredients.
Admission time.  I don't know where I got the original recipe.  The one below is tweaked from a scribbled recipe with which I didn't not the source.  I am thinking it was either in a waiting room magazine an there were too many people around for me to tear out the sheet (c'mon, you know you're a secret tear-er, too…), or someone orally told me what they did as I feverishly wrote every word.  Where the recipe came from, it is good, good, good.  Thanks unknown source!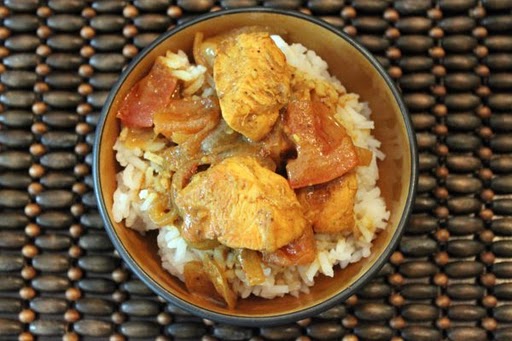 Chicken and Tomato Curry
2 lbs. boneless chicken breasts
1 Tbsp. + 2 tsp. olive oil
1 small onion, thinly sliced
¼ tsp. ground cloves
½ tsp. ground turmeric
1 tsp. garam masala
2 tsp. chili powder
2 garlic cloves, peeled
1 Tbsp. finely chopped fresh ginger
1 tsp. fennel seeds
¼ tsp. cardamom
1 cup light coconut milk
1 star anise
1 cinnamon stick
3 tomatoes, chopped
Juice of 1 limes
2 cups cooked basmati rice
In a food processor or blender, add garlic, fennel, cardamom, and 2 Tbsp. coconut milk and blend until smooth. Set aside.
Heat the 1 Tbsp. oil in a frying pan over medium heat.  Add the chicken in batches and cook for 5-7 minutes, or until browned, then transfer to a plate.
Add and heat the remaining oil into the same pan.  Cook onion until soft and translucent, about 7 minutes. Stir in cloves, turmeric, garam masala and chili pepper. Cook for 1 minute, until aromatic. Add reserved garlic mixture, the remaining coconut milk, star anise, cinnamon, tomato, and 1-2 Tbsp. water. Stir to combine, then add chicken. Cover and simmer for 45 minutes, or until the chicken is tender (165°F).  Remove chicken and keep warm on a plate, covered with foil.  Bring the curry mixture to a boil and continue to cook for 20 minutes, until the mixture reduces by about half.  Stir in lime juice.
Pour over chicken and serve with rice.