cotto al forno / oven baked
I am a huge fan of spaghetti squash and eat it on a pretty regular basis.  Because of time and, well…laziness, I usually simply roast it and add a little oil or tomato sauce to it.  This day was a different story.
One of my go-to blogs for tasty treats is The Teacher Cooks. Her blog is great, and includes recipes and musings with which everyone can relate. And, having met Wanda on several occasions makes her dishes that much more special.  She is lovely and her students are so lucky to have her fuel their culinary skills.
As I perused her posts last week, not only did Wanda's Spaghetti Squash Gratin with Walnuts and Bacon call to me, but I believe it actually reached out from the computer monitor and grabbed me! Looking at the small squash waiting to be cooked on my counter….it was on. Except…
I only had Gruyere cheese.  And, because I was non-food-related multi-tasking while cooking (not necessary a good idea), I completely forgot the breadcrumbs.  Whoops! So, my version is below.  Be sure to check out Wanda's version here.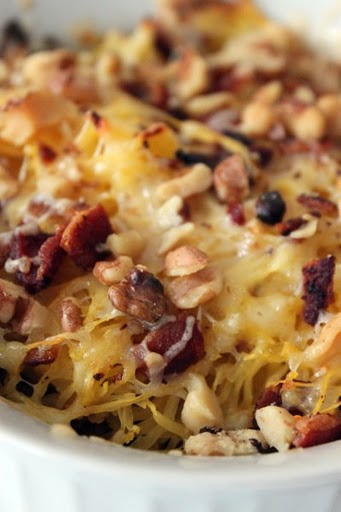 Spaghetti Squash Gratin with Walnuts and Bacon
Adapted from The Teacher Cooks, who saw it on Chocolate and Zucchini
Spaghetti squash about 1-2 lb.
2 slices of bacon cooked and crumbled
2 Tbsp.walnuts, roughly chopped & toasted
2 oz. Gruyere cheese, shredded
olive oil
salt and freshly ground garlic pepper
Preheat oven to 350 °F. Line with parchment paper or foil. Cut a slice off both ends of the squash.Carefully, place the squash upright and make a vertical cut down the middle. Scrape out and discard seeds and stringy flesh. Rub lightly with olive oil.  Sprinkle with salt, and pepper. Place on baking sheet cut side up and roast for about 40 minutes until lightly browned. To test for doneness use a knife or fork to pierce the flesh.  It should meet minimal resistance.  Cool for a few minutes until you can handle it.
With a fork run across the flesh removing it into a mixing bowl. Add salt and pepper.  Sprinkle and toss with half of the bacon and half of the cheese. Transfer into a small, lightly greased casserole dish.  Top with remaining bacon, cheese, and walnuts.
Return to the 350 °F oven until cheese is melted. Serves 2