Buon Natale!/Merry Christmas!
Christmas is tomorrow!  Can you believe the special day is within arm's reach? Even with all that has been/is around us, reminding us of the day's approach, Christmas Eve always has an element of innocence within the fervor of it all.  I believe it is that innocence, regardless of how old we are, that has contributed to the wonderfully thoughtful posts that have popped up throughout the blogosphere this week; musings full of traditions, ruminations, and allowing others to getting a small glimpse of the memories that make up whom we are, and who we want to be.  I am no different.  Like all of you, this time has been one of reminiscing, reflection, and introspection.
While driving down the highway the other day, trying to sort through the fog of the last 18 months, I wondered…about a lot of things. I realized with all that has happened, if I am going to come out unscathed, I need to remember what made me proud of whom I am.  Then, keep those memories with me during each stage of my healing/forgiving process.
Some of my most cherished memories are from childhood, surrounded around Christmas and winter in general, as my mother worked so hard to build her children beautiful memoirs.

Oddly enough, although I am not opposed to decorating (will explain below), I stopped openly celebrating the all holidays about 10 years ago. I had/have my reasons.  And, because I live away from my mom, and am not close with the rest of my family, it has been really pretty easy to carry out my own tradition of non-observance.  Even so, I make it a point to chat with mom about the fun moments, so she knows all her efforts will always be treasured.
What moments?  There are too many memories to cover in one blog post. But, I wanted to share the ones in my forethought every year.
Santa's Boots.  We didn't have stockings. Well, we did, but they were decorative.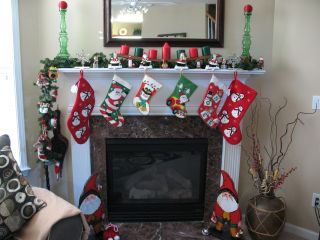 old/terribly focused picture of our knitted stockings that now hang in my house.
Our "stuffers" were life-sized felt covered plastic boots that looked exactly like what Santa wears. Every Christmas morning, the boots would be stuffed with useful, practical items and changed their sensibleness with our ages…batteries for our gifts, socks, hair baubles, and stamps (who doesn't need stamps).
The Button. One year, one of us was upset because someone tried to convince whichever one of us it was that Santa wasn't real.  *GASP*  What???  Oh no…mom was not having it.  So, she had a chat with the big guy.  And, as a result, intentionally or not, Santa lost his button at the base of our chimney for us to find Christmas morning.  There it was, a giant black button full of soot, that even had a thread from Santa's jacket.  And with that, all rumors were debunked.  Santa was and is alive and kickin'.
Mrs. Santa, the big man's better half.  We never received gifts from my parents.  There wasn't a need.  Mrs. and Mr. Santa had it covers, making sure we all had something under the tree, even taking the time to sign our gift tags, "Love Santa and Mrs. Santa." Even when we became grown, and were out of the house…Mr. and Mrs. Santa still found the time to hand write "Love Santa and Mrs. Santa." Isn't that nice of them to do that?  I think, however, there came a time Mr. Santa got kicked to the curb because presents are from Mrs. Santa now. Ha!  Go'head Mrs.  Santa.  Do your thing, you independent female you.
Cookies.  Mom started baking goodies the week after Thanksgiving.  Cookies, like Spritz, Aunt Ida's, Auntie Gloria's Italian Almond Biscotti, and Gingerbread Cookies.  My favorite thing to do was pick the royal icing off the gingerbreads!  Nice huh?  All that work mom put into her piping and there I went picking…pick, pick, pick.  Ha!!! Mom didn't think it was so cute. Then, there were the Peanut Butter Bon Bons, Rum Balls and Fruit Cake.  Oh the fruit cake.  I can remember mom soaking the cheesecloth and wrapping the cake, repeatedly, over (what seemed like) a very long time. I would feel like such a rebel with the rum balls, sneaking one or two….the alcohol…underage eating…ooooh!)And, Struffoli.  I think I could live on those honey balls. Making them? Once the dough was made, it was an assembly line.  Roll, but, fry, drain, repeat. Eat!
The Decorations.  Every bauble, pearl, piece of tinsel placed on the tree had onlookers gasped with amazement.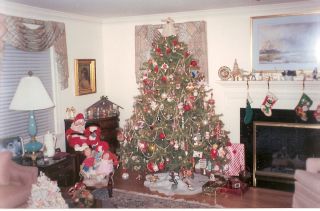 Our old living room
The trees, the Santa doll, the elves, the little white lights on the trees and in the windows…a winter wonderland in our home.  Even the big  Blue Spruce on the side of the lawn got lights.  Man, that was a tall tree, towering over the house. One of my proudest moments related to decorations?  Receiving a large number of the ornaments when mom downsized and have tried to replicate her vision.
The Igloos.  If we had the white fluffy stuff, I would bundle up, grab the igloo block maker, and hope for a watery based snow, so it would freeze my fort. The fort I made in the front yard, of course.
Ice Skating. When everyone was home, and only when one of my older siblings were available to take me with them, skating at the pond was always a memorable time.  Now, mind you…I can't skate.  Never could.  But falling can be fun, too!
Roasted Chestnuts and Hazelnuts. Sitting around the dinner table, chatting about whatever, cracking roasted nuts, getting excited when someone manages to crack the shell while keeping the nut intact.
Christmas Morning. Walking downstairs to find my mom in the kitchen. "Good Morning, Christina! Merry Christmas, mommy's girl."
As I said, too many memories to cover in one blog post.  But, I think mom knows.  And, I have spoken about my mom enough that everyone should know by now that she is the most important person in my life.  My heart.  So, while she spends her Christmas with her grandchildren, I will make sure I remember what she instilled in me.  Christmas is not about the presents. This time of year is about celebrating one another, about finding peace, about memories that mean more than material things.
I was going to make gingerbread men for this post.  Then had every intention of picking off the icing, to make them look more authentic.  Ha! And, I actually made the cookies.  But, I didn't have time to decorate them and allowed the cookies to go stale.  So, I went with a yummy gingerbread spread instead.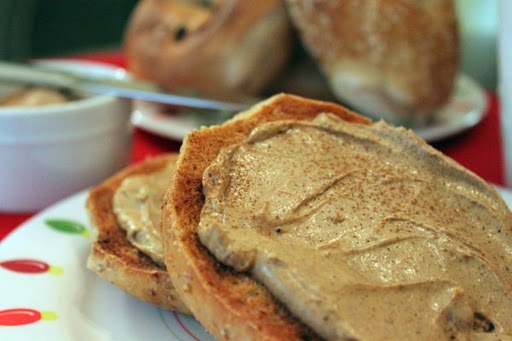 This is a fun and is a great choice to have during the holidays when everyone is eating together…at the table…together. It's great on bread or fruit!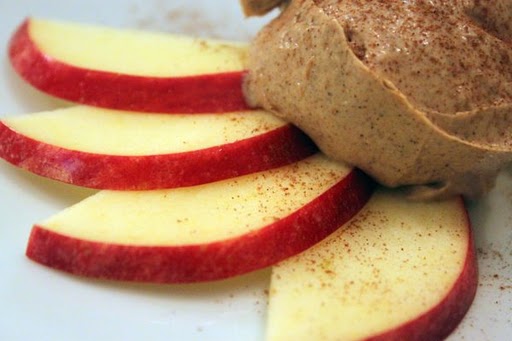 Wishing everyone a wonderfully safe, joyous, and memorable holidays!  Buon Natale!

Gingerbread Spread
1 8-oz package cream cheese, softened
2 Tbsp. molasses
1 tsp. brown sugar
2 tsp. ground cinnamon
1 tsp. ground ginger
¼ tsp. ground cloves
¼ tsp. ground nutmeg
In the bowl of a food processor, add all the ingredients and blend until smooth.(Mix by hand if you don't have a processor.) Transfer into an airtight container and let chill for at least 30 minutes before serving.  Makes about 1 cup.