gran caldo/heat wave
It's that time of year. All the best holiday shows are on in the evening. Although I am not into holidays, I am into three very important shows: Rudolph Red the Red Nosed Reindeer (Love the bumble!), Rudolph's Shiny New Year (love 1 Million B.C), and… The Year without a Santa Claus. Who doesn't giggle with excitement when those crazy, ogreish step brothers, Heat Miser and Snow Miser come across your television screen? C'mon…admit it. The minute you saw the title of this post, you began to sing…
I'm Mister Green Christmas I'm Mister Sun I'm Mister Heat Blister I'm Mister Hundred and One They call me Heat Miser, Whatever I touch Starts to melt in my clutch I'm too much!
Yup…I thought so. If it makes you feel better, I have been singing the song since I made these cupcakes on Sunday.
Since I used Scharffen Berger in these cupcakes, and I mixed a little savory in a sweet again, I thought I would include them in this week's holiday recipe exchange and try my hand at winning the chocolaty prize.
** Please head over to Katie's and vote for #2….
I would love some more Scharffen Berger! Thank you!! **
Before you check out the recipe….allow me to reintroduce you to the holiday season's hotty.
Enjoy!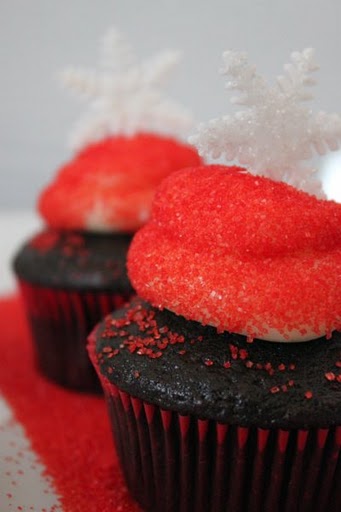 Heat Miser Chocolate Cupcakes
Adapted from One-Bowl Chocolate Cupcakes – Martha Stewart Recipes
¾ cup Scharffen Berger unsweetened cocoa powder
1 ½ cups all-purpose flour
½ cup Eatwell Farm Smoked Chili sugar
1 cup granulated sugar
1 ½ tsp. baking soda
¾ tsp. baking powder
¾ tsp. salt
2 large eggs
¾ cup warm water
¾ cup buttermilk
3 Tbsp. canola oil
1 tsp. vanilla extract
Vanilla Buttercream
Sprinkle or Decorating Sugar
Preheat oven to 350° F. Line standard muffin tins with paper liners; set aside. Sift together cocoa powder, flour, sugar, baking soda, baking powder, and salt into a large bowl. Add eggs, warm water, buttermilk, oil, and vanilla, and mix until smooth, about 3 minutes. Scrape down the sides and bottom of bowl to assure batter is well mixed.
Divide batter evenly among muffin cups, filling each 2/3 full. Bake until tops spring back when touched, about 20 minutes, rotating pan once if needed. Transfer to a wire rack; let cool completely.
*You may want to adjust the chili sugar amount…this was spicy!