nocciola/hazelnut
Laying low in recent weeks has been great and the winter break that I am on at the moment has been like a cherry on top of a sundae.  Cooking, baking, cleaning and getting the house in organized order.  It's kind of freeing, really.
Part of the plan for cleaning includes posting all the dishes and desserts that I have been toting from folder to folder on my external drive.  Posting the foods that I have enjoyed over the past month will only leave room for more reasons to get in the kitchen! Sounds like a good plan to me, don't you think?
To begin that cleanse…Chocolate Hazelnut Cupcakes seem like a great place to start. One of my Christmas memories I spoke about in my last post included sitting around the dinner table with my family, chatting about whatever, cracking roasted nuts, getting excited when someone manages to crack the shell while keeping the nut intact. Upon further thought, I really believe hazelnuts are my favorite nut. In case I waiver on that believe, I just need to look at a sampling of hazelnut/nutella recipes on here!
Truffles
Nutella Flakey Swirls
Apple Pancakes with Nutella Sauce
Filbert Gateau with Praline Buttercream
Hazelnut Cookies I & Hazelnut Cookies II
Yule Log with Nutella filling
The Danish Bread with Nutella filling
Hazelnut Mousse
Crazy, right? Maybe….but that doesn't mean I am not going to add even more to the list.  These cupcakes are quite pleasing, and will be made again, for sure.   One note:  They are flat toppers.  I need to play around some more to get a dome. Nonetheless, they still taste good.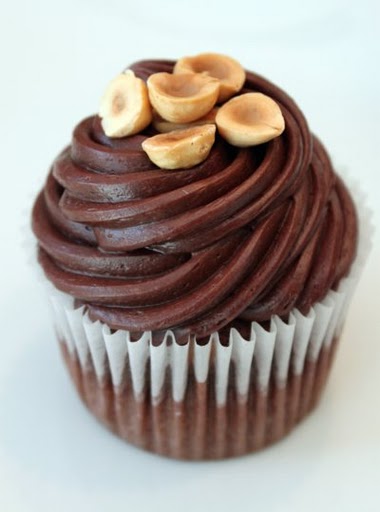 Chocolate Hazelnut Cupcakes
1 cup flour
1 tsp. baking powder
¼ tsp. salt
½ cup unsweetened cocoa powder*
½ cup butter, room temperature
1 cup sugar
½ cup hazelnut spread
2 eggs, room temperature
½ cup whole milk
1 tsp. vanilla
hazelnuts for garnish (optional)
Preheat oven to 375 degrees, then turn it down to 350 just prior to baking
In a bowl, whisk the dry ingredients to combine; set aside.  Beat the butter with an electric mixer until it is soft, then add sugar. Add hazelnut spread and mix until smooth.  Add the eggs, one at a time beating until they are well combined. Combine vanilla and milk. Add dry ingredients alternately with the milk, beginning and ending with dry.  Beat just to combine. Divide batter among the muffin tins, filling each no more and 2/3.  Bake 20-22 minutes, until a toothpick inserted in the center comes out clean. Allow to cool completely before frosting. Makes 14-16 cupcakes
* You always hear people say this, but truly, using the best cocoa powder you can afford makes a world of difference!