caramella gusto menta/peppermint candy
I was going to wait on this post, but I couldn't last any longer.  After baking a lot this weekend, I have plenty of content to sustain Mele Cotte for a while.  So, what the heck.
I have made "easy" fudge before. I actually make it a lot. But, I have yet to make "white" fudge.  So, here it is…in a chocolate sleigh.  Pretty presentation that is completely edible.  All taste…No waste.

What's fun about this fudge, too, is that it is versatile.  There are so many different types of peppermints, now, that you can color code accordingly.  Need some Hanukkah fudge?  Blue peppermint sticks that would work beautifully.  In fact, there are peppermint sticks that are perfect for any occasion.  A ton of possibility.  Right?
As I do with everything else, these bites of peppermint perfection went into the front office.  The front office has student mentees/helpers, who were offered fudge. Teen girls were happy, happy, which made me smile.  Hopefully, this fun will make you smile.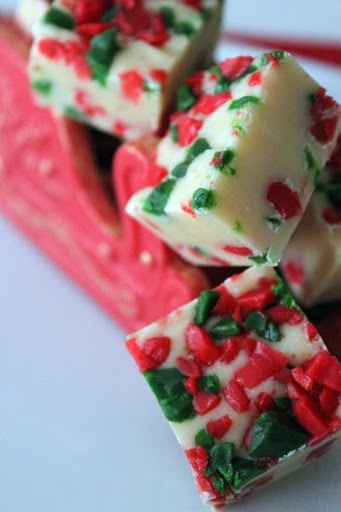 Peppermint Fudge
18 oz white chocolate chips
1 14 ounce can sweetened condensed milk
2 Tbsp. heavy cream
1 teaspoon pure vanilla extract
1/2 teaspoon baking soda
1 teaspoon pure peppermint extract
¾ – 1 cup peppermint candy crunch *
In a heatproof bowl set over simmering water, melt/combine chocolate chips, condensed milk, cream, and baking soda.  Stirring frequently, mix until smooth. Remove from heat.  Stir in extract and ½ cup of peppermint candy crunch.
Pour into a parchment lined 8×8 inch pan.  Top with remaining candy canes.  Refrigerate for 3 hours, or until set.  Lift parchment paper and fudge from pan.  Cut into 1 inch cubes. (Yields about 64 pieces)
* crushed candy canes or peppermint candies work as well.