insalata di cereali/corn salad
I am not sure if words can express the excitement I am feeling about this week.  It's countdown time.  Five days until Thanksgiving Break.  Then, I am free… for a week!  Free to be me, complete random tasks that don't connect, partake in food love by baking, cooking, and dinners out, and celebrate Thanksgiving with really cherished friends. Don't get me wrong.  I am appreciative that I finally found a job.  And, albeit a snail-like pace, the position has me moving slowly towards getting out of the red in which being unemployed put me. That being said, I long for the day I can have joy going to work, believe in what I am doing, have the people around me be positive, and not begin each and every day counting down the time until the end of the day.
One thing that helps me get through my weekdays are the lunches I prepare.  Isn't it crazy how it my thoughts all come back to food?  While many of the meals I end up making have leftovers that come to school with me, some preparations are specifically for my daytime nibbles,  like the Spinach Chickpea Soup.  As is the case with this Corn with Tomatoes and Edamame Bean Salad.
Several months ago, I reviewed several cookbooks for  Bren.  While I thought I would have a preference and lean towards one book over the others, truth is, I really liked all of them.  Each book is filled with recipes I can eat, tasty, limited animal proteins, and really pretty simple to execute.
The cookbooks have been handy in the last few weeks, as I am being really calculated with what foods I consume.  Even though I typically stick to root and other autumn-ish vegetables during this time of year, my recent "cleanse" has me incorporating a variety of not-so-seasonal flavors. So, I am sneaking in summery-type items in my lunch preparations this week.
This Corn with Tomatoes and Edamame Bean Salad comes from Quick & Easy Chinese: 70 Everyday Recipes by Nancie McDermott.  And, like many of the recipes I have made from the book, this salad is packed with flavor.  As simple as it was to make, I foresee it being in the lunch rotation on the regular.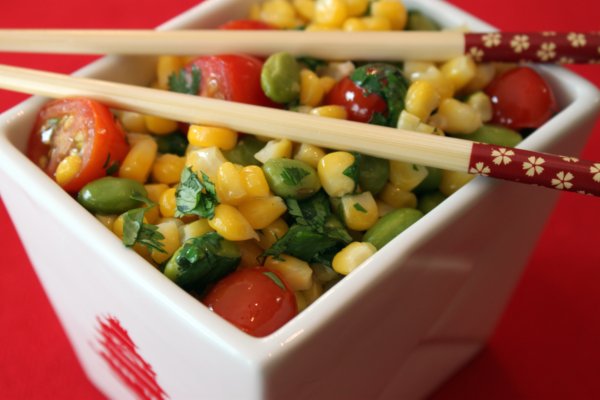 Corn with Tomatoes and Edamame Bean Salad
From Quick & Easy Chinese: 70 Everyday Recipes by Nancie McDermott
2 Tbsp vegetable oil (I used canola)
2 tsp. chopped garlic
2 slices ginger
1 tsp.
cups corn kernels, fresh, frozen, or corn
1 cup shelled edamame beans (or lima or tiny peas)
3 Tbsp water
½ cup halved cherry tomatoes*
½ tsp sugar
1 tsp. sesame oil
2 Tbsp. chopped cilantro
Heat a wok or large, deep skillet over high heat. Add the vegetable oil and swirl to coat the pan. Add the garlic, ginger, and salt and toss well. Add the corn and toss to mix with the oil. Add the edamame beans and toss to mix everything together. Add water and cook, tossing often, until corn and edamame are hot and tender.  (Add  a little extra water, and cooking time, if using fresh corn.) Add cherry tomatoes and sugar; toss gently to mix them in evenly and heat up a little. Add sesame oil and cilantro, toss well.  Transfer to a serving plate.  Serve hot or warm.
*Roma tomatoes work well, chopped, seeded and strained of juice.
Other healthy eats, from the cookbooks I reviewed, posted on Mele Cotte
Viva Vegan: Heart of Palm Avocado Salad
Quick & Easy Chinese: Udon Noodle Vegetable Salad
Other healthy eats, from the cookbooks I reviewed, posted on Flanboyant Eats
Viva Vegan: Chimchurri Baked Tofu, pickled onions, and Papaya Sorbet
Quick & Easy Chinese: Soy Sauce Chicken Wings