determinato/strong
I am interrupting my regularly scheduled Monday, Wednesday, Friday posts to participate in a very special blog event, Taste of Yellow.
From the beginning to now, posts on Mele Cotte have run the gamut, from matter of fact, happy, sad, angry, grammar-error filled, or well versed.  Through it all, the last 4 years have been quite therapeutic, really, as I have journeyed through a multitude of events, emotions, and jobs. With my journey, the support from fellow bloggers has been above reproach.  Camaraderie among us form from in beautiful ways, through the prose we read, emails we send, and event we attend. Within that support, some locally meetings which have resulted in wonderful friendships, and the long distance communications have turned in to unspoken, yet lovely alliances.
One of those long distance friends I have grown to cherish and admire over the years is Barbara from Winos and Foodies.  Countless foodies follow Barbara and she writes about delicious food and drink, offers glimpses into her lovely family, as well as her corner of the world, all the while fighting her bout with cancer. Through her journey, she has been the epitome of grace and loveliness, a lady that encourage others without trying, reminds us of the strength we may not realize we possess, that a woman you want to know personally.
Barbara's journey also led her to start one of, in my opinion, the most meaningful blog events in the blogosphere. Taste of Yellow began as, among other things, an event to thank Lance Armstrong for the strength he gave Barbara during her journey. Over the past three years, it has morphed, matured, and made a tremendous impact on those of us who have battled the disease, those we know who have endeavored through the journey and won, and honor those who have fought and lost.
Because of the event, the color yellow has taken on an entirely different significance for me, as I remember, and almost regroup my thought process, when I come in contact with its sunshine. And, while I am out and about, and come across the limitless shades of yellow, I want to beam them across the pond to Barbara.
Since I can't physically beam anything to Barbara, I can participate in her event.  Today, October 2nd, is LiveSTRONG Day 2010, and this year's Taste of Yellow event  has a new theme that will truly LiveSTRONG . In conjunction with Barbara's weekly heart postings, she encouraged bloggers and non-bloggers to include yellow and hearts in their own October 2nd posts.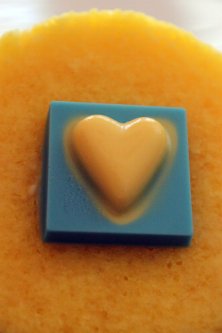 For my tribute, I decided to make small lemon flavored white cakes, dressed simply with a yellow tinted sugar glaze and a white chocolate heart.
How will you support LiveSTRONG Day 2010? You still have time.  Barbara is accepting entries through the week! Just click here to find out how.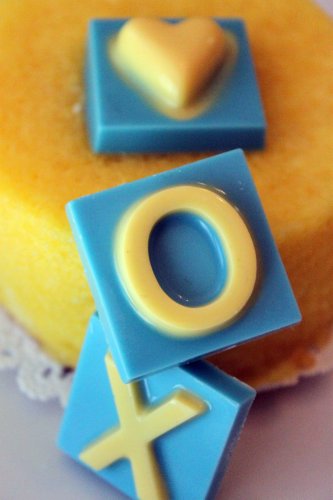 And Barbara, thank you…for all you do with and without even realizing. I hope our paths cross one day.