arte culinaria/culinary art
Although I miss going into a kitchen to work on a daily basis, I have tried to find little ways to help satisfy the void. As the culinary arts teacher at school works to build her program, I am helping her with the CHS Chef Series.   The goals of the class are for students to realize the differences between cooking at home and being a chef, have students become passionate for food and cooking (regardless of if they will work in the industry), and learn the basic techniques so, if interested in moving into the culinary world, they have a good foundation. The series, which is framed around those goals, features local chefs, stylists, and managers who come in and speak/demonstrate their craft.
This week launched the series and for our first presentation, I had the pleasure of finally meeting Chef Craig Richards, Executive Chef of La Tavola Trattoria. I have eaten the amazing food at the restaurant, communicated with him via Twitter, and now, have been able to see him inspire young kids who (by outside appearances) might seem uninspired to some. Not true! Chef took on the challenge with amazing energy.
Wanna see what happened?
He chatted…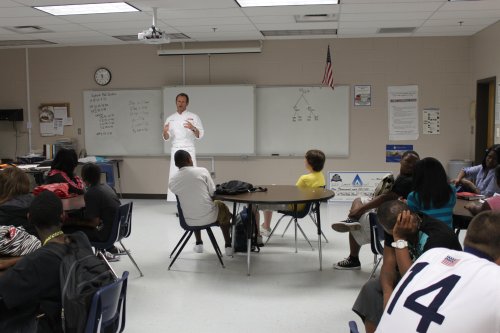 Talked tools & knives (which got the kids attention – ha! ha!) …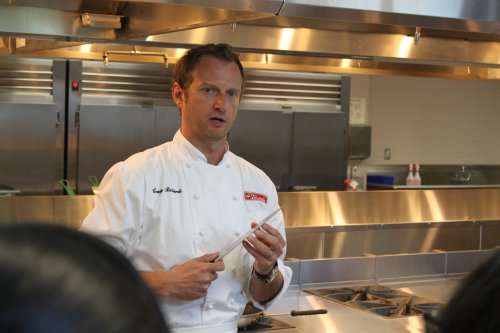 Showed off his knife skills…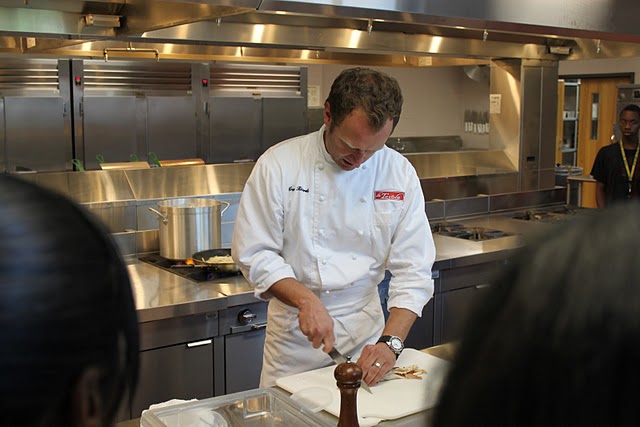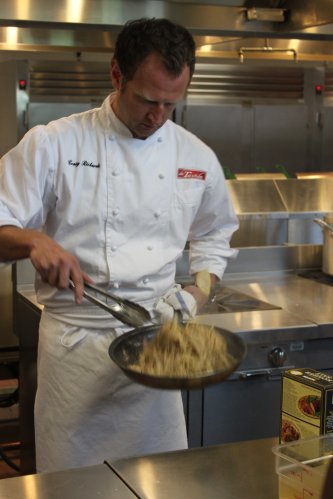 It was great to learn about his experiences, as well as the story behind the dish he prepared.  What did we eat?  Pasta Cabonara (alla carbonara, coal worker's style), a Roman dish eaten by coal workers with which an abundant use of coarsely ground black pepper is the "play on food" for the coal flakes said to fall in the pasta.
In the end?  It was a wonderful class.  For 90 minutes, I was in culinary bliss.  The kids were great, totally enjoyed Chef's visit, and even talked about it the following day.  The comments from the peanut gallery were fantastic and the class engagement was fun to see. Now, I would be lying if I said I wasn't a little nervous in the beginning.  Chef was the first to start off this series and he was speaking to the teacher's most "challenging" class, 31 eleventh and twelfth graders. In the end, one of the kids with whom I had to have a "lil' chat"  prior to the class because of a smart ass comment he made, and who also was adamant about not wanting a plate with onions, had great feedback.  The young man looked at me when I asked him what he thought and said, "I don't like onions.  Or, I didn't think I did.  These were real sweet.  I actually liked them!  Where is this place?  Write the name down for me, will ya, Dr. A?  I may have to take my girl there.  Or, she can take me." Ha!  From the mouths of babes….
Another sign of Chef's inspiration?  Prior to his visit, (maybe) ten of the 31 students in that class passed the necessary test that allowed the them to work in the kitchen. For those not allowed in the kitchen? Book work.  (No fun, right?!) And, they seemed okay with that, lacking the intrinsic motivation to try again for a passing score. After Chef's visit?  Happily, a good number of kids stayed after school this week to retake their test so they could cook.  That, my friends, is some great inspiration.  Wouldn't you say?
So…Sending out an infinite amount of gratitude to Chef Craig Richards, La Tavola, and the Fifth Group Restaurants for a great day!
As for me, this blog, and my recipe for today?  I thought a little Tuscan Minestrone Soup would be a good fit here. This is my version of Judy Witts Francini's Ribollita recipe. Mangia tutto!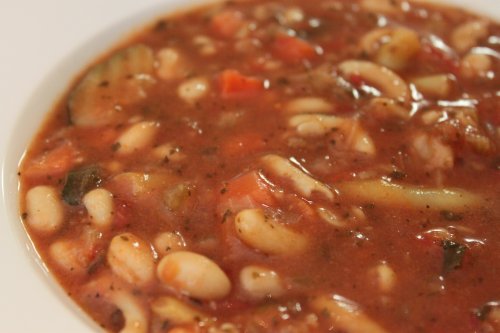 Tuscan Minestrone Soup
Adapted Judy Witts Francini's Ribollita
4 tablespoons olive oil
½ onion, chopped
2 garlic cloves, chopped
3-4 carrots, chopped
2 large zucchini, chopped (I used a mandolin/waffle slice)
1 small bunch spinach, shredded and chopped
2 cups tomatoes, chopped
2 cups white beans, ½ cup pureed and 1 ½ cup whole
2 tablespoons kosher salt
4 tablespoons tomato paste
1 cup cooked whole-grain elbow macaroni, cooked
4-6 cups water
Heat the olive oil in a large pot/Dutch oven and sauté the onion over medium-low heat until they begin to burn slightly. Add the garlic and sauté for 1 minute. Add all the remaining vegetables. Season with sea salt and stir to mix in the onions. Cover and cook for 20 minutes, until the vegetables have reduced in volume by half. Stir and add water.  (Add more water for more broth with the soup.) Increase heat, bring to a boil and then reduce the heat again. Add the tomato paste and stir to incorporate/liquefy. Cover and cook the soup for 1 hour. Add the Tuscan beans and pasta.