guarnito/sundae
While a large majority of schools just started back to school this month, we have been in session since August. Regardless of the specific time, one thing is for sure.  Schedules become crazy and family time tends to dwindle fast.  It is a hard thing to manage.
G isn't with me full time, but one thing we do is stay in touch throughout the week, grab dinner, and check each others homework.  I know, I am not in school anymore, so what's my homework? G makes sure I leave work before the witching hour with his texts ("Ma, leaving FB.  U better not still b @ wk!), reminds me about my blog posts, as well as my regularly scheduled "good morning" texts to him.  Ha!  Kids.  Even though he and I try to keep our routine flowing, it is tough.
So, I liked the idea behind the Nestle Toll House Back-to-school kit. Nestle Toll House shares new ideas, and gives a reason to bake, bringing people together.  A family that bakes together, makes memories together, right?!
While I was tempted to go with the Football Cookies, I thought the The Ice Cream Sundae Nestle®Toll House® Cookies seemed pretty fun.  Don't you?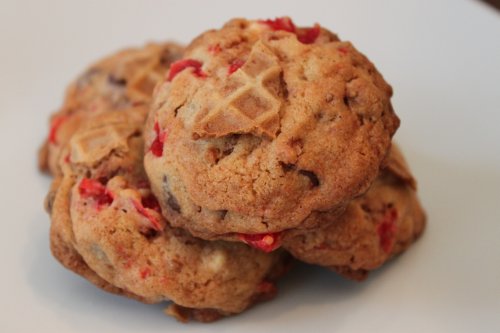 And, they were fun.  The boys loved them.  Me?  ehh….I am not a good judge since I don't like chocolate chip cookies and that, in essence, makes up the cookie.  The extra add ins pushed the cookies to be the ice cream sundae level.  So, if you like chocolate chip cookies, you'll like these.  Personally? I think the cookies would be great if used as the cookie part of an ice cream sandwich!  Brilliant, right?
You want to bake with/for your family? Itching to get your kidlets in the kitchen? Check out My Alter Ego to find out more!