If you were around in the 80s, and a music lover, I believe you'll catch on to the importance of this event. Follow me here…
Did you (Reach Up For The) Sunrise hoping that the New Moon On Monday would Take You Higher, allowing you to escape from your Ordinary World, even if for a short time? Or, were you someone who would stare at Cracks In The Pavement trying not to Come Undone and ruin a First Impression for the hot Wild Boys you wanted to get to know in your Finest Hour.
Okay, maybe that was bordering on revealing Too Much Information.  But, who doesn't want to experience the Perfect Day?
Friends of Mine, Thank you for indulging me in my rambling.  But there are reasons behind this seemingly random post.  First,I want to assure you that the bad hair of the eighties were not part of Careless Memories.  They were a Big Thing and helped define who you are today.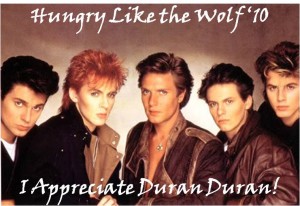 Second, this is the Time For Temptation, as August 10th is Duran Duran Appreciation Day!  Yes, my groupie friends, Starting To Remember which member was your Dream Boy ?
If you were/are a lover of Duran Duran, you know that John Taylor (my personal heartthrob with whom I was convinced would be my hubby) started Duran Duran in the late 70s, with his neighbor, Nick Rhodes. Who knew that 30+ years later, the group would survive stardom, comebacks, and band member changes? Duran Duran are still going; they define Success. And, To celebrate, I am hosting the Hungry Like a Wolf Food Blog Event.
Rules are simple. Create something edible, course of a meal, snack, drink, dessert, etc that ties into Duran Duran; tie into a song, a memory, an experience, whatever! That's up to you.   That's the fun of it.  In fact, this all got started by a tweet!  I tweeted about the Appreciation Day and Tiffany and I realized we had something in common, other than food.  Her Ken doll rocked on as Simon, while my brunette, Wash and Shave Ken rocked on as John!  (I hope you're laughing….because we sure did!)
Post your Duran Duran Appreciation goodies, with a link back to this posting, by no later than Sunday, August 8th 11:59 EST. (Feel free to pick up the above "group shop" logo for your post.) I will post the round up on August 10th, Duran Duran Appreciation Day
After you post, please send an email to me – melecotte (at) gmail (dot) com, with Hungry Like the Wolf in the subject line.. Then, in the body of your email, I would like
your name (as you go by on your blog/twitter)
your location
the name of your blog (if applicable)
the name of your recipe
a permalink to your post (if applicable)
a picture (approx 250 pixels)
***You do not need a blog to participate! Feel free to send me the above information, and even the recipe (if you want). It's all about getting the word out. ***
That's it!  What do you think? Is There Anyone Out There who will join me in celebrating one of the most loved bands of all times?
*For those who are not familiar with Duran Duran, the Italicized words/phrases are Duran Duran songs.  Rock on!
You Tube