Happy Friday!  It's a particularly good Friday in the Mele Cotte home. Wednesday, I received the "official" call on letting me know I was approved by the school board for an Assistant Administrator position. Yup!  That's right kids…Dr. A headed back into the schools after 9 months of being unable to find a FT position.  (Not to worry Adelina's Bakery clients….we are still up and running.  *smile* )
This job is similar to my position filled before I left for Utah.  This time, however, I will be in a High School, over 10th grade (discipline) and a few academic departments (among other responsibilities).  A couple of middle schools feed into this high school, including the one I worked in, so many kids know/are familiar with me and my ways. The kids who liked me?  Glad to see me.  The kids who were "frequent flyers" in my office because of mischievous activities?  Not so much.  Ha!
This opportunity allows me to let out a little sigh of relieve, as it will be nice to know the bills can be paid now.  I don't believe I was very detailed on the blog about why I moved back to Atlanta last December (and there is no need to get into it, really), but the last year has been, in a word, trying.  And, trying on so many levels.  So, having a steady paycheck and insurance will relieve many stresses that tags along with being unemployed full time.
What better way to celebrate a new chapter than with cherries…in creamy, frozen goodness. Now, I can't take credit for this dessert, as Tiffany is the inspiration here.  When she posted her Cherry Frozen Yogurt for my Duran Duran Appreciation Day event. I made mine a little differently, but wow…is this some good stuff!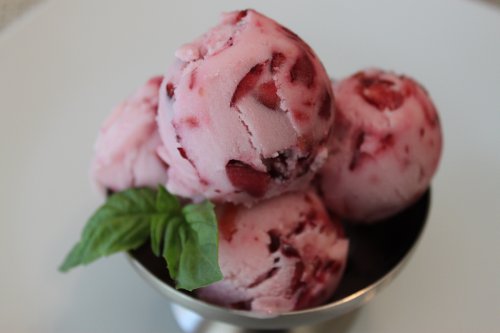 Cherry Basil Frozen Yogurt
¼ cup sugar
¼ cup water
3-4 med – large basil leaves
1 cup fresh, pitted cherries, roughly chopped
2 Tbsp. sugar
3 cups fat free, plain yogurt
Bring the sugar, water, and basil leaves to a boil in a small saucepan. Boil for 4-5 minutes, until the sugar has dissolved. Remove from the heat and cool to room temperature. In a medium bowl, toss the cherries with the sugar and simple syrup. Refrigerate for 30 minutes – one hour to "marinate". Stir in yogurt and pour into the bowl of an ice cream maker and freeze according to manufacturer's directions. Freeze completely for at least one hour and up to one week in the freezer.