I actually made this cake a few weeks ago and forgot to write about it! Back when I was on my
blueberry kick
, I made 4 cups of blueberry puree after a trip to Costco. That's a lot of puree. Needless to say, I was adding it to everything, from my baking, to my breakfast in my Greek yogurt, anything and everything!
Somewhere in the anything and everything was this crumb cake. While I was a little unsure and proceeded with caution, as I always do when I follow an "out of my head" recipe, the end result was really good.  So, I brought it to a friends house, not realizing both of them were huge blueberry fans. In fact, I believe T was a little too much of a fan.  Very pregnant, she called me after going to one of her doctor's appointments.  She failed her glucose test and needed to go for the follow ups to figure out the problem.  She tried to explain; but the doctor, while amused, didn't accept her explanation.  The night before her appointment, T ate a piece of Blueberry Streusel Coffee Cake.  The morning of the appointment?  Two pieces of Blueberry Streusel Coffee Cake. Sugar in the crumb topping, sugar in the batter, sugar in the puree.  I sugared up my girl and my godson. Whoops!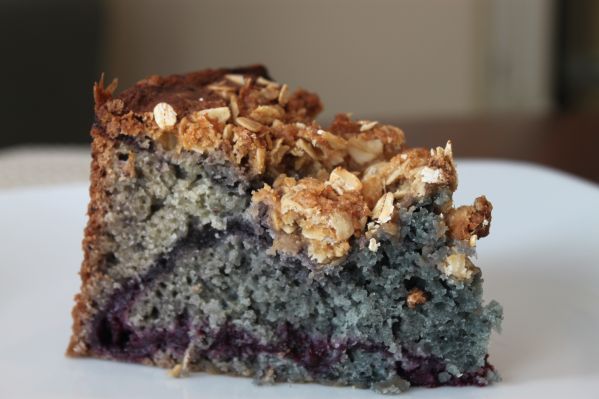 Someone tweeted that this cake slice looks like mold, and it really kind of does. Right? Regardless of the intense blue hue, it really quite delicious. Next time, I would choose to make this in a 9X13 pan instead of a round pan.  It took too long to cook because and, I felt, the streusel topping was a bit compromised. Other than that, I think its okay!
The blueberries lead me to make this cake my contributions to this week's WHB, with which Marija from Palachinka returns to host. Be sure to participate with your great dishes, too! Check out the rules of the event.

Blueberry Streusel Coffee Cake
For Streusel
1/2 cup cake flour (all-purpose is okay)
1/2 cup firmly packed light brown sugar
1 cup oatmeal (not quick cooking)
5 tbsp (2.5 oz) unsalted butter, softened
3 tablespoons lemon juice
Cake
1 cup blueberry puree, divided
1 tablespoon butter
1 cup sugar
1 large egg
1 large egg white
1 tablespoon canola oil
1 tablespoon vanilla extract
2 ¼ cups unsifted cake flour
1 teaspoon baking powder
1 teaspoon baking soda
1/2 teaspoon salt
1 cup plain sour cream
Streusel: Combine all the the ingredients in a bowl and, with a fork or your hands, until and mix until well blended – crumbly.
Cake:
Preheat oven to 350°F. Butter & flour a 10 cup removable bottom bundt pan.
Sift together 2 1/4 cups flour, baking powder, baking soda and salt; set aside. Add sugar, egg, egg white, oil and vanilla in a bowl of a mixer and whisk to combine. In the meantime, in a small saucepan over medium heat, , melt butter until lightly browned.  Whisk in ½ cup blueberry puree into the butter. Allow to cool slightly before adding to the sugar egg mixture.  Add the flour alternately with sour cream.
Spread half of the batter in the bottom of the prepared pan. Top remaining puree, then the remaining batter. Sprinkle the streusel over the top. Bake until a cake tester inserted in the center comes out clean, 40 to 45 minutes (times may vary with pan choice). Serve warm. Cool at least 10 minutes on a wire rack, remove from pan and finish cooling.