vino rosso/red wine
Nothing defines "relaxing" better than a leisurely dinner on the patio, at home or at a restaurant, with good friends, candles flickering, and muted sounds of patron conversations , the laughter of a funny something that has been said, and a delicious glass of wine. Atlanta is great for this kind of evening, especially since the foodie world has exploded.  The amazing eateries tempt passers-by with culinary brilliance, and evenings like the ones described above are always welcomed and can't get much better.  Or, can it?
What if that delicious glass of wine was incorporated at the conclusion of the meal in a different way.  How?  Ice Cream.  Red wine ice cream.  Yup, I said it.  And, not only did I say it, I made it.
A few months back, while at the restaurant, two of the three desserts I made included ice cream.  The Salted Caramel Ice Cream went with the flourless chocolate cake and the Donut Ice Cream (similar to this ice cream, but make a little differently and with Sublime Donuts) went with the affogato (ice cream served with a shot of espresso). Since recipe testing began for the dinner service, I became very interested in marrying different flavors with ice cream's custard base, especially after tasting how fabulous thyme went with the Buttermilk Thyme Ice Cream.
There were several desserts suggestions I shared when during dessert menu discussions thoughout my time there, like the the frozen sangria, and this red wine ice cream.  Unfortunately, since the sous chef felt my position was not necessary, wanting to be over desserts as well as the line, any suggestion I put forth was ignored and then brushed off by the Executive Chef.  Their loss, our gain!
When all was said and done with this ice cream and it was ready for consumption, I thought it was creamy and delicious.  But, that was me.  Maybe I just really wanted it to be creamy and delicious.  Then Bren came over to help me with a project I am putting together. I presented a bowl to her and another friend hanging out.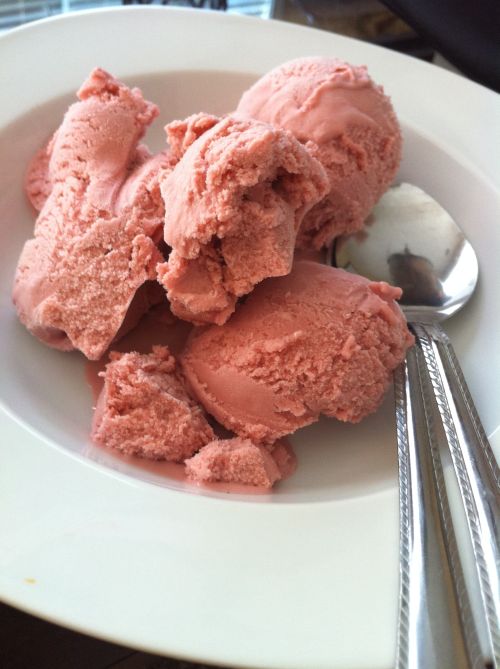 a great shot Bren took with her new IPhone
Bren was so sweet and openly expressed her excitement.  In fact, she called her dad who is a wine lover.  "Papi, your adoptive daughter Christina just made the most amazing, get this, red (pause) wine (pause) ice cream. Papi, it was off the chain!  I am getting you an ice cream maker so you can make some. " Fun!  and….Score!   As if her enjoying the ice cream wasn't sweet enough, then calling her dad, she also added, "I think this may nudge out the Chocolate Decadence as my favorite."  Whoa!  That's big!
So here it is my wine connoisseur/enthusiasts and ice cream fanatics. My version of  Food and Wine's recipe! If you try it, let me know how you like it!

Red Wine Ice Cream
adapted from Food and Wine
6 large egg yolks
2 cups heavy cream
1 cup milk
½ cup sugar
½ tsp. vanilla
¾ cup Cabernet*
In a heatproof bowl, mix the egg yolks. In a saucepan, combine the cream, milk and sugar and bring to a simmer over moderate heat, stirring to dissolve the sugar and vanilla, about 4 minutes. Gradually whisk the hot cream into the eggs yolks; return the mixture to the saucepan. Cook over moderate heat, stirring constantly, until the custard is thick enough to coat the back of a spoon, about 5 minutes; do not let the custard boil or it will curdle.
Strain the custard into a bowl. Stir in the red wine. Cover and refrigerate until thoroughly chilled, about 1 hour. Freeze in an ice cream freezer according to the manufacturer's instructions. Cover and store in the freezer until serving time.
*The original recipe called for a sweet red wine, such as Moscato Rosa, Sagrantino Passito or Recioto di Valpolicellaused. Cabernet was all that was in the house, which is closer to a full-bodied flavor profile than others, and supports fruity characteristics.
Note: When I added the wine to the custard, the mixture turned into a gray-ish, muddy-like color. First thing that same to mind was to add beet juice for color, but I didn't have any.  So, I used a few drops of red gel coloring.