sposarsi/get married
Events of this week have been quite exciting!   I didn't want to say anything until events came to fruition, but it all started from a phone call.  The lovely Tami thought Sarah-Jane of All Events Perfect and I would have lots to chat about, so she initiated a connection. That connection led to a really fun collaboration, as Sarah-Jane was asked to participate in a Wedding Planner Challenge on Get Married. Based on information provided, like a spirit board, bios, etc, the two planners were asked to create a candy/sweets favor table for a bride to choose.
That's where I came in.  Sarah-Jane wanted a mix of desserts in with the candy.
A shoot happened earlier this week, where Sarah-Jane accepted the challenge and had a chat with me about her thoughts.  Then, the "great reveal" for the bride happened yesterday.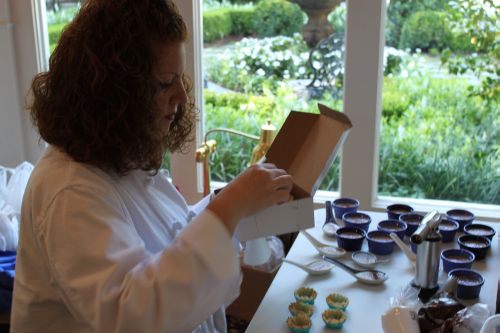 I tried to include items that were different from the typical grab and go items.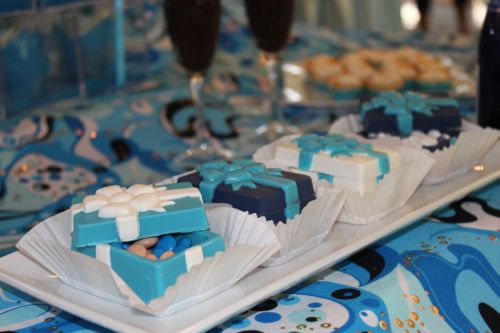 Edible Chocolate Candy Cups
The main thing?  Blue.  The bride wanted different shades of blue.  To, while Sarah-Jane did her thing with the table-scape and candy, I thought blue-like eats.  While some cupcakes and truffles were a must, since they are familiar and kid-friendly, I also added fun goodies like the Crème Brûlée, cream puffs and  Orange Mascarpone Cream cups.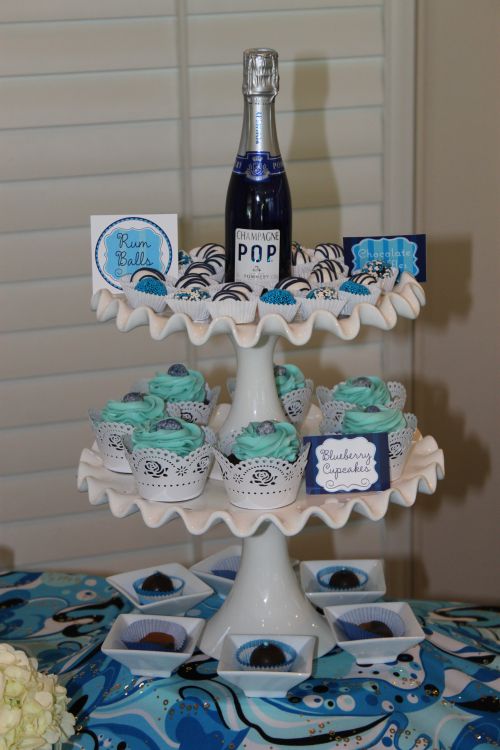 I really liked the All Events Perfect table, as it was fun, flirty, and interactive. The other wedding planner, Kristen Fantz, had a lovely table, as well. It was elegant with a mix of candies, mini cupcakes, and Petit Fours from Chocolate Pink.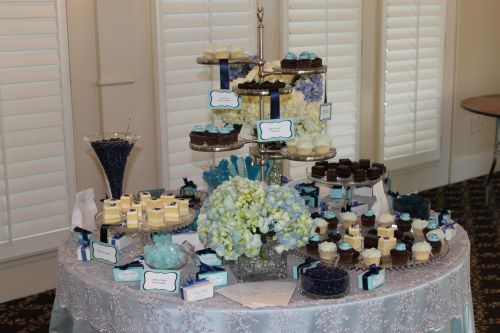 Peachtree Weddings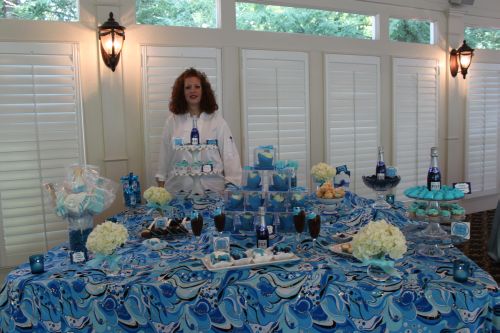 All Events Perfect Table
Table Two very different table-scapes for one special day , which is why challenges are so exciting. Similar to what one of the cake artists said at the Hands on Atlanta Cake Off, it is amazing and always so intriguing to see interpretations that came together as a result from just a couple of initial nuggets of information.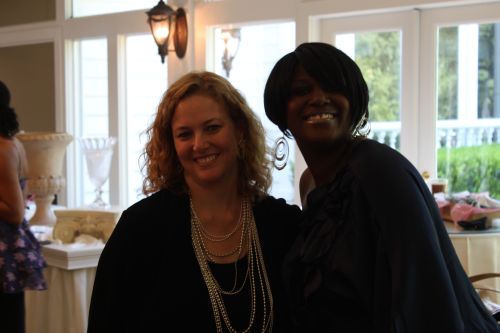 (L-R) Kristen Fantz and Sarah Jane Bennett
Now, I have to admit.  I am never comfortable being around when people are eating my creations.  This is not because I don't think my desserts are tasty, but I get nervous!  I much prefer to be be behind the scenes.
So, it was a bit nerve racking watching the the bride and host taste my goodies.  But, I was put at ease when I saw the facial expressions and accompanying mmmm's and the "oh yeah's".  And, I heard lots of them with the Orange Mascarpone Cream cups. These light and airy bites went over very well, with host, founder & Editor-in- Chief Stacie Francombe and Missy (the bride). To keep with the blue theme, I dipped the phyllo cups in blue chocolate.
(L-R) Sarah-Jane, Missy (Bride), and Stacie (host).  They "toasted" with the cookie pops, then tasted!
It was a great day and I am excited for Sarah-Jane! The two planners won't know which favor table the bride chose until the air date.  But, regardless of who wins, Atlanta is lucky to have All Events Perfect expanding their offices to Atlanta and the exposure will be priceless for her.
Cheers!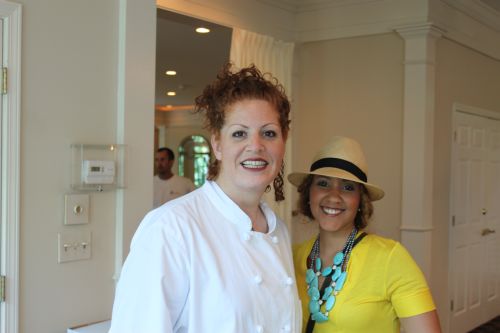 *Thanks to Bren for coming to help me.  I needed someone close-by who knew food in case I needed her to jump in with prep.  She was able to catch the majority of these pictures as well, which I am thankful for.

Orange Mascarpone Cream
2 cup whole milk ricotta
6 cup mascarpone cheese
1/4 cup sugar
1/4 tsp. vanilla extract
1 tsp. orange blossom water
2 cups heavy cream
2 Tbsp. powdered sugar
orange zest
Using an electric mixer, with a whisk attachment, whisk heavy cream and powdered sugar to stiff peaks. Transfer into another bowl and set aside.
Using the same bowl as whisked cream, using the paddle attachment, blend the ricotta, mascarpone and sugar until smooth and creamy. Stir the blossom water and vanilla.
Carefully, fold the whipped cream into the ricotta mixture until well combined.
Using a spoon or piping bag, divide amount small tart shells. Garnish orange zest. Refrigerate up to 1 hour before serving. Fills about 36-38 mini phyllo shells
* I used Orange Blossom Water in this recipe that my friend, and Executive Chef of Lil Cake Bakery, Kristie gave me.  She was so sweet to give me a foodie gift!  Rose Water and Orange Blossom Water were two of the goodies; two items I have never used and wanted to.  So great!  It provided the perfect hint of orange taste, without being over powering.  Don't have Orange Blossom Water?  Just and zest work!  😉