cremoso/creamy
While I make them….all the time….I don't eat desserts as much as it might appear.  Candy eater, yes.  Dessert eater, not so much.  However, Creme Brulee?  Yes, please!
The history of custard is long and debated. Whether it was the French, Spanish or British who invented the smooth custard deliciousness topped with caramelized sugar,  I am all about it. Lots of desserts have been/will be created in the Mele Cotte kitchen this week, as I am involved with a little project I cannot reveal yet.  But, I can give you a peak into one of the goodies.  Can you guess?
You are correct…Crème Brûlée.  I have made it several times before, but only blogged about it once on here with a Kona Coffee Crème Brulée.  Then, I gave my torch and a ton of other baking stuff to Maria before I left Utah and never replaced the torch until this week.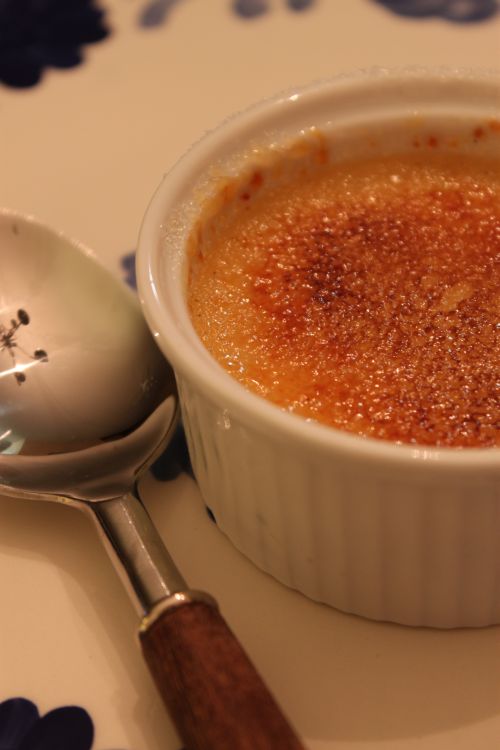 Honey Ginger Crème Brûlée
2 cups whipping cream
½ cup sugar
2 tablespoons chopped peeled fresh ginger
2 tablespoons Sage Honey (From Week's Honey Farm*)
2 tsp vanilla bean paste
5 large egg yolks
12 teaspoons sugar
Preheat oven to 325°F. Place six ¾-cup ramekins in 9X13 pan. Mix cream, sugar, ginger, and honey in heavy medium saucepan. Add paste to saucepan. Stir over medium heat until sugar and honey dissolves and mixture comes to simmer. Cover pan, reduce heat to very low and simmer gently 10 minutes to infuse flavors. Strain into large measuring cup.
Whisk yolks in medium bowl until well blended. Temper eggs.  Then, gradually whisk in hot cream mixture just to blend. Return custard to measuring cup; divide among ramekins. Pour enough hot water into pans to come halfway up sides of dishes. Carefully transfer pans to oven.
Bake custards until almost set in center when pans are gently shaken, about 35 minutes. Using metal spatula or sturdy tongs, transfer custards in dishes to a heat resistant work surface; cool 30 minutes. Chill at least 3 hours and up to 2-3 days.
When ready to serve, sprinkle 2 teaspoons sugar evenly over each custard. Working with 1 custard at a time, hold blow torch so that flame is 2 inches above surface. Direct flame so that sugar melts and browns, about 2 minutes. Refrigerate until custards are firm again but topping is still brittle, at least 2 hours but no longer than 4 hours so that topping doesn't soften.
* I made this recipe in different dishes, 2 oz and ¾-cup ramekins and Asian soup spoons.  Be sure to adjust the time accordingly.