When Barbara speaks, I listen.  Although I don't know her personally,
winos and foodies
has been on my blog roll for …well, since I began reading blogs over 4 years ago. When she began
LiveSTRONG With A Taste Of Yellow
I knew it was something with which I wanted to participate.  In fact, I still have the Livestrong band she sent me from way across the pond.
Naturally, when she tweeted a request for anyone interested in participating in her blogger version of  Tour de France, I jumped at the opportunity.  (Tangent…if Lance Armstrong doesn't ring Barbara's door at some point, someone needs to pop him upside the head!)
What is the blogger version of the Tour de France?  In case you've missed it… food bloggers will be posting a gastronomic buffet of traditions and recipes that correspond to the stages of the 2010 Tour de France.   Check out Barbara's Tour de France starter post for more details. Then, be sure to check out the stages before me, as well as those after me.  While the riders ride for 97 miles …we eat throughout 97 miles.  Sounds good to me!
Yesterday, the Tour was at Stage 9, Morzine-Avoriaz – Saint-Jean-de-Maurienne and Allison made a lovely Tartiflette.  Today, I am at Stage 10  –  Chambery – Gap.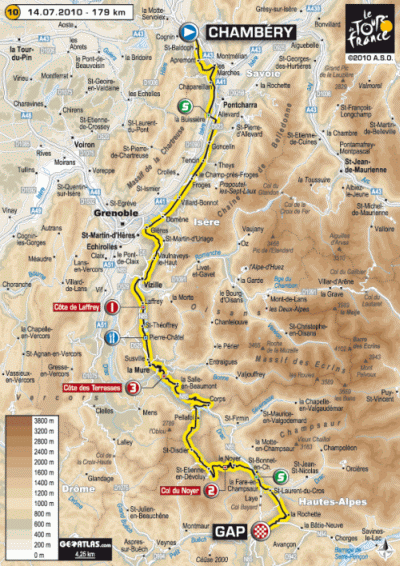 Stage 10 begins in Chambéry, just north of Grenoble and south of the Lac du Bourget.  With a rich history that dates back to 1232, is wasn't incorporated into France until 1860.
From what I have read, it seems as though the foods in the area tend to be somewhat traditional, while taking advantage of the mountains and the natural produce it produces.  Meat, cheeses (like Reblochon) and Bresse poultry (Bresse being the area that extends from Dombes River to the Doubs, the Saône to the Jura mountains) are just a few of the Alpine flavors Chambéry and the surround areas have to offer. As far as fruits?  Apples and apricots find themselves in many a dish, along with wonderful wines from any of their wonderful vineyards.
As riders enter Gap, capital of the Hautes-Alpes, they'll be on the Luye River at the foot of the Dauphiné Alps.  Founded by the Roman Emperor Augustus, Gap later became the capital of medieval Gapençais (which was annexed to the crown of France in 1512). Even with all this, Gap may be most known for its main road, as it passes from Briançon to the Rhône Valley which is the route Napoléon took in 1815 to return from Elba.
Today, Gap is popular resort area with which sports are a way of life year round, especially since its weather pleasures residents with about 300 days of sunshine. But, as you can imagine, its location is extremely conducive for unbelievable skiing and other winter sports.
Similar to Chambery, Gap foods pay tribute to the traditional and include potato or spinach fritters, often times served with herbs or meat. It's also the home to lavender and edelweiss.
For my French meal at home, I wanted to bring in the meat aspect, as well as the lavender which I love!  So, I went with a Pan Seared Duck Breast with Balsamic Lavender Plum Sauce.  It many seem a little heavy for summer, but it really wasn't.  I am thinking that serving it with green beans (sprinkled with tasted almonds) instead of potatoes helped. But, feel free to cross regions and make this dish with the Tartiflette.
I have never made duck at home before.  And, I am so excited with how this dish turned out. It wasn't gamey at all, and checking the temperature, then letting the meat rest was key for the breast to maintain its moisture. And the plum sauce?  Woohoo!  Delish!  I made another with my Grilled Pork Chop with Rosemary Plum Sauce and Arugula, and that was great, too.  But, the lavender here played a more subtle role than the rosemary which I liked better.
Now, after you get all warm and fuzzy about this Duck Breast, be sure to head over to the fabulous Tami at Running With Tweezers.  She's Stage 11, which has the cyclists going from Sisteron to Bourg les Valence.

Pan Seared Duck Breast with Balsamic Lavender Plum Sauce
2-3 duck breasts, skin on
¼ cup beef broth
¼ cup balsamic vinegar
3 tablespoons brown sugar
¼ cup prunes, snipped
4 tablespoons butter, cut up
1 sprig of fresh lavender or ¼ tsp of dried lavender, crushed
Wash duck thoroughly in cold water and pat dry with paper towel. Preheat oven to 350 degrees F.
Place the duck skin side up. Using a sharp knife, score 4 (¼-inch-deep) cuts across the skin at a 45 degree angle. Sprinkle salt & pepper over the meat side of each duck breast.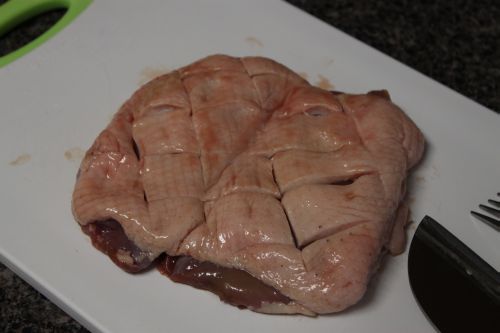 Heat a well-seasoned skillet or nonstick pan over high heat, melting 2 Tbsp. butter. When pan is hot, add duck breasts, skin side down, and cook for 5 minutes, or until skin is brown and crispy. (Don't crowd the pan.) Flip and cook for 2 more minutes. Using a spoon, baste the duck with the butter.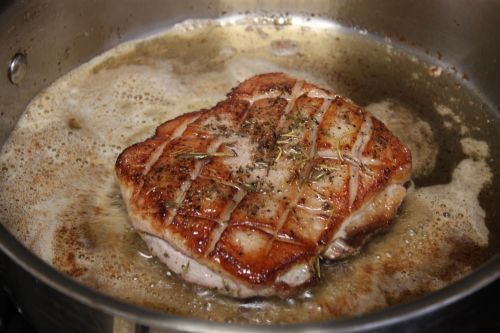 Remove from heat and transfer duck breasts, skin side up, to a cooking sheet lined with aluminum foil. Bake on the top rack of the oven for 6 minutes, or until done.
Carefully discard all but 2 tablespoons of duck drippings from the pan. Carefully add broth and vinegar to skillet, stirring to scrape up browned bits. Add sugar, prunes, and lavender (Lavender can be strong!  Add sparingly and according to preference). Boil gently 3 to 5 minutes or until liquid is reduced by half. Whisk in butter to melt.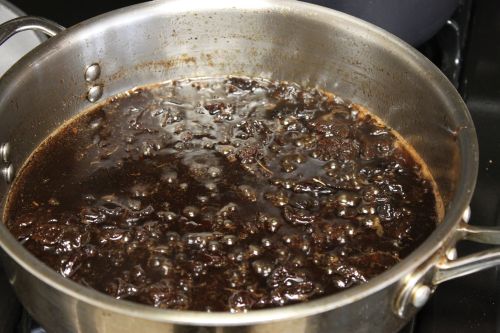 Pour sauce over meat.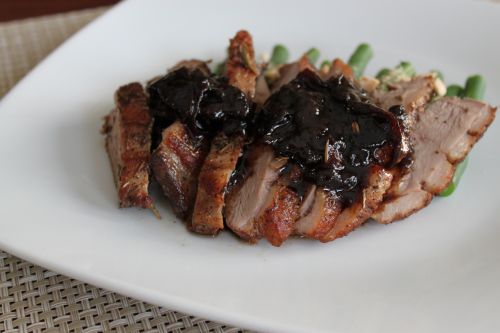 Duck Notes: Duck should be cooked until well done, which is when internal temperatures read a minimum of 165°F (74°C) on a meat thermometer, in the breasts meatiest part. No thermometer? Insert a fork.  If it can be easily inserted, and juices run clear (not pink), you're good to go.
(Did you like this dish?  Be sure to add me to your Google Reader/blog roll!  And, don't forget to "like" my Mele Cotte Facebook page for upddates.  I am also on Twitter (@MeleCotte). Have a great day!)