mirtilli/blueberries
What's better than a moist delicious cupcake?  A moist delicious BLUEBERRY cupcake!
I have been playing with a recipes over the last several weeks, trying to achieve a balance of flavors, texture, and overall yumminess. Oh…the process, the process that resulted in many belly bombs, gummies and gooey, and too wet/too dry cuppies.  So, among the miscellaneous samples I prepared, I am thrilled to have finalized this recipe.
Now, I also put puree in 1/2 the butter cream, and it was delicious.  But, it was too purple.  So, I just tinted some vanilla butter cream here and topped it with a yogurt colored blueberry. I will work on the icing … but another time.
For now, I leave you with some of these samples
This 12-inch 2D gum paste Elmo that never found his way onto a cake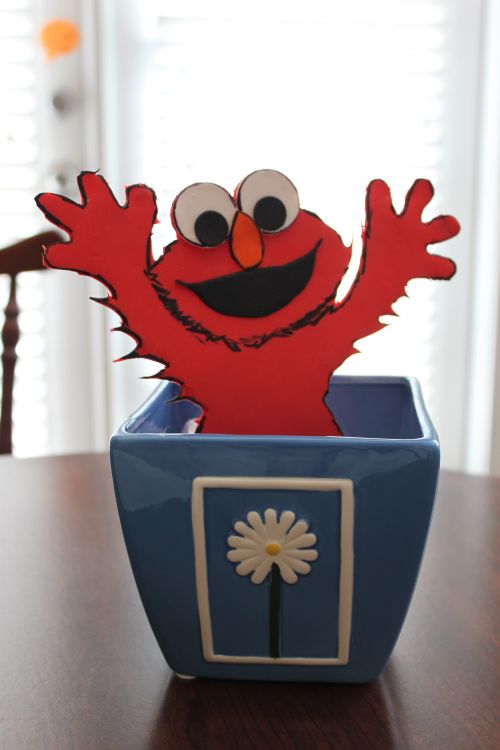 And the recipe for the cupcakes…
I am heading to NYC (again) for my mother's 75th birthday party! I could only celebrate with her virtually on her actual day, but this weekend is the big shindig. So, I am off for another drive up to the city.  I may or may not post again this week; I can't be sure. Until next time, my friends! 


Blueberry Cupcakes
½ cup butter, room temperature
1 cup sugar
2 eggs
1 ¾ cup pastry flour
2 tsp. baking soda
1 tsp. baking powder
¼ tsp. salt
¾ cup milk
2 tsp. vanilla
½ cup blueberry puree (recipe below)
Preheat oven to 350 degrees.  Line 12-18 cupcake pans with paper liners (or 24+ minis).
Whisk together flour, baking soda, baking powder, and salt in a mixing bowl; set aside.
With an electric mixer, cream butter and sugar until light and fluffy. Add eggs, one at a time, being sure to scrape side of bowl with a spatula after each addition. Add vanilla.  Add flour mixture, alternating with milk. Beat on medium speed to create a cake-like batter . Stir in puree until incorporated and the batter turns blue. Using an ice cream scoop, add into paper liners until ½ to 2/3 full. Bake for 20 minutes or until toothpick inserted in center comes out clean (10-12 min for minis). Cool 5 minutes in pans then remove and place on wire racks to cool completely. Once cupcakes are completely cooled, decorate accordingly.
Blueberry Puree
2 cups fresh blueberries (or frozen blueberries, thawed)
¼ cup sugar
1 Tbsp. cornstarch
To prepare filling, all the puree ingredients in a food processor, and process until smooth. Place puree in a small saucepan; bring to a boil. Cook 6 minutes or until slightly thick, stirring constantly. Cool slightly for a warm sauce, completely before adding to a batter. Store in the refrigerator. (You will have more than you need for the cupcake batter.)