farina/oatmeal
Have you ever gone through the motions of preparing something to eat, have hesitations and reservations about the "throw together" dish, only to have your preconceptions thwarted by an bust of amazing flavors on your palate?
Yeah me, too.
Okay, that's all I have to say.
No, I am kidding.  I actually made this a couple of weeks ago. After returning home from New York late in the week, I stocked primarily up on fruit…and water.  My massive consumptions strawberries, cherries, and watermelon began to have their way with me, so I switched to hard boiled eggs. But, I wanted something hearty, but without the high caloric intake I craved (like the yearning for pizza, cheese, and pasta).
So to my cabinets I went, then to the refrigerator.  Not a lot to work with.  Then, I thought of a baked oatmeal I made while cheffing in Utah (but never posted). Great!  It was pretty tasty.  But, with my slim pickin's in my 'fridge, my remake was in jeopardy.  First, no milk.  Unless I am baking, I don't keep milk in my house.  What to do? What to do?  hmmmm…..apple cider?  Going to have to do. Then, looking at the basil sugar in the sealed container right next to the cider, my brain began to cook.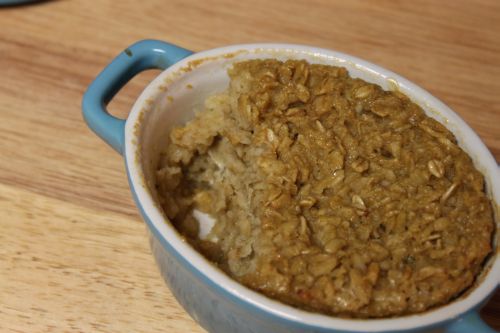 And, cooked it did!  Some darn tasty oatmeal.  Perfect for a leisurely weekend breakfast/brunch, especially now that patio weather is here.


Baked Apple Basil Oatmeal
1 cup old fashioned oats, uncooked (not quick cooking)
2 Tbsp. basil sugar
1 cup apple cider
1 egg, lightly beaten
1 teaspoons vanilla
Heat oven to 350º F. Spray 2 individual baking dishes like an au gratin or a 10 ounce-ish ramekin) with cooking spray. In large bowl, combine oats and basil sugar. In medium bowl, combine cider, egg and vanilla; mix well. Add to oat mixture; mix well. Pour into baking dishes. Bake about 40 minutes or until center jiggles slightly. Remove from oven to cooling rack allow to sit for about 5-7 minutes before serving. Serves 2-3.