It began 20 years ago…a group of grown folk with an idea.  Little did they know that their idea would last 20 years and balloon into 1,000 opportunities to volunteer in Atlanta each month.
Then Saturday, it began with a sketch.
And from there, the journey began. While the destination was the same, each chef endeavored through a different path.  But regardless of the road taken, many lessons were learned, smiles shown, worries felt, and questions asked….many by children spectators.
The Apple Butter Bakery…
It was so sweet when Shellane even teared up when she met Angie.  And, although it wasn't part of the final score, I thoughtShellane had the best tasting, and most unique cake.  Her buttercream was delicious and cake was moist and not too sweet.
Then, there was the Cake Closet.  Aisha and her assistant made covering a cake in fondant
look as easy as chewing gum. It's no wonder why was on TLC's Ultimate Cake Off.
Edible Greetings worked well, as the Nikita and her assistant were in sync the entire day.
Lynlee, of Lynlee Cakes, and her assistants handled their first competition with grace and
interacted with the crowd beautifully.
The Ritz Carlton's Kelli had a plan and worked diligently to turn out a beautiful cake. She did
not have an easy task, since I believe the audience had an expectation of excellence, since she
was representing such a highly esteemed hotel. But, cake came in as audience favorite, which
is great for her…additional bragging rights.  😉
The event began at 2 PM and the turnout was wonderful from start to finish. There was a
fantastic representation of spectactors, young and old from all walks of life came out to see what
most almost never experience, seeing a fantasy cake created from the ground up. And, the fact
that the chefs were local talent, not the huge celebrity names, made the event  that much sweeter
(no pun intended).
And, can we talk about the cool "live" painting that was happening during the event?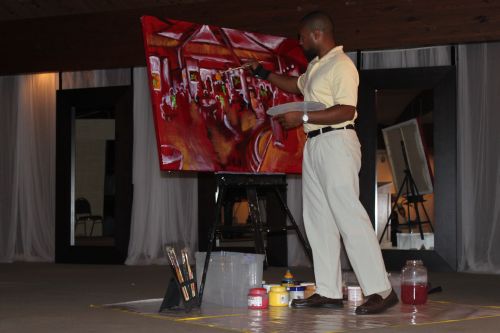 Now, that being said, we did have our own local oohs and ahhs in attendance.  Jovita Moore (click here
to become a fan of Jovita's on FB) mixed and mingled when she was not participating in the evening ceremony,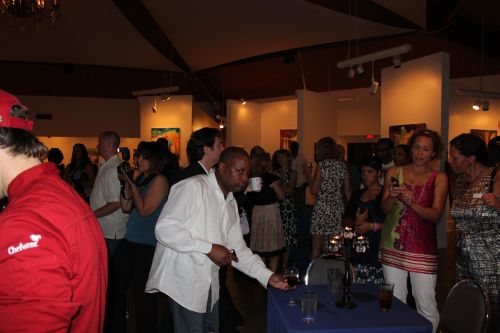 along with Ceasar Mitchell, Atlanta City Council President, Mary Moore (Cook's Warehouse) and
Elizabeth Moore, president of Green Olive Media.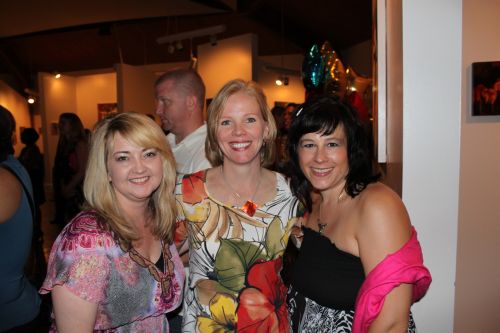 (Angie, with Mary and Tiffany)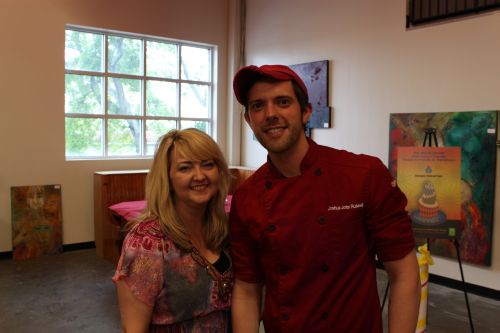 Joshua John Russell (also of Highland Bakery)and Angie (Bakerella) were judging with Tami
(Running with Tweezers) and me.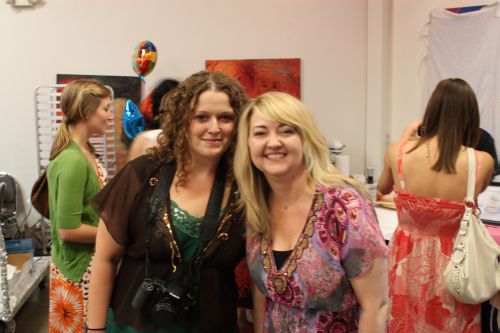 Maura of 365 Atlanta stopped by with Katie of the Convention and Visitors Bureau of Dunwoody,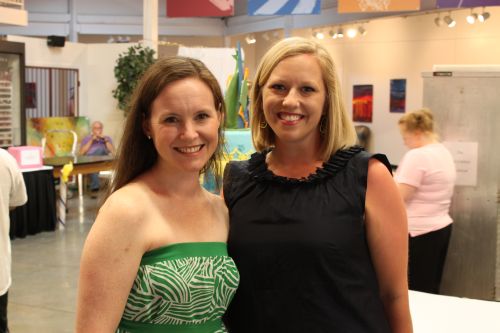 as did Lori and Kristie (Executive Chef at the Lil' Cake Bakery)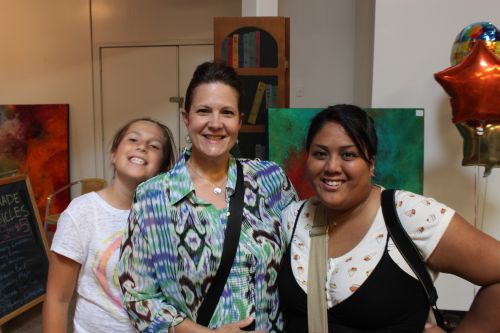 Katie and Nicole came out to support Hands On Atlanta, along with Dea and Susan, as well. Thanks so much!
During the evening portion, while the silent auction was underway, and mingling was going on, We got to taste the cakes before the big reveal.
Life is hard, having to taste all this cake…ha! ha!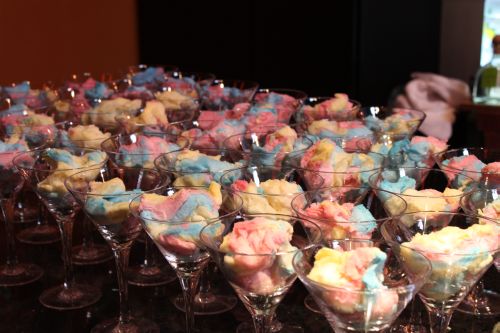 I should have had a cotton candy martini, too! But, instead, I indulged in my diet coke and
watched the cakes being brought up the ramp and to the display tables.
And the winner is (was)……any thoughts?  Guesses?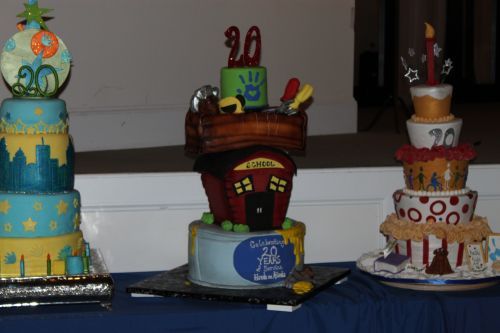 The Cake Closet, with her paint can, school house, tool box cake.  While I didn't see the PM judges sheets, I am sure they shared the same thoughts as we did.  Not only did the team work clean, the cake had technical difficulty with a variety of techniques used within its layers, and encompassed what Hands On Atlanta is about. Congratulations to all the participants for doing a phenomenal job!
It was a great experience and I wish that I could have participated.  But, my trip to NY fell immediately before the big day and there was no way I could have gotten prepped in time to have a positive showing.  Even if I did, though, I am not sure what would have been… If you're a follower of me here, on Twitter, or on FB (personally where I have my portfolio since I haven't added it on the blog yet), or for theblog's fan page, you know I love making cakes/desserts. Even with the varied multi-tiered cakes I have done, and even some of the 3D cakes, I couldn't have come close to the winning cake…not under pressure with an audience, anyway.  😉  So…many props to all of you!  I had a fantastic time being involved the way I was and I hope I can participate, as a contestant, next time.
Here's to 20 more years, Hands On Atlanta!