Macerare/Macerate
I think I have created a culinary monster in my kitchen.  Remember the Cilantro Sugar Macerated Strawberries from a couple of months ago?  Yeah – total yum factor.  Then, there was the mint sugar and lavender sugar I never posted about. Are you sensing a pattern?  I think I am a bit obsessed with herbing sugar!  Ha!  And this post isn't any different.
I decided to revisit the strawberry bruschetta I made a couple of years ago for WHB hosted back then by Laurie (Mediterranean Cooking in Alaska). Actually, I revisited it about a month ago as I made a smaller version for a mixed dessert platter when I was working at the restaurant. The little bite-size versions were kicked up with Nutella and hazelnuts.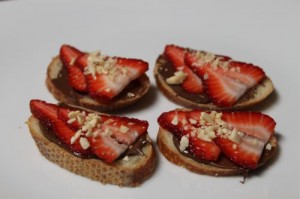 This week, I went even further. As usual, after a trip to Buon Italia, I picked up some crusty bread by Coppola to bring home to Atlanta.  However, instead of the larger ciabatta packs, I went with a smaller version, the bruschetta, this time.  Although I went with a smaller bread, there is nothing small about this brushetta.  It is the bomb!  Why?  Well, mascarpone doesn't hurt.  But….add basil into the mix?  Winner! Yup…all things better with basil….And, that is why am going to send this post into Rachel from the Crispy Cook for Weekend Herb Blogging #238.
Oh, beautiful basil, with all its peppery goodness and fresh, summery flair. A staple in this, and most, Italian homes (along with fresh tomatoes, garlic, Italian parsley, and oregano) basil truly is one of my favorite herbs.  It doesn't hurt that it is part of the same family as my other favs, mint, oregano, rosemary, and lavender. Sure, basil contains anti-inflammatory properties, is a good source of iron, calcium and vitamin A. But, who am I kidding?  I just love it. I would eat it, regardless.
Whether or not you include basil in your cooking as often as I do, allow me this opportunity to offer you a little bit of "good-to-know" info. Okay?  Here we go…
Although we can find basil in most grocers now year 'round, it is, in fact, an annual plant and won't survive from season to season without being grown in the right conditions. In addition, and different that some of its herby friends, it prefers a steady water supply. And, to make sure you get the most out of your plants, be sure to keep your plants cut back so you have a constant crop of fresh leaves throughout the season. If you pinch back the center shoot of the basil's seedling, it will help the growth and flowering. Helping the growth and flowering will produce an ample amount of herb with which you'll be pleased.  And, don't freak out with your abundance of leaves!  Keep it around by drying it, freezing it, or preserving in olive oil.  In fact, preserving in olive oil makes one heck of a vinaigrette!
All this to say… make this bruchetta.  ha! ha! Grab your favorite Crostini, slather on a thin layer of  mascarpone, even some Nutella if you wish (although I did not here), top with basil sugar macerated strawberries, and some chiffonade of basil.  That's it.  Simple deliciousness. 
To make the basil sugar combine sugar and basil leaves in a food processor and pulse until fully mixed. Processing the two ingredients together really fuses the flavors.  Now, if you don't have a food processor, you can still make the sugar.  Simply chop the basil and stir it into the sugar.  I might even chop basil a second time, while combined with the sugar to further release the herbal fragrances and flavor.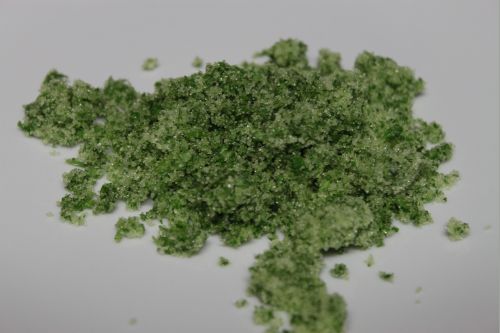 As far as measurements, I used a (scant) 1 oz. of basil leaves and 2 cups sugar. To macerate the strawberries, I used 1/4 cup of the basil sugar for 1 pint of berries that I diced. The great thing about macerating berries is you can play according to your taste.  Just be sure to let them sit for at least 30 minutes for all the flavors to marry and juice.  I have had macerated strawberries that have included Courvoissier, Grand Marnier, and even balsamic vinegar.  Ooooh, come to think of it, I should have made a balsamic reduction for this bruschetta…doh!  Bummer.  Ha!  I feel like I just thought of a great come-back line after "the" moment.  I will now refer to the come-back line as the balsamic reduction moment…..
Okay, that's a sign I am getting goofy tired.  Thus, I am ending this post, as I have a big day tomorrow.  It's Hands on Atlanta's 20th Birthday Bash and I will be hanging out with Angie (Bakerella, @bakerella), and Tami (Running with Tweezers, @runwithtweezers)!
(Have you added me/changed your RSS feed yet?  I hope so!  Lots more of deliciousness is slated for the future.  And, be sure to head to the Mele Cotte Fan Page on Facebook. Click "like" and you'll receive updates on your FB wall!)