rafano/horseradish
The good thing about not having a lot in the house, and not wanting to venture out in the heat is that my mind goes into creative mode.  I think, how can I take the items already hanging out in the kitchen and make something edible out of the pieces? It's kind of like my own little personal episode of Chopped, minus the random, I-have-never-seen/eaten-that ingredient. My most recent "show" had me looking for ways to eat smoked salmon and horseradish. I just combined the two, along with some other miscellaneous ingredients. The end result was a smoked salmon pate.
I love being able to utilize horseradish.  It seems to me, and this is only my generalized opinion, that people either love or hate horseradish. I admit, I was not a fan.  Was not.  Like asparagus, I grew to really enjoy the spicy herb when I got older.  And, once I became acquainted with fresh horseradish? Happy, happy, joy, joy!  Store bought horseradish sauce be gone!
Adding horseradish to foods, to step up your dishes, is a wonderful thing.  If it is new to you, here's a great bit of info on the pungent root that will prove helpful in how to choose and prepare your root.
Some other FYI info?  There are lots of health benefits, too! For instance, horseradish might just be your best friend during this allergy season.  The juices discharge from the horseradish root can soften the mucus in the nose and help release sinus infections. Breathe! (I say) Breathe! Don't have sinus issues?  Horseradish also helps with hay fever and rouse the body's immune system, allowing it to act as a natural anti-inflammatory.
Keep in mind, what goes up, must come down.  There are also some horseradish precautions. Stay away from horseradish if you have an gastric ulcer (that's you O!), thyroid, or kidney problems/illnesses.  For those of you with little ones under 4?  No no no.  Stick to carrots and such.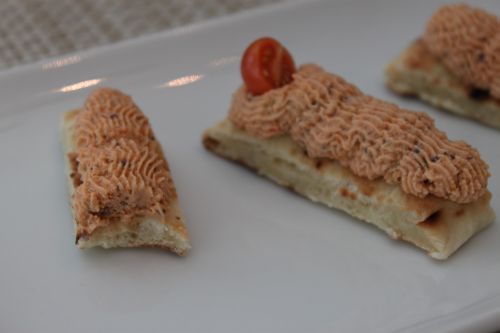 Using horseradish in this pate makes this a yummy addition to a WHB round up.  And, it just so happens that I am hosting this week! If you're new to Weekend Herb Blogging or haven't joined in for a while, here's a quick recap of the
rules
. But, in short, post about any herb, fruit, vegetable, nut, seed, flower or plant.
(Feel free to send me something you've made if you don't blog too….I want to know!)
* 3pm Sunday – Utah Time
* 10pm Sunday – London Time
* 11pm Sunday – Rome Time
* 7am Monday – Melbourne (Aus) DS Time
Send your posts to melecotte AT gmail DOT com
with WHB#239 in the subject line and the following details:
* Your name
* Your Blog/URL
* Your Post URL
* Your Location
* Attach a Photo: 250px wide

Smoked Salmon Pate
1 6.5-oz can Alaska Smoked Salmon
3 oz cream cheese
1 (heaping) tsp horseradish sauce
1 tsp tomato paste
juice only 1 small lemon
1 tsp. dried dill (I didn't have fresh)
salt/pepper to taste
Place all ingredients for the pate in a food processor and blend until smooth and thick. Check for flavor and season well.  Transfer into a bowl and chill until ready to serve.
* You can use regular canned salmon as well,  and if you want that smokey taste…a little Liquid Smoke goes a long way!