tartufo/truffle
Simple, tasty, and used in multiple dishes !  And, All I have to say about that.  Enjoy!


Truffle Oil Basil Vinaigrette
3 tablespoons White Truffle Oil
1 tablespoon White Wine Vinegar
1 tablespoon fresh basil, chopped
Juice of 1/2 lemon juice
sea salt  and freshly ground pepper to taste
Whisk together all the ingredients and toss with mini heirloom tomatoes, or any veggie you prefer.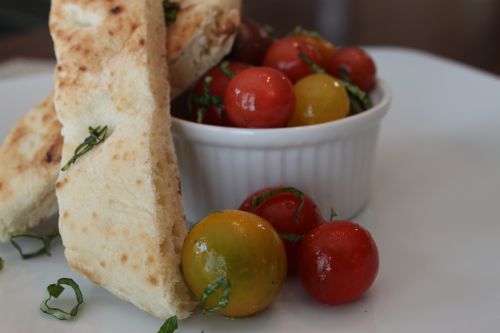 Having more of the tomato salad left over, I was able to nibble on the salad throughout the next day. Then, on I decided to make little mini pizzas.
I made simple (to stick with the trend here) 3 inch pizzas by adding little artichoke pesto, mozzarella, the tomato salad, and a little drizzle of white truffle oil.  I baked them in a 400 degree oven for about 20 minutes until my preferred doneness and voila!  😉  Easy, right?  Especially with Trader Joe's pizza dough, artichoke pesto, and sliced mozzarella medallions.
Want to make your own elements?
Try any of these pizza doughs:
Here, on Mele Cotte, Perfect Pantry, Andrea's Recipes (whole wheat), Rosa Yum Yums
These pestos:
Fat Free Vegan Kitchen, Gluten Free by Nature, Cooking Canuck, The English Kitchen
These mozzarella recipes:
A Good Appetite, the Kitchn, Supper in Stereo