delizioso/delicious
Atlanta, I am back!  For the moment, anyway.
Before I get into the trip details and the amazing lil' amuse bouche in the picture above, let me catch up on a couple of things.  First, did you catch my guest posts this week?  First, I offered some tips on cookie decorating with kids on What's Cooking.  Then, sweet, sweet Sarah let me have carte blanche with a post on Sarah Cucina's Bella, so I went with a little Pasta Pizza. Have two words ever sounds so fabulously together?
Lastly, I need to announce the winners of the Hands on Atlanta Birthday Bash Cake Off tickets. Using the online random number generator, twice (the first out of 10 names, the second out of 9), the winners are Maura of 365 Atlanta and Lori of Accro.  Congrats to you both!  I hope I am able to see you both at some point during the afternoon.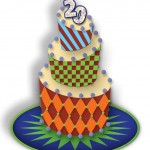 Are you an Atlantan and want to support Hands on Atlanta?  Tickets are still available and how worth it are they!? CakeOff participants include pastry chefs from the Ritz Carlton Buckhead, The Cake Closet (@TheCakeCloset), Edible Greetings and Apple Butter Bakery (@ABcCakeShoppe). Judges for the event include Jovita Moore of WSB-TV; Alon Balshan, owner of Alon's Bakery & Market (@AlonsVH); Ceasar Mitchell, Atlanta City Council President, Mary Moore, founder and CEO of Cook's Warehouse (@cookswarehouse), and Elizabeth Moore, president of Green Olive Media (@greenolivemedia). Technical judges include area bloggers and food experts (me) Chris Arpante (Mele Cotte, @MeleCotte), Angie Dudley (Bakerella, @bakerella), and Tami Hardeman (Running with Tweezers, @runwithtweezers).  Won't you join us?  Check out the HOA site for more details.
Now…New York.  My recent trip to New York wrapped up this week and ended up to be quite the excursion. First, I conducted a successful week of teacher training in Suffolk County that may lead to additional sessions.  Yeah! I was also able to make a few contacts, so maybe, just maybe, if all the stars align correctly, I might land a job and end my agonizing and humbling unemployment status.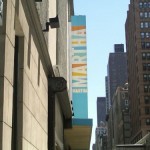 Then, I was off to see my mom in the city and spend a day in my old stomping grounds. I intended to only stay one day; then, gradually head back, making stops here and here. Nope.  Insert Facebook here!  (ha!)  A new friend, Liz, saw my FB status about heading into the city and asked if I wanted to go with her to a taping of a pilot Emeril was shooting in the Martha studios.  Want? Is a pig's ass pork?  Heck ya!  (whoa….that was kind of country of me…heee!)
Seriously, though. Who hasn't Emeril Lagasse influenced in some form or fashion in the kitchen.  I mean, really. Add the ever-so-personable Ralph Pagano in the mix?  A recipe for success, for sure.
So, Liz and I met at Lincoln Center and were off.  Once we arrived, we were able to bypass the crowd to receive our ticket, and head to the elevator.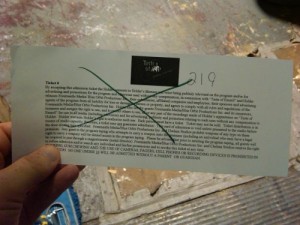 The amazingly handsome security guy (without a wedding band – not that I looked) must of known I was coming.  Why else would my name be posted on the inside the elevator? 

  ha! ha! ha!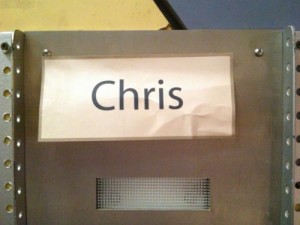 As we walked toward the studio, we experienced a glimpse of the hustle and bustle of what is involved to make a show of this magnitude look flawless. Staff chefs getting ingredients prepped, producers, camera guys, design/set folk, tech peeps…and the list goes on.  I did get a sneak peek of someone's script/notes.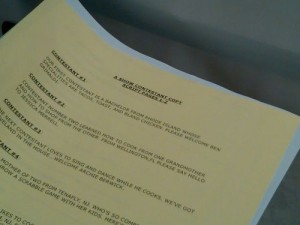 Excitement mounted as I got my first glimpse at the kitchen/studio…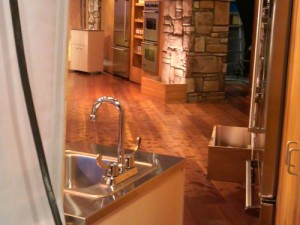 Then, as we were ushered into the 160-capacity audience seating area,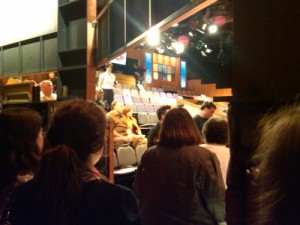 Would you check out the counter space on these islands?  *swoon*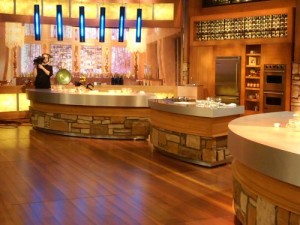 We were seated, and all electronics had to be turned off.  So, no more pics.  But, trust me; it was an amazing time!  First, the audience hyper-upper/warm up guy, RC Smith?  Oh my gosh.  I haven't laughed like that in a long time. A little crass at times, but you know me.  Didn't bother me in the least, having been around middle schoolers for so many years. Since the taping was live, and it was longer than the "hour" show you and I will see on TV, it was great to have the entertainment.  I actually hopes he comes to Atlanta for a gig at one of the clubs here.  I would definitely pay to see him in a live show.
The show, a cooking contest, is like none other I have seen, especially for network TV.  I don't want to give too much away, but six audience members are randomly chosen to participate in a series of timed challenges.  Six contestants move to four, then three, then the remaining two duel for the prize.  Winner wins….are you sitting, my fellow chefs and foodies?  Really…you need to be sitting, or at least have a sound footing/sturdy knees.  Winner receives a $25,000 Viking kitchen. I know!  A prize like that makes me think I need to be alone with just the thought…as I might embarrass myself and my family with an indecent reaction!
Liz will tell me if and when the show gets picked up by the network.  I think the network would be making a big mistake if they let this go.  Not only would foodies/home chefs love it, but kids, too!  I laughed at myself, thinking – wow, if I were to be on the show, the challenges offered for the particular show with which I experienced were completely doable!  I have made some form of each item challenged.  But, add a time restraint, lights, and the audience cheering "Go! Go! Go!"?  Ha!  I am not so sure. Even the chefs on Chopped voice the craziness that happens and causes confidences to shaken, and they cook for a living!
After the show, Liz and I headed to Buon Italia, my go-to spot when I am in the city for my favorite Italian treats before we went on our respective ways.  I am so appreciative of the opportunity, as you all know the joy anything culinary brings to me.  And, it was lovely for Liz to think of me.  I am very blessed to have the friend, new and old, that I do.  Especially now, as I shelve my passion/dream of a career transition, any chance to experience cooking/baking and other people's passion is welcomed.  (Now, before you get all weird on me – I will continue Mele Cotte, and bake cakes/pastries if asked. But, I am not finding anything baking/cooking related that I can (financially) live on right now, so I am having to look back into education. Oh well. I am good at that too. <smile>)
Now, are you asking yourself what those three bites of goodness are in the first picture up there?  The second challenge of the show was to make a Devil on Horseback.  Normally a warm/hot appetizer, and filled with various cheese fillings, contestants were asked to (1) pit the dates (2) blend and fill the dates with a mixture of cream cheese, blue cheese, and seasonings of their choice (3) wrap the dates in prosciutto and (4) plates presentably. Easy right?  Right!  In 4 minutes?  hmmm….was that some trepidation I heard? In reflecting about the show later that evening, I also kept thinking, even down to my preferred tools to use, would throw me off my game. You know? Anyway…
Here is my ode to Emeril and Ralph.  Now, while it didn't take me long, it did take me longer than 4 minutes.  And, I used ingredients I had in my house already, some different than the contestants were asked to use.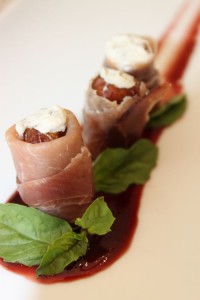 While I only made a half dozen bites here, the filling recipe below fill 2 or more dozen dates, depending on the size of the dates.  I plan to use the remaining filling in another dish with some items I bought from Buon Italia. So, stay tuned for that dish. As far as the prosciutto, a little goes a long way.  And, it really depends on how you purchase the dry-cured ham.


Devil on Horseback
adapted from the Emeril's pilot taping, Taste of Emeril Cooking Challenge
24 pitted dates
¼ cup Gorgonzola cheese
¼ cup Mascarpone cheese
pepper to taste
(about) 8-10 thin slices of prosciutto, slices in half
basil leaves (garnish)
blackberry balsamic puree (garnish)
In a small mixing bowl, combine the cheeses and pepper together.  Transfer to a piping bag* that you've cut the tip off to create a 1/2-ish hole.  Fill each date with the cheese mixture.  Wrap with prosciutto.  Serve with the blackberry balsamic puree.
*Not a keeper of piping bags?  Zip lock bags work.  And, piping tips or no tips – up to you.
Notes – Angel on Horseback use Oysters instead of dates. I have also heard of apricots used as the Angels. Either on sounds heavenly to me!