zuppa di pomodoro
Are you missing the sweet stuff on Mele Cotte?  Yeah…me too.  But, I haven't had a specific reason to bake.  Plus, I need to get back to the healthiness of my UT living. So, I have really been cooking more than I have been.
There are several über healthy dishes I have made that will be posted this week, but I want to start with some awesome Gazpacho. Paula posted about the cold soup she made for her amazing dinner party and I knew I had to make it.  It called to me, actually.  Even used my whole name…including middle and confirmation names….ha! ha!
This is a perfectly refreshing soup to indulge on these hot summer days.  And, it is definitely going to be added to my "go to" pile.  Thanks Paula!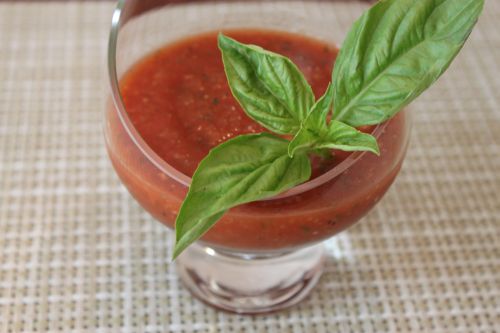 Gazpacho
adapted from Bell'alimento

5 slices of white sandwich bread – crusts removed & roughly torn*
1 28-oz can of San Marzano whole tomatoes
1 red bell pepper – seeded & roughly chopped
1 seedless cucumber – peeled & roughly chopped
2 cloves of garlic – roughly chopped
2 scallions – roughly chopped
3 tablespoons extra virgin olive oil
juice of 1 lemon
1 tsp crushed red pepper flakes or 1 whole jalapeño pepper, with seeds**
salt and pepper
Place pieces of torn bread into a bowl and place just enough water over to cover bread, set aside. Place the bell pepper, cucumber, garlic, tomatoes and scallions into food processor. Drain the liquid from the bread, add bread to food processor and puree. Add lemon juice, olive oil and chili flakes and pulse to combine. Season with salt and pepper. Pour into a large bowl or pitcher, add 3-4 cups of water until it's at your desired consistency. Refrigerate for a minimum of two hours prior to serving.
Note: prior to serving stir gazpacho well and check for seasonings. Adjust if necessary. Serve chilled in a glass or bowl.
* I was cooking for 1 – me.  Thus, using what was in the house, I thinly sliced ciabatta bread instead of buying a loaf of sandwich bread.
** Since Salsa Verde V.2 is on deck for this week, I used one of the jalapeños I had for this soup.  I just trimmed the top and threw the pepper (with seeds) in the blender.  Thus, my gazpacho had quite the kick to it.