bivalente/dual purpose
There are times my cup runneth over and under when it comes to posting.  Some weeks, I have to look for something to blog about.  Then, there are posts that come about from food I make within one or two days of the posting date.  Every now and again, I luck out and have a stash, a surplus of dishes/recipes.  Times of surplus are rare moments, as it really just depends on my schedule and how much I cook "blog worthy" items.  When I do have several to choose from, my minor OCDness feels the need to plan out the order of the posts.  How many of you know what I mean?
Case in point?  My current "saved drafts" listing.  I had, yes….had my plan. But, liquor got involved and like my low tolerance, the rum rushed to my head and begged me to post about it ….soon. Ha!  And, I am not joking about my low tolerance.  Long since the days when I could drink many a man under the table. I have refrained from consuming alcohol on a regular regular basis for several years now. Sure, there has been a drink during the occasional dinner out, the glass of wine, but that's really it.  Then, when I figured out I have some allergy and can no longer indulge in a wonderful glass of wine, all consumption pretty much stopped short.  Now, my drinks end up in my food. Not too bad!  😉
Having said that, let's chat about Sangria.  Yum, Yum, Yum!  Sangria, the delicious wine punch traditionally made with wine, brandy, and fruit, brings smiles to many faces and emanates all that is the summer season. There are so many stories and variations about Sangria out there; I don't actually know the specifics.  What I do know is it was created Spain and started to become admired by those of us in the US during the 1964 World's Fair.
I have wanted to make some form of frozen Sangria for some time. Because I thought it would be a perfect late night end on the patio, I have suggesting frozen Sangria on several occasions at the restaurant.  Promptly shut down every time,  I kept my thoughts to myself, in my lil' moleskin.  Their loss, your gain!  This is some good stuff.
First up?  The granita.  My original intent was to make a sangria pop.  In fact, I found these really cool Rocket Pop Molds and I thought they would make awesome sangria pops, bring us older folk back to the days of the Good Humor Truck/Ice Cream Truck driving down into the culdesac.  Well, I made the pops.  I was so excited when I pulled them out of the freezer.  Then, When I pulled to two pieces of the rocket apart, out came…..the top…naked.  The sangria, frozen, remained in the main cavity of the old.  Doh!  Onto pop #2….and 3…then 4, 5, 6….all naked popsicle sticks.  I think that while the mixture frozen, did not freeze solid, thus not sticking to the stick appropriately. It makes sense, since alcohol's freezing point is way below 32°F.
But, there was no way I was letting all that drunken fruit and good rum go to waste!  I scraped all the sangria out of the rockets into a freezer safe bowl and made a granita to replace the pops.  Any it was goooood stuff!  And, potent!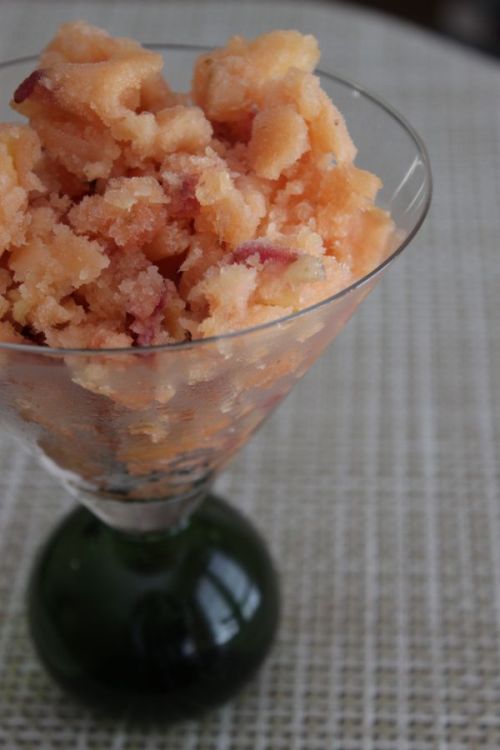 Sangria Granita
1/3 cup sugar
¼ tsp grated fresh ginger
Zest and juice of 1 lime
1lb. fresh pineapple, diced
1 Granny Smith apple, diced
½ – ¾ cup dried hibiscus flowers, diced *
½ cup rum
2 cups freshly squeezed orange juice, with pulp
1 cinnamon apple spice herb tea bag **
In a saucepan, stir together the sugar, ginger, and lime zest/juice.  Add pineapple, apple, an flowers and stir to coat.  Cook over medium-high heat until caramelized (about 5 minutes. Add sachet, then stir in ¼ cup rum and cook for about 3 minutes, to burn some of the alcohol off. Add orange juice, remove from heat, and let cool (removing sachet after ~ 5 minutes).  Once cool, stir in remaining rum, pour into mold/container and freeze. (If making cupcakes scoop out 1 cup of the fruit before molding and reserve.)
* A
big
thanks to
Helen
for introducing me to dried hibiscus flowers several years ago! Every since she told me about the ones in
Trader Joe's
, I have wanted to used them.  I still have ideas whirling in my brain, but so far, one one escaped here.
** I used the tea bag because I couldn't find my herb sachet bag.  I planned on using star anise, a little nutmeg…go the mulled spice route. The tea bag was my pinch hitter.
Next?  Cupcakes!  I was so excited about my margarita cupcakes I planned for Cinco de Mayo.  I made them…huge fail!  Errr…  I used good Tequila, too!  Oh well.  I will try again, probably using this recipe.  But, for now?  I am lovin' these cuppies.  Next time, I might toss the drunken fruit in a bit of flour.  Without the toss, a good portion of the the fruit sank to the bottom of the cupcake.
I tried a few different frosting styles, all with a rum buttercream, but like the one pictured here the best.  I could only do a few with a fruited top because I didn't have a lot of fruit reserved.  Note to self….make the fruit specifically for this cupcake next time, or double the fruit when making the sangria granita.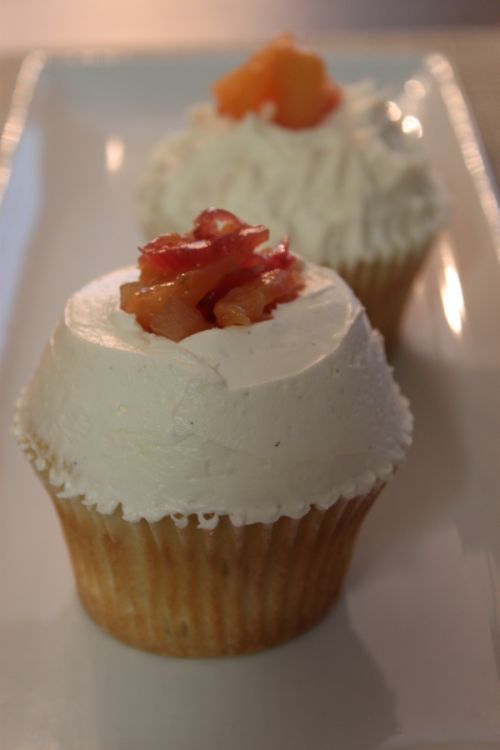 Sangria Cupcakes
6 oz Butter – melted
6 oz sugar
8 oz self-raising flour
3 oz egg yolks
½ cup milk
3 Tbsp. white rum
1 cup caramelized rum fruit mixture
1 tsp vanilla extract
Pre-heat the oven to 350ºF.2. Line a cupcake pan with liners (12 lg., ~18 regular size). Place all the ingredients in a large bowl and stir/beat well combined. It should look like a pancake-like batter. Stir in fruit. Divide the mixture evenly between the cupcake liners. Bake for 20-15 minutes, until risen and firm to touch.  Allow to cool for a few minutes and then transfer to a wire rack. Allow to cool fully before topping with rum buttercream.