cocomero/watermelon
I don't know about you, but summer fruits do something to me.  It's a little odd, really. When I get a hold of my favs, like cherries, strawberries, and blackberries, I almost become scavenger-like.  I can't get enough of the fruit.  I don't hang on to the fruit, however.  Sure, I gather.  But, half the time, I end up chowing down in the car before even getting time. That's are of the reason why there aren't more fruit based dishes on Mele Cotte.  I don't keep anything around long enough to make anything! I wonder where I get this behavior from…hmmmm? Mom??? hee hee….
One dish I am excited that I had around long enough to (at least) snap a few pics is this mixed watermelon salad.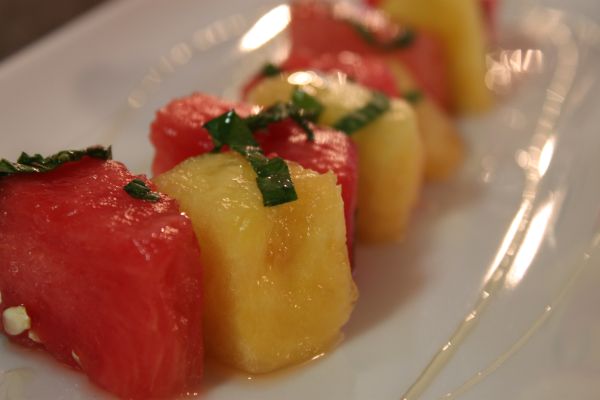 I was in the grocery store the other day and stopped dead in my tracks when I saw a yellow watermelon.  A first for me! I have never seen yellow watermelon before that moment.  How cool! Of course it went in my basket without a moment of hesitation. I also grabbed red watermelon, as I knew exactly how I wanted to eat the pairing.  Simply. And that's just what I did.


Mixed Watermelon Salad
Equal amount of red and yellow seedless watermelon, cut in bite-sized chunks
2-3 Tbsp. orange blossom honey
1-2 Tbsp fresh mint leaf chiffonade
Toss all the ingredients together and serve.