Basilico/Basil
Pesto – who doesn't enjoy a delicious, freshly made pesto?  Admittedly, I don't consume much pesto outside the spring and summer months because there is something about grabbing the herbs from the Farmer's Market that makes the pesto take on a different tune during the warm months. But, whenever I make it, and with whatever ingredients, I also remind myself how easy it is to make

And, I also make sure I freeze some of the pesto since I always end up with way more than I need. Like many of you, I freeze it in the "old school" freezer trays, then pop them out into another container for safe (freezer) keeping until the next use, like in pasta, pizza, bruschetta or in an omelet. I used it in a chicken & mozzarella salad this time, was well as mixing it with hard boiled eggs, and adding it to an omelet.  (With a lot still remaining, I am sure I will be posting more uses in the near future).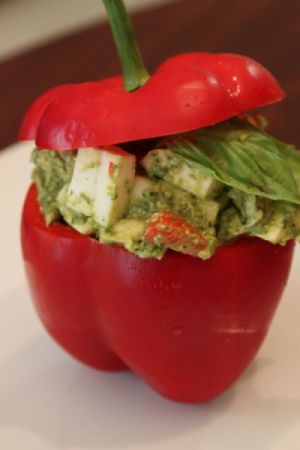 Don't think I have ever made pesto the same way twice.  In fact, in the early years, I made several pesto dishes (noted below), including a basil. Yet, the recipes are different. [*WARNING* Early posts are from the "click with the cell phone camera" days.  The pics are heinous.  It really wasn't until I received my Canon Rebel that my pictures stopped causing drunken, vertigo vision.]
Now, a couple of notes I want to add about my experience with pesto in general, as well as the one here:
The great thing about pesto is its so easy to make it your own, according to your preferred taste. Go wild – use different cheeses, nuts, and bases – whatever you have on hand. You don't have to use only herbs.  Try whatever leafy stuff you enjoy!  There are even great versions out there, like asparagus pesto.  My friend Sharon has her step by step pictures up for the time she made it at home. It's your pesto, make it the way you like it!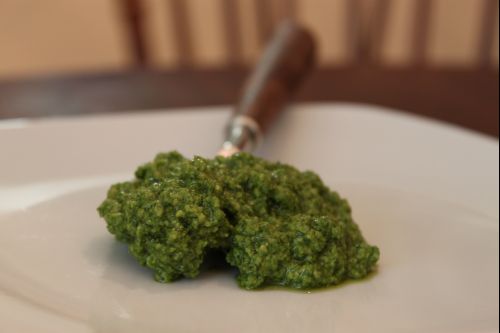 And, for an oober-large-amount disclaimer here, allow me to explain. I finally joined Restaurant Depot here in Atlanta.  The first time I roamed the aisles with a little time on my hands, not needing to get back to the restaurant or bakery, I found myself clutching onto my list so I didn't go absolutely hog wild. There was so much I wanted.  If I only had more than myself for whom to cook!  What I didn't hesitate on was the "quick sale" rack.  All herbs.  So, I grabbed the basil.  One pound.  That's a lot of basil, my friends.  A lot of basil.  And, because it was a "quick sale", that meant I needed to use it all…..and fast.  Hence, the recipe here makes about, I would say, 5 cups of basil.  I don't know exactly, but filled a good size Tupperware, even after I set some aside for friends.
Lastly, this pesto turned out pretty thick.  When making large amounts, I tend to like a thicker pesto to start with, then I will thin/cut it later when I decide what dish it is going to accompany. That's one reason.  The other is I ran out of olive oil. Yup!  Blasphemous. Ha! Silly me.
Enjoy!


Fresh Basil Pesto
1 lb. fresh basil (about 6-8 cups loosely packed leaves, stems and branches removed)
6 garlic cloves (to taste)
½ cup olive oil (to taste)
1 cup freshly grated Parmesan cheese
2 cups pine nuts
Rinse and pat dry the Basil. Place the leaves a food processor. Pulse until the leaves have been chopped fairly well. Add garlic and run the processor.  While running, add the olive oil through the lid opening, in portioned amounts, in a steady stream. Turn off the machine and scrape down the sides. Add cheese and nuts and run until you get the consistency you want. Add more oil if you want it more like a sauce. Store in an air tight container.
Refrigerate for up to 2 weeks or freeze for several months.
Other Pesto Recipes
Spinach Pesto
Arugula Pesto
Sage Pesto
Dill Pesto
Broiled Tilapia with Basil Pesto
Basil Pesto