I was so pleased to receive an invite to the Blogger's Brunch at Park 75, inside Atlanta's Four Seasons Hotel. A mid-morning get together, organized by  M2 Public Relations,  Marsha and Abby assembled a wonderful event that allowed this foodie to be in a personal happy place!
(While there are a ton of pictures (accompanied by the details) here, be sure to check out the rest of the pictures on My Alter Ego when you're done here! There are some great shots – thanks to Broderick!)
There were a plethora of bloggers and twitterers present, representing different viewpoints: food, lifestyle, family, home & garden, photography, and entertainment (to name a few). We all gathered in the lounge before heading to the rooftop.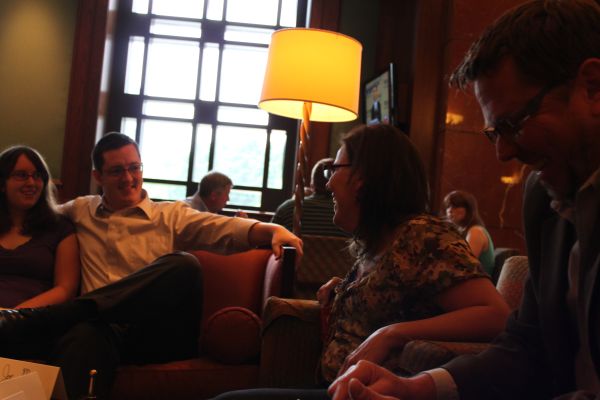 pic by Broderick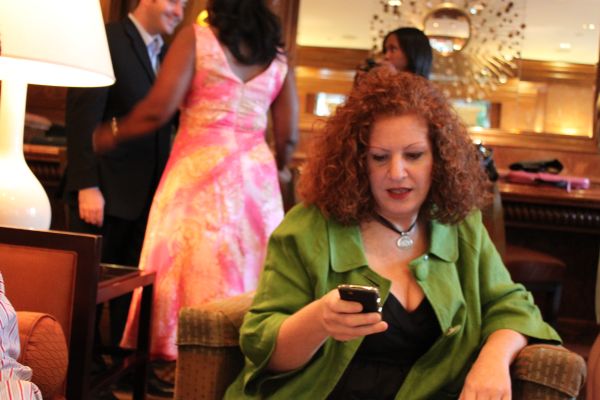 pic by Broderick
Once up top, we were graciously offered mimosas before Chef Robert Gerstenecker joined us.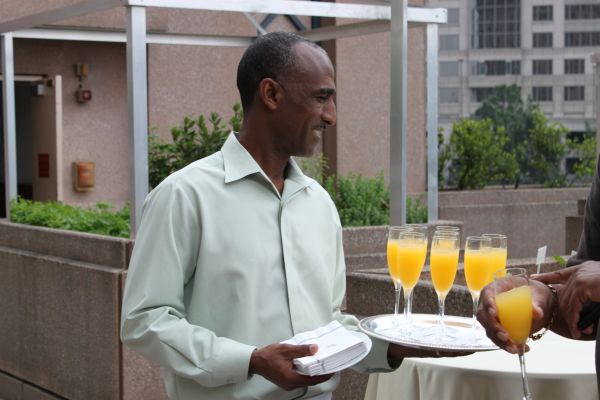 pic by Broderick
After some brief inductions, he spoke with us about the fabulous fresh herbal gardens growing on the rooftop, which includes a hydro garden.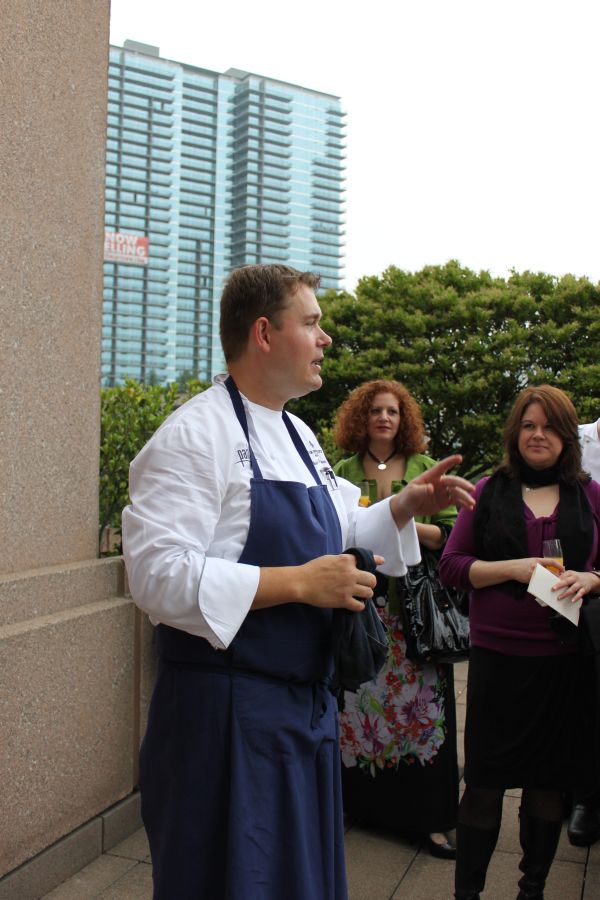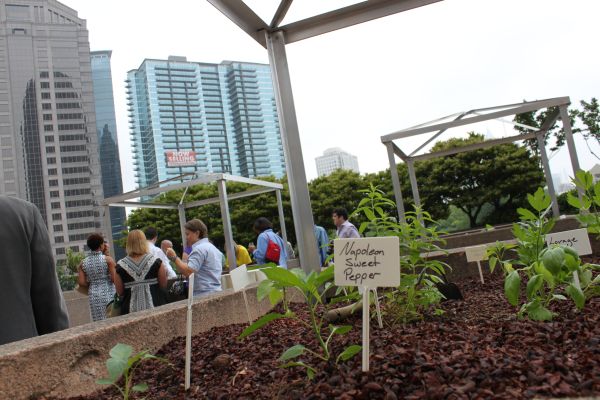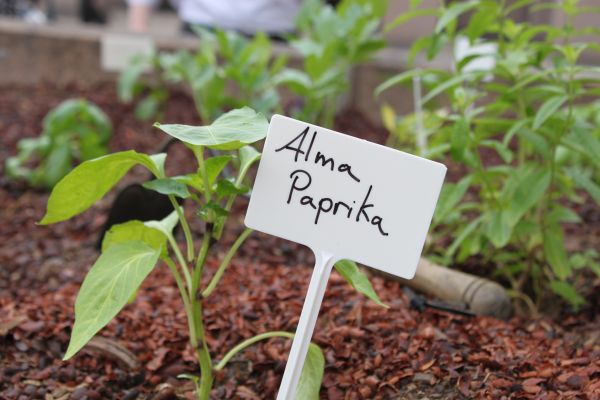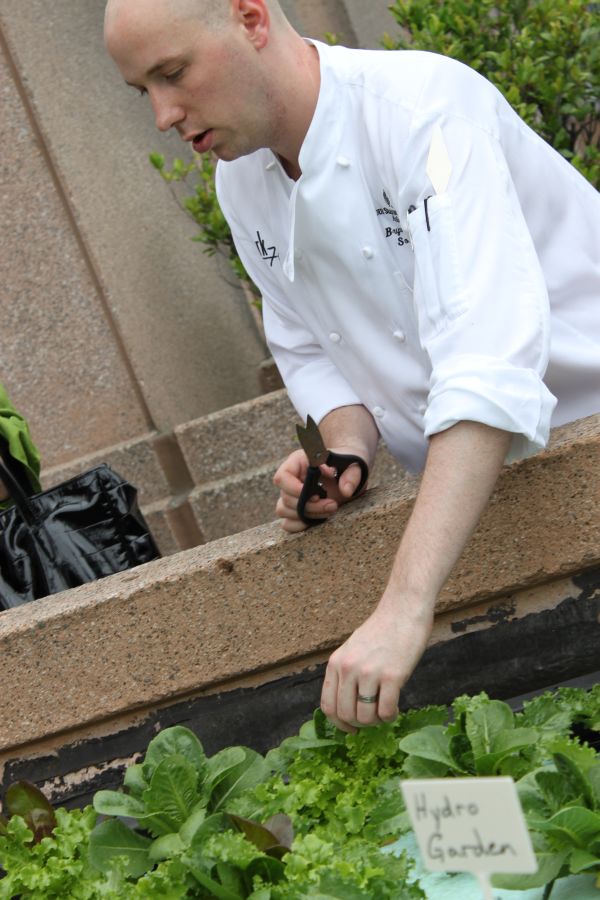 pics above by Broderick
The assorted deliciousness with what is being grown is spectacular. Broderick was so cute! Don't you wish you had a scratch n' smell-monitor?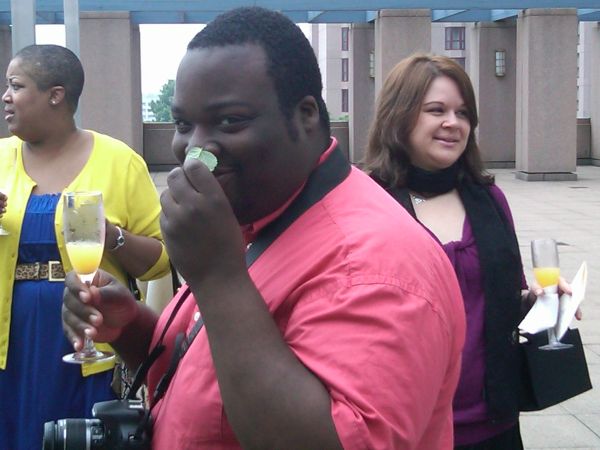 Have you eaten at Park 75?   If so, you have indulged in their home grown lettuce, herbs,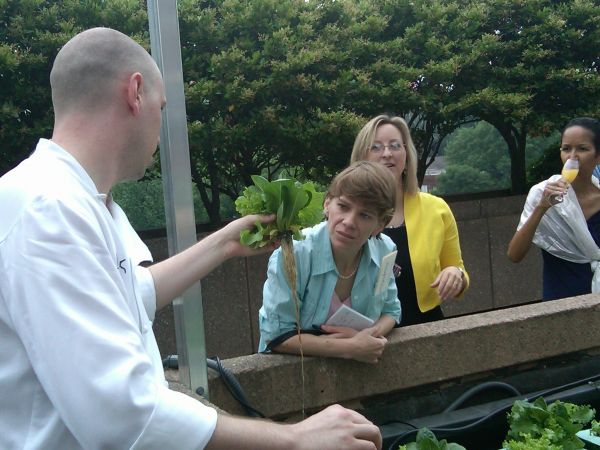 and honey. Yes, I said honey.  The Four Seasons harvests their own honey, and, in fact, just added another queen. Serious honey poundage is produced each year, despite the any possibility of industry shortages. As I learned from Chef Gerstenecker, there are specific strains of flowers bred that do not attract bees. Honey bees forage for nectar and pollen and without it, they cannot pollinate.  I had no idea!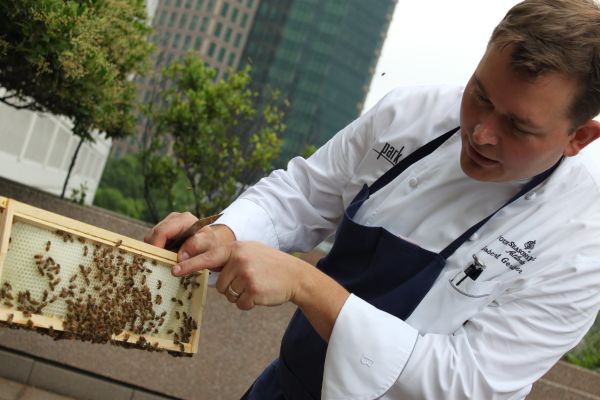 pic by Broderick
Although Chef was offering volunteers a chance to play….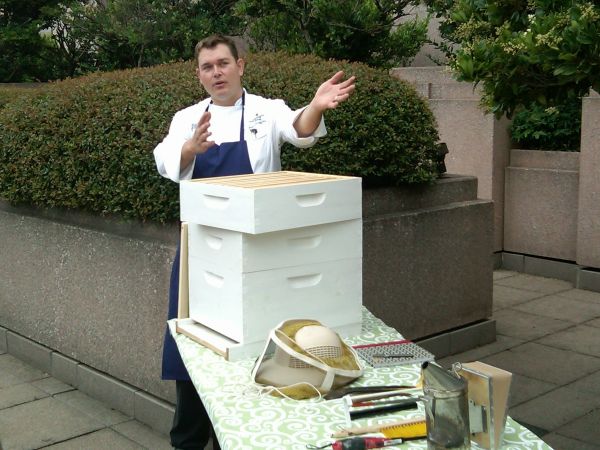 Shameeka decided to hang back a bit…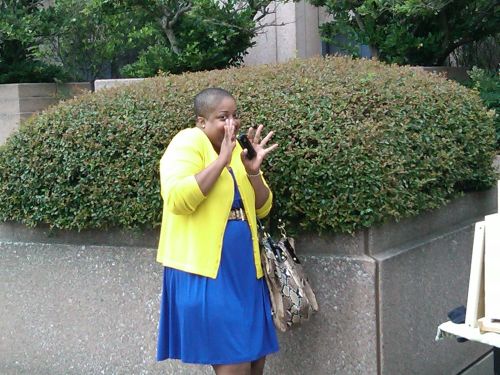 Once we returned to the restaurant, Marsha let us know about the live twitter feed happening on the multiple wide screen monitors around the dining area's perimeter, while Chef Gerstenecker gave us the details on the food with which we were about to indulge. On the menu?  After a Mason Jar Mary with pickled okra and cucumber starter, banana bread, and sweet cream butter topped with honey (of course), we emarked upon a culinary experience for which I am not sure I was ready.
First, the Athens Benedict with Heirloom Tomato, Sprouts, Avocado and a (satin-like) Herb Hollandaise sauce and the Chicken & Waffle, perfectly portioned and "roof top honey glazed", both should have consumed away from the public, as not to embarrass myself.  A bit orgasmic, if I must say.  (Sorry mom.)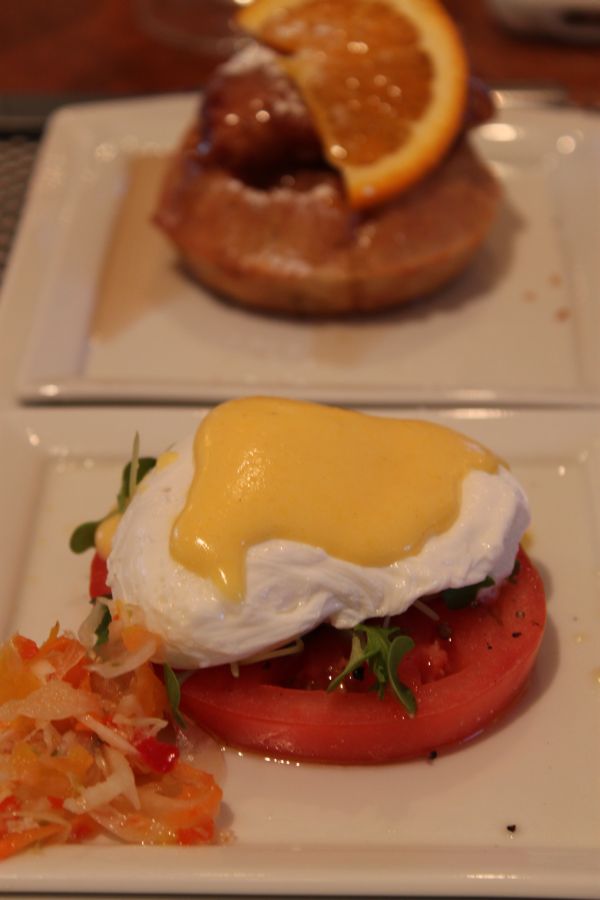 Next, the Wood Grilled Waygu Skirt Steak melted in my mouth, the Seared Scallop with Spring Vegetable Risotto raised a happy eyebrow, and the Tempura Squash Blossom filled with Split Creek Goat Cheese caused me to disappear gradually in my own Utopia.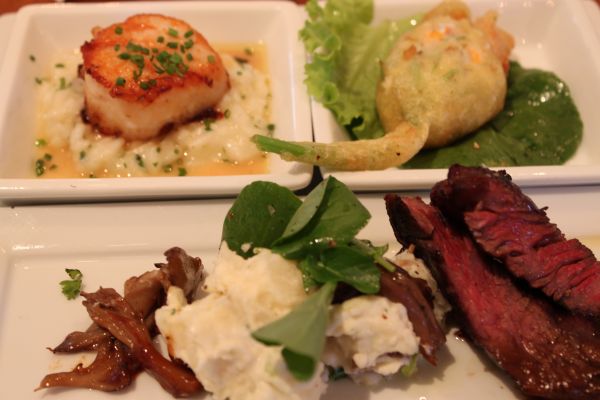 Throughout the meal, I chatted with the always fabulous Bren and Shameeka, as well as Tammie (of Tammie Talks) and her assistant, Pia.  Unfortunately, seating/table settings prevented me from chatting with other guests, and I really couldn't figure out who was who, but maybe at the next event.  But, I did get to chat with Patti,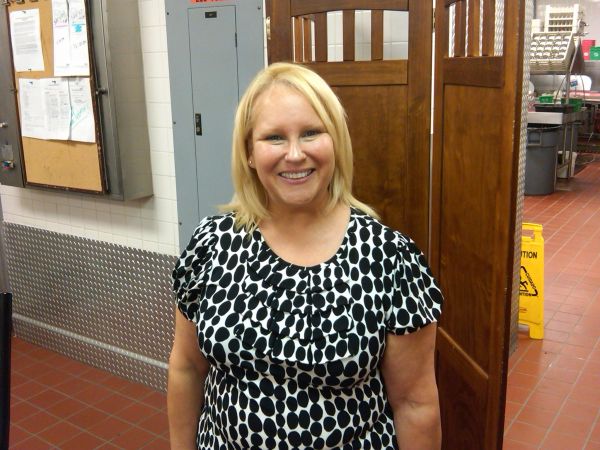 who is just the one of the loveliest ladies I have met. And, its always fun hanging with Broderick, who didn't bring his camera to the Four Seasons and I was only to eager to pass him mine throughout the day. (I noted his amazing pictures throughout this post.)
After a few give-aways, including a chef table dinner (*swoon*, with a tinge of envy), the last present was an invitation into the kitchen area. Freshly made, hand dipped Park 75 doughnuts, homemade sorbets, and other sweet treats awaited our arrival.  Since I have my chocolate and brown sugar intolerances, I had to love vicariously through everyone else.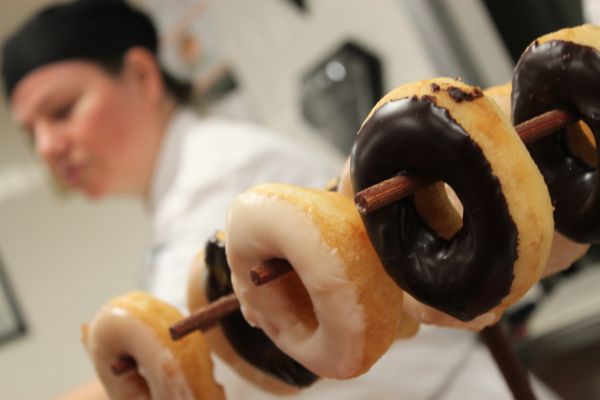 pic by Broderick
While Chef Gerstenecker was handling the sweeter side of the kitchen, Chef Byran Beneke took the time to give me a tour of the rest of the kitchen.  walking us through the finer details of the kitchen. Not only do they have an immersion circulator that many chefs/kitchens would give a limb for, but the wood-fired grill is fueled by pecan wood.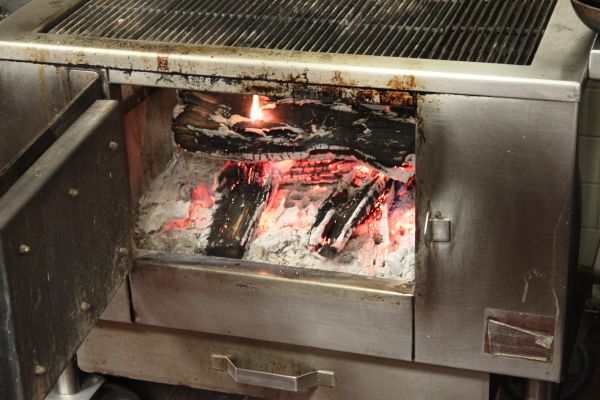 He also chatted about the Chef Table and the role it plays throughout the day.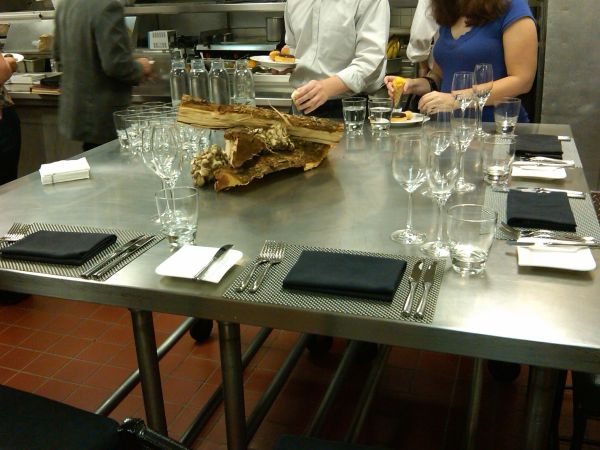 Lastly, as if everything wasn't fabulous enough, Chef Beneke showed me the pastry kitchen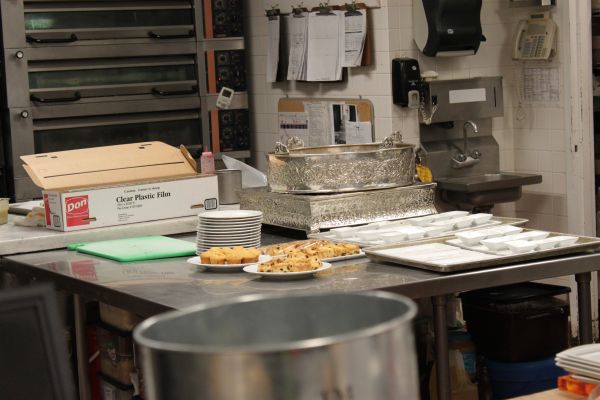 and introduced me to Chef Mark, the pastry chef.  (I was in such awe of the kitchen, I didn't get his last name.) One of the most instantly personable Chefs I have met, Chef Mark spoke to me about the functions of the sweet section of the kitchen, as well as his background – not all culinary.  He was a former HR Manager, and is not formerly trained.  Yet, his work is above reproach. Chef Mark was trained on the job, at the Four Seasons, and now creates delights that make even the oober dessert connoisseurs speechless.  This makes me giddy! (Yes, my close friends and family – I know what you have told and keep telling me that it possible, but after having spent the last 3 months constantly being reminded that I am not trained, being blown off in brainstorming sessions, and having your desserts changed by a Sous while not on shift, can take a toll.) Ohhh!  Tangent…
Anyway… He showed me around his culinary sanctum, including the walk-in, where wedding cakes were awaiting their finishing touches.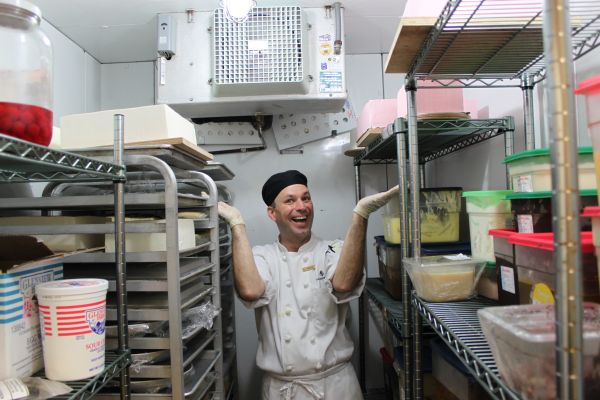 It was a perfect end to a great afternoon.  I am humbled by everyone's wonderful blend of down-to-earth-ness and professionalism, their openness to having a bunch of  "regular folk" in their place of work, and their plight on achieving greatness within their restaurant and the city. Thanks Chef Gerstenecker and your fabulous staff, the Four Seasons, and M2 PR!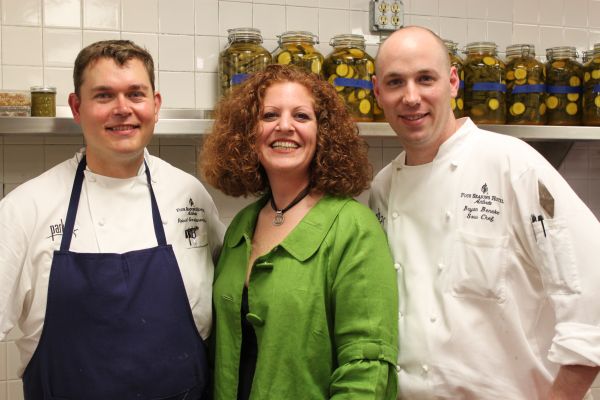 (Love when I get to stand near tall men…And, you know they're tall because I am wearing 4″ heels!)