Festeggiamo/Let's Celebrate!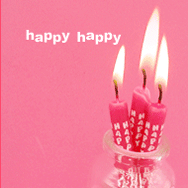 Happy Blogiversary, Mele Cotte!
January 12, 2006 seems like just yesterday! Who knew I would still be blogging, let alone posting my 899th time! Crazy. Crazy, fun, exciting…it has been a ride!
In the beginning, I thought it would just be me posting random recipes…for me, my purpose, record. My original thoughts compared to reality? Completely different. Posting random recipes morphed into my deliberate endeavors to learn and love everything food. As the morph…morphed (and continues to do so), my cooking has improved, my baking refined, and let's not get into the fact that Mele Cotte should be charging me $125/hr for its therapeutic posturing. The blog has really become a reflection of who I am; the good, the bad, and the ugly. Although some may say it "reveals" too much, I wouldn't change a thing.
I have truly loved blogging. Through the roller coaster that has been my life – the ups & downs of emotions, weight, and funds, the trips, the boyfriends, etc., blogging and cooking/baking have been the constant that has remained and always brought me sincere pleasure. Sure, culinary disasters and photographic nausea have been a-plenty. But, I have gotten a little better, and it's fun to get feedback from friends and family. It's also been funny to hear from people I interact with who didn't know I blog and who suddenly realized I was the face behind Mele Cotte. Yeah! Need to watch what I say! Ha!
Now that I have babbled….Thank you. Really? Those are the only two words I needed to make sure I typed. Thank you to all my readers, supports, commenters! You are appreciated and loved. Truly. Thanks for hangin' in. I know it hasn't always been easy. Heee…..
And so, I leave you with a lil' cuppie I had for my friend's 52nd birthday. Whoops! I am sorry….she turned 25, not 52.
The recipe is one I experimented with, something I have tried to do more and more (with baking). And, I really like how they came out…light and airy, but sturdy.
The candy apple topping is from Anita's fabulous cookbook series, Field Guide to Candy.
My friend was so cute…so excited about about the candy apple. Very conscious about what she eats, rarely eating any sweets, both she and her husband were talking about her craving candy apples since Fall has begun. And, I laughed as she said she loved the "skirt" on the bottom because, as a kid, she would nibble on that part first. Why laugh? Whenever I dip chocolate, or in this case, candy, I try so hard to dip and set without a "skirt". Maybe I don't need to try so hard after all! She ate the whole cupcakes…without pausing!

Candy Apple Vanilla Bean Cupcakes
2 ¾ cup cake flour
2 ½ tsp. baking powder
1 tsp. salt
1 cup sugar
1 cup butter
3 eggs
1 tsp. vanilla bean paste (or extract)
1 cup milk
French Buttercream (recipe follows)
Preheat oven to 350 degrees. Line cupcake pans with paper liners.
Whisk together flour, sugar, baking powder, and salt in a mixing bowl; set aside.
With an electric mixer, cream butter and sugar until light and fluffy. Add eggs, one at a time, being sure to scrape side of bowl with a spatula after each addition. Add vanilla, then flour mixture. When the mixture begins to come together and becomes thick, carefully add milk. Beat on medium speed until a thick cake-like batter appears. Spoon batter into paper liners until ½ to 2/3 full. Bake for 20 to 25 minutes or until toothpick inserted in center comes out clean. Cool 5 minutes in pans then remove and place on wire racks to cool completely.
Once cupcakes are completely cooled, decorate accordingly.
French Buttercream
8 large egg yolks, room temperature
1 cup sugar
1 ½ cup butter, unsalted
3 Tbsp Water
Mix the sugar with the water and bring to a boil. Using a candy thermometer, continue to boil until 250°F. (If the sugar begins to crystallize on the sides of the pan, wash them down with a pastry brush dipped in water.)
Meanwhile, whisk the egg yolks with an electric mixer on medium high speed until the yolks turn pale yellow and thick.
When the sugar reaches 250°F remove it from heat. With the mixer on high, slowly pour the syrup (in a thin stream) into the egg yolks. *Be careful! Try to prevent the syrup from splashing.
Otherwise, your buttercream may end up with have small sugar crystals.* Bring the mixer back to medium, medium-high, and continue beating until the yolks are thick and fully cooled.
Reduce mixer speed to medium and gradually add small amounts of the butter. Beat well until the buttercream is smooth, about 15 minutes. * If you add the butter too quickly, the butter will melt and the mixture will turn to liquid.
Add preferred coloring and/or flavoring as the buttercream solidifies.
See you tomorrow, for post #900!