I wanted to used the remaining pesto I made last week. And, looking at the bundle of mini-sweet peppers I bought at Sam's, I thought – stuffed peppers, Mele Cotte style! They were tasty and so satisfying…if I do say so myself.

Stuffed Sweet Mini-Peppers
6 sweet mini peppers
½ cup ricotta cheese, thoroughly drained
2 Tbsp grated Parmesan
2 Tbsp. shredded Mozzarella
2 Tbsp. Sundried Tomato Pesto
Salt to taste
1/2 cup coarsely chopped/sliced toasted almonds, for garnish
Wash and slice the pepper tops. Remove all seeds and veins. Set aside. Blend the ricotta, Parmesan, & Mozzarella in a medium bowl, with a fork. Add the pesto and salt/pepper to taste. Season with salt. *I heated the pesto a bit because I didn't plan ahead and bring it to room temperature. Doing this really helped, for the heat brought together the cheeses well.
Fill each pepper with the cheese mixture and garnish with the toasted almonds. Chill in the refrigerator at least 30 minutes. Serve cold.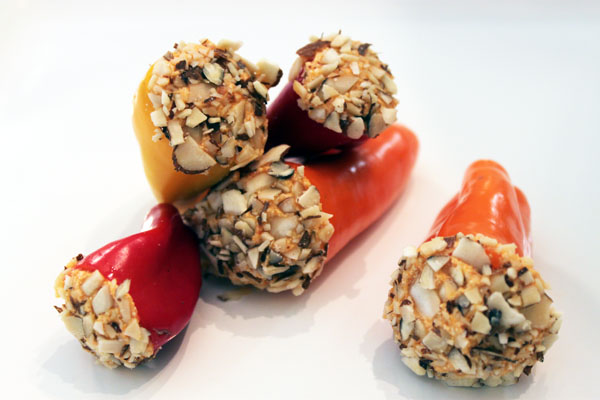 I am anxiously awaiting more recipes! Don't forget to send me your cancer combating culinary creations, with a link back to this posting, no later than Monday, April 9, 2007. After you post, please send an email to me – melecotte (at) gmail (dot) com. The roundup will be posted by or before April 13th. Happy & healthy cooking!