arrotoliamo/rolled
Happy Secret Recipe Club reveal Monday!
I always look forward to the third Monday of the month, the day Group C  posts their reveal. I hated that my technical difficulties messed up the timing of my post last month, especially when we're reminded not to wait until the last minute.  Not this month, though.  I made sure I cooked, snapped my photos, and uploaded a post draft in plenty of time to troubleshoot any issues.
Besides not wanting to let anyone in SRC down with an preventable oops, today's reveal is also kind of a big deal because it will be my  last month participating in SRC and blogging.  I have wavered back and forth for some time about whether or not to continue with Mele Cotte.  It has been a wonderful (almost) 8 years. I have grown in the kitchen, a person, have gotten to be part of some great opportunities, and met countless fabulous people. But, it's time.
I will wrap up with details and the "what next" later this month.  At this moment, however, I must honor the members of Secret Recipe Club , Debbi, and my assignee this month.
It was wonderful to reconnect with the amazing options on Nayna's on
Simply Food
. Nayna and I have been blogging for almost as many years and it's inspiring to see that she has kept our hearts and tummies full of warmth and deliciousness all this time.  It's not only about vegetarian dishes for Nayna, though. Did you know about
Citrus Spice
, the blog Nayna started a couple of years back, that has us experience her travel, food, and food photography adventures?  I don't know how she does it all!
The choices on Nayna's blog for this month's SRC post were endless.  Even so, I decided to try her Greek Baklava Rolls.  It has been so long; I can't remember the last time I have made Baklava.  Because the Greek Baklava Rolls instantly brought be back to when I grew up in the Boston area, the recipe made sense.  My best friend from childhood, Patricia, was first generation Greek. I always enjoyed visiting her home, hanging out with her family, and admired how their home maintained traditions on this side of the ocean.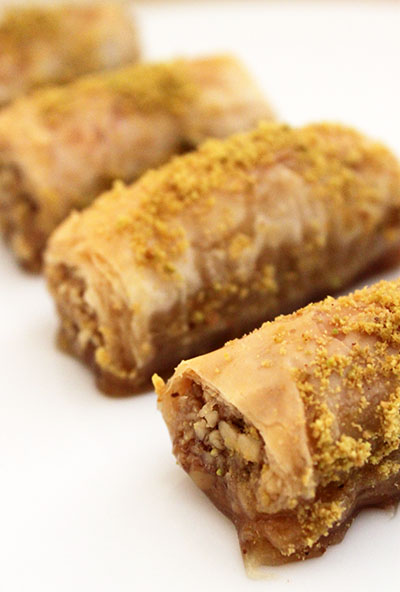 Baklava, one of Patrica's mother's specialties, was a tradition I was happy to share in after a fresh batch had soaked in the sugar syrup and was properly garnished with cloves. Feeling a bit nostalgic, and missing the connections I had back then, and these Greek Baklava rolls are my way of making sure that those memories are not lost.
I did alter Nayna's recipe a bit….just a bit.  First, Nanya's recipe rolled the Baklava using the dowel methods (like this video on rolling the Baklava rolls). My Baklava were rolled without a rod. Secondly, I made a honey syrup as opposed to sugar syrup.  Lastly, I multiplied the recipe to use an entire box of pastry and brought the rolls to the office. They were a huge hit! These little guys were εκπληκτικός, remarkable!
{ 8 comments }