peppermint/mentina
Where did the weekend go?  Monday sure came back around again quickly, faster than beans through a cowboy. My to-do list, personally and for work, didn't budge an inch.  Oh well!
There are a couple of positives about this particular Monday.  First, it is the last Monday of this current school year.  Great day in the morning!  How wonderful is that?!? 
Secondly, it is The Secret Recipe Club reveal day for Group C.  As always, kudos to Debbi for another fun-filled month.  She matched me up with Jamie from Our Eating Habits. Looking through all the delicious posts, I found myself at a crossroads. When it came down to get in the kitchen, I was at the intersection of Sweet Street and Savory Circle. I faced the choice of turning left toward the Walnut Date Loaves or right into a bowl of BLT Penne. As indecisive as I always am, I decided to put my blinders on and travel straight toward a batch of Andes Mint Chocolate Chunk Cookies.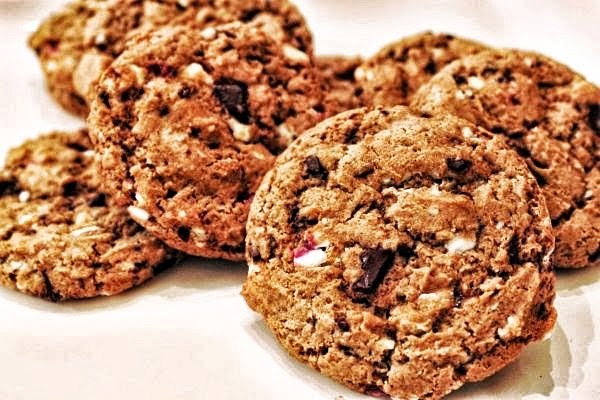 Because several bags of Trader Joe's Peppermint Bark Baking Bits have been waiting patiently in my baking cabinet for quite some time, I decided to substitute the Andes Mints that the original recipe notes with the Bits.  And, I doubled the recipe to ensure plenty to go 'round.  Mmm, mmm good!
Peppermint Chocolate Chunk Cookies Recipe
{ 16 comments }