colazione/breakfast
Hello Secret Recipe Club reveal day!  How good it is to see you again!  I know.  It seems as though it has been forever since we saw each other last.  Although it has only been two months, the time apart was tough.  Admittedly, my absence is my own fault; I did not enter my information in on time. But, that is water under the bridge. I am back!
It is always so tough narrowing down what one recipe to make.  The choices!  This month, Heather (from It's Yummy To My Tummy) has countless dishes to choose from on her blog. Though is was a challenge, I finally decided upon her Breakfast Pizza.
A few weeks ago, I spent the weekend with my niece and nephew.  Whenever I have the opportunity to sleep over, I make a point to make breakfast.  I am so fortunate, too. The two youngin's are so sweet, and try anything I make.  They're openness to try new foods, at least once, is just fabulous.  Loving the combination of ingredients, I thought this breakfast pizza would be a perfect morning treat for them to try.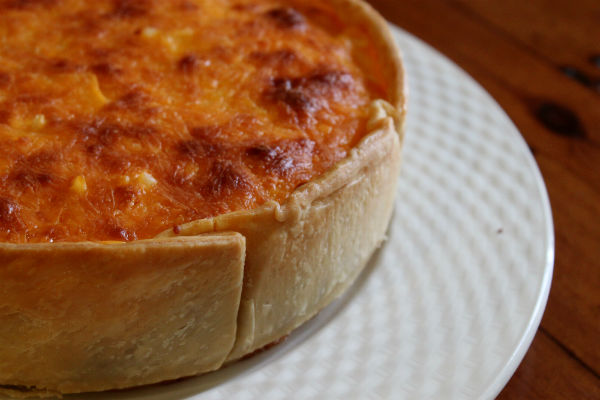 My pizza is slightly different than Heather's version.  I decided to substitute the crescent rolls for pie dough, made mine deep dish, and added the eggs before the cheese.
Overall, this was a killer meal!  Deliciously filling.  I am a fan of "one-dish" meals and love when I can grab all flavors in one cohesive bite.  This is that meal.  Don't take my word for it, though.  My nephew said it best. "This is filling, and I am so full!  But, it is just too good to stop eating." So, there you have it!  The 6th grader speaks the truth.  A wise boy.
{ 11 comments }